Our love affair with Jacarandas and where to see them on the lower north shore.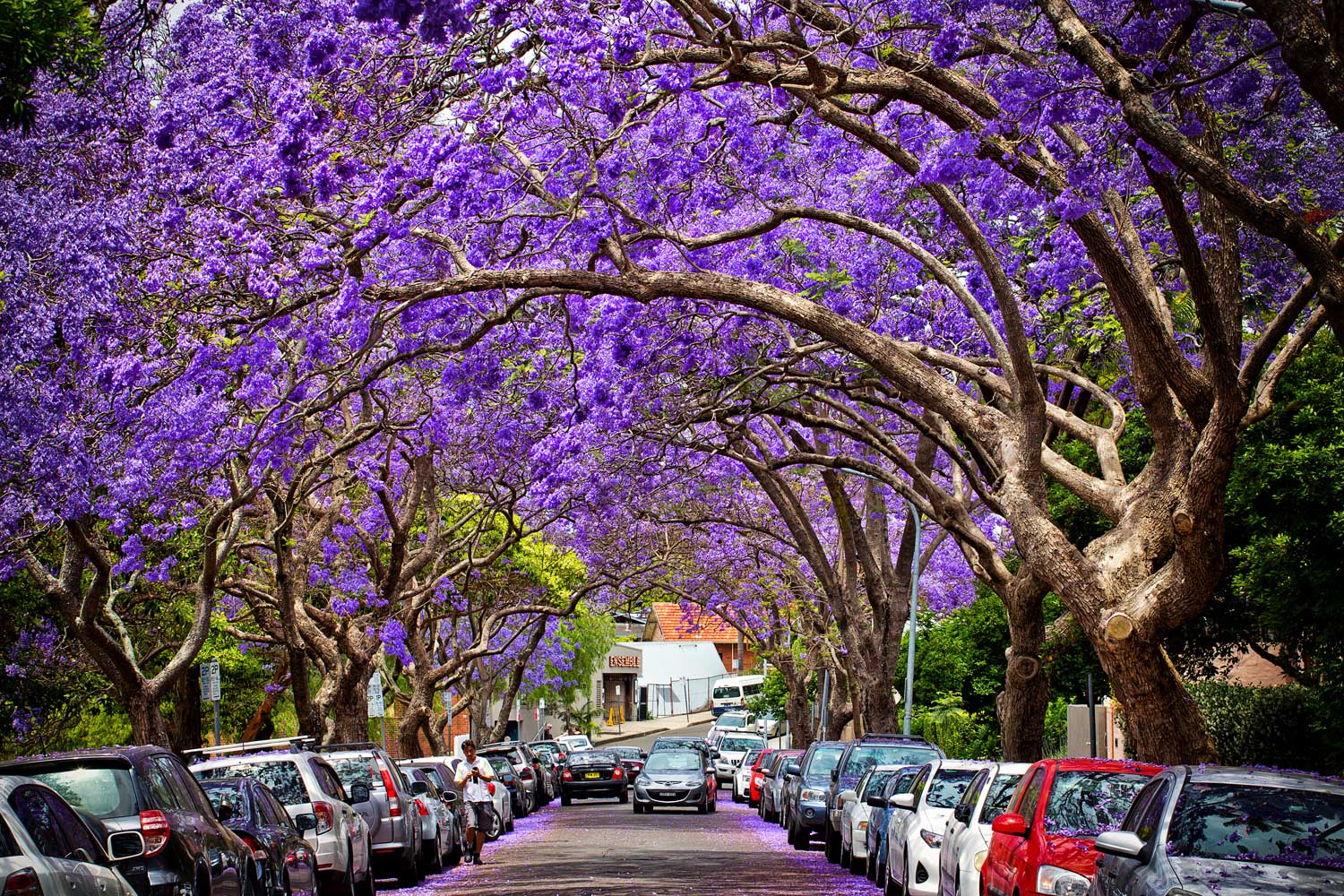 November in Sydney is Jacaranda season, the time of the year when Sydney is transformed by canopy of vibrant purple clouds stretching from Paddington to Lavender Bay and beyond.
There's a popular urban myth that credits the November purple haze to a North Shore hospital matron, who sent new mother's home with a Jacaranda seedling.
According to the legend, they were encouraged to watch the plant grow along with their child.
It's a great story, despite the fact there are no records of any hospital giving away Jacaranda's. A less romantic explanation lies in the fact the trees were a popular civic planting in beautification programs of the early 20th century and interwar years, right up to the 1950s and 1960s.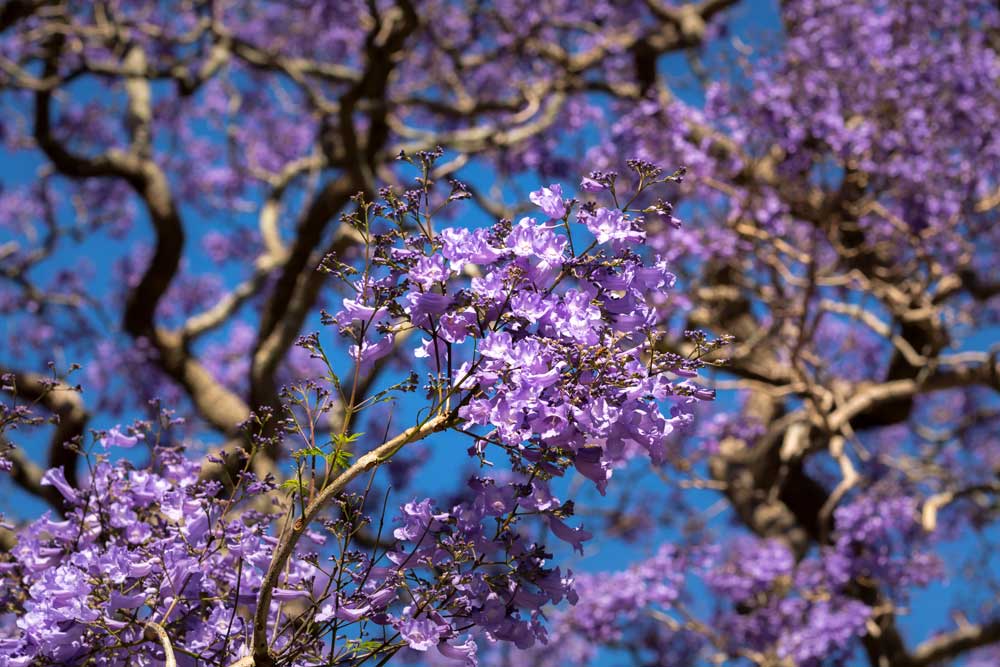 Jacaranda's, often mistaken for Australian natives, are indigenous to Brazil and a source of much joy at this time of year, delighting locals and tourists with their canopies of blue and purple right across the city.
For me, a flowering Jacaranda announces summer is on the way. And that school or university exams are imminent.
In the southern end of the quadrangle at Sydney University, there's a superstition that students are likely to fail if their books remain untouched when the tree blooms. It's the same story for HSC students right across the city.
By early November, the jacarandas in our part of town are in full bloom.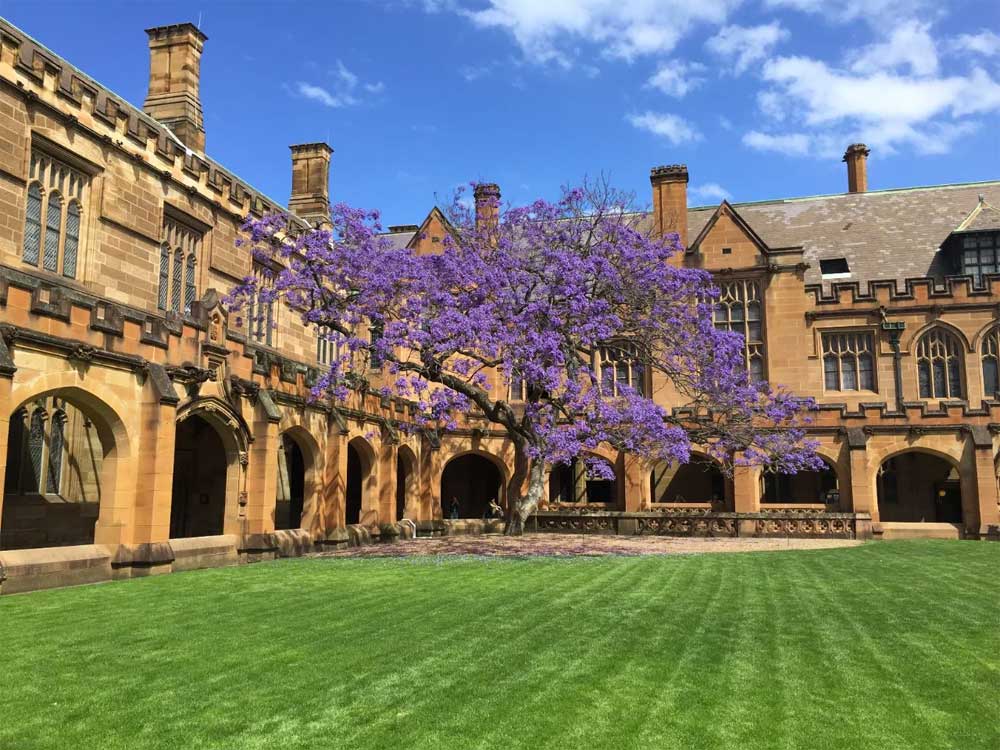 Kirribilli
McDougall Street in Kirribilli is Sydney's most famous Jacaranda grove. Transformed into a canopy of vibrant violet, it's a hot spot for Instagrammers trying to capture the perfect spring photo.
Lavender Bay
Lavender Bay turns into a rich shade of purple thanks to their epic Jacaranda trees. Try Wendy Whiteley's Garden for views of Sydney Harbour punctuated by shades of mauve.
Neutral Bay
Montpelier St in Neutral Bay boasts a lovely avenue of mature Jacaranda trees winding all the way down to Forsyth Park. Added bonus is the dog friendly oval and a great set of swings for the kids!
Sydney CBD
The Royal Botanic Gardens is home to the oldest specimen of jacaranda in Australia, dating back to the 1850s. In total, there are 16 jacaranda trees that can be found on the gardens' grounds.
In streets of Kirribilli, Neutral Bay, Cremorne and Mosman, clouds of purple flowers are impossible to miss against the glorious, late Spring blue skies.
Late in the season comes the moment author Delia Falconer describes in her biography of Sydney, when the number of fallen petals match those still suspended on the tree.
"I love the way the tree's shadow is then coloured purple; it feels a bit like walking through an impressionist painting," she writes. "It's also the most treacherous time. A quick canvas of the office supplied two casualties by jacaranda: a pond full of fish, smothered by a day's petal-fall, and a car, written off after it rounded a corner slick with blossom."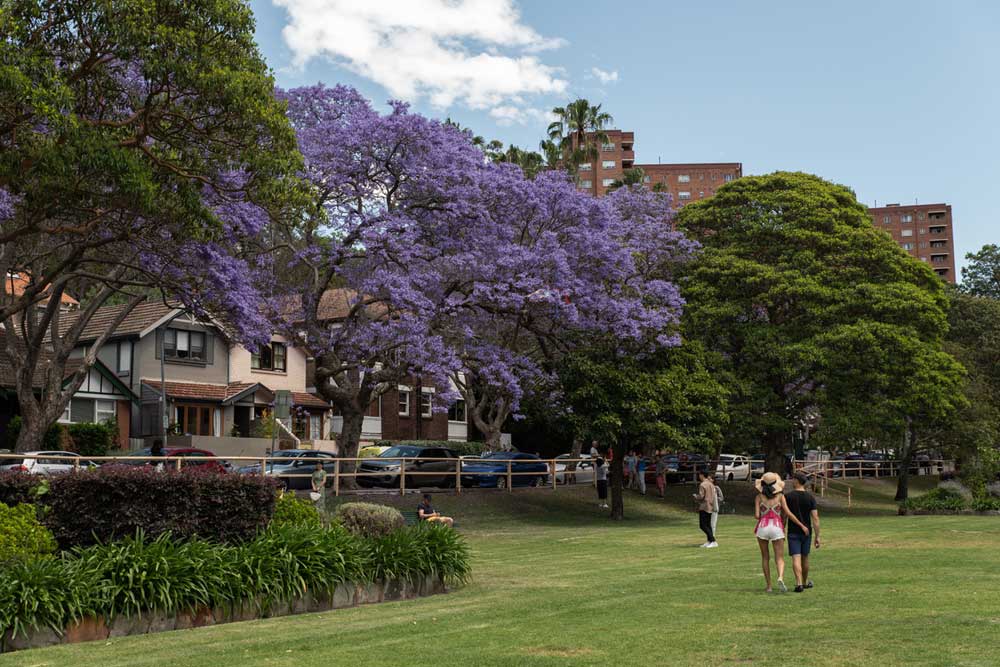 As Sydney Living Museum says, everyone has a jacaranda story, a favourite tree they return to year after year. And, as Falconer notes, this annual event in the life of the city is the closest thing we have to hanami, the Japanese tradition of viewing cherry blossom.
The jacaranda may not always have been Sydney's, but for a few magical weeks it is a dream tree for the city – ardently, abundantly ours.
Get The Latest News!
Don't miss our top stories delivered FREE each Friday.