Enigma: The beautiful mad bastard called Des.
They are the Liberace's of league. Like Madonna and Maradona, Pele and Prince, these worthies need one handle only. One is plenty.
Think Joey and Matty, Rabbits and Gus. Think Beaver, Benji and Braith.
Think Sterlo and his mate the great Fat Man.
And think, of course, of Manly coach, the funny, mad bastard called Des.
Yes, Desmond John Hasler; a one-off, a singular cat, a weirdo in a good way.
He's an enigma. Private and a showman. Remember when he ripped a door off the hinges at Parramatta Stadium? People who knew him thought it was a setup – unscrewing hinges is a thing Des'd do. The man maintained innocence. Blamed the door. Blamed Channel Nine for filming it. Said he would pay for the hinges. Betcha the club did. Classic Des.
He doesn't talk a lot about himself, yet there's lots talked about him. He doesn't like things written about him, yet he'll read every word. Bet he reads this.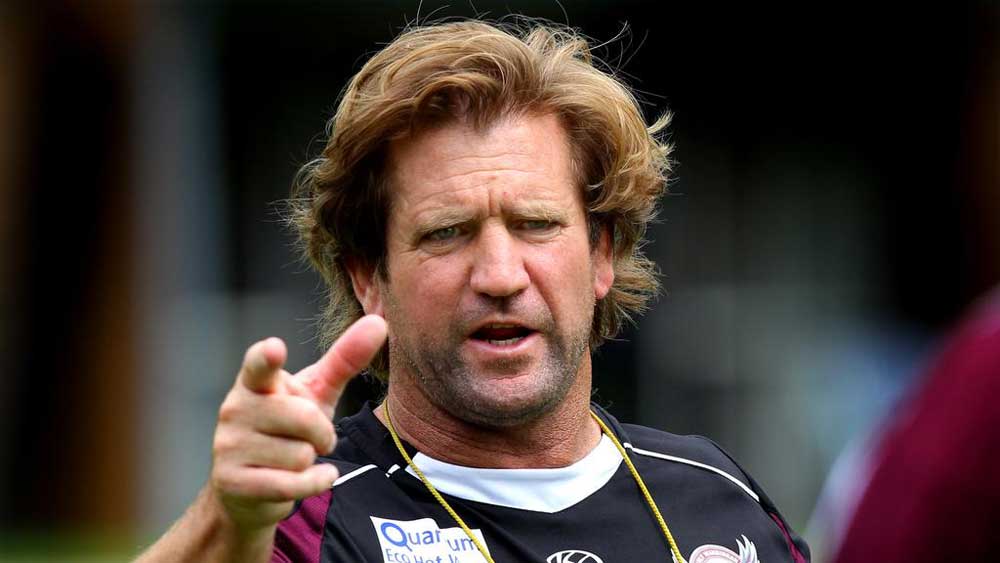 He's musical. He's a regular at Sunday night mass.
He keeps odd, mad hours. He'll ring friends at 1am and ask, "Did I wake you?"
He has craggy features below Farrah Fawcett's bangs (Google her, kids).
He's familiar though we don't really know him – few do.
Thomas Keneally wrote his biography in '93. His main takeaway was: "Des is very private".
And now here he is, out the middle of Narrabeen with his footy shorts and bowed legs, barking away, revving the cement truck, circling wagons, instilling the mentality of the siege.
Friday night he'll be in the box at Suncorp, scheming and inspiring his players to get over the hard-arsed Rabbitohs in a big-dog shoot-out, business end of the season.
Anyone can, Des can, for he's good mad bastard.
He's a beauty, Des.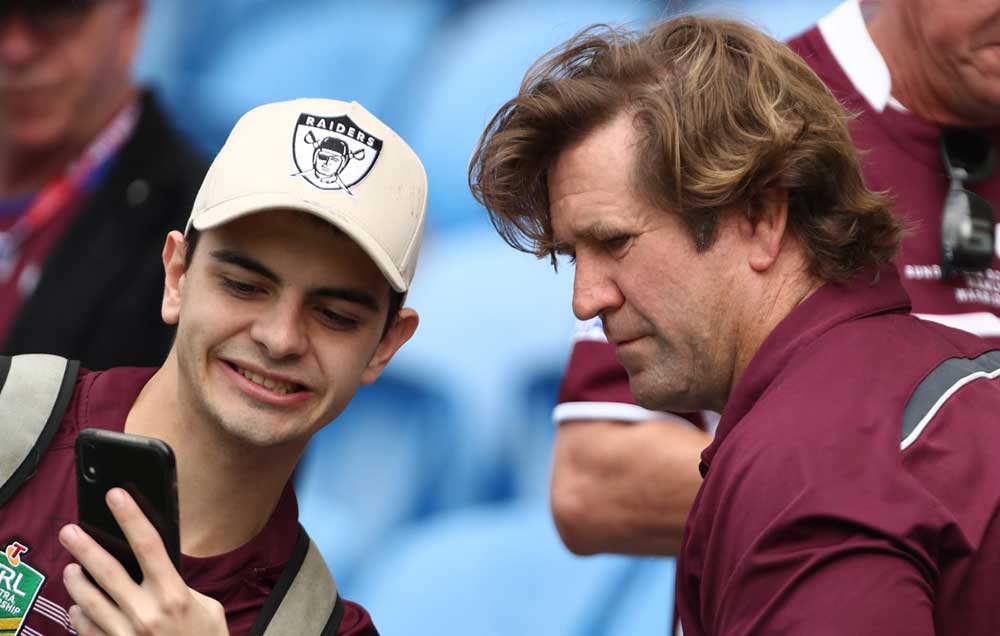 PLAYERS COACH
Robbie Delmege was the 33-year-old chief executive of Delmege Property Group and the son of "Mad" Max Delmege, the developer who saved Manly from ruin after the terrible Northern Eagles.
The scion of the empire drove fast cars and wore boat shoes to society shindigs.
One day he parked his Porsche at Narrabeen to, presumably, have a look at training. Have a yarn. Because he could. He was Robbie Delmege.
And out onto the field he went.
"Oi!" came a roar from the middle of the park, followed by the piercing shrill of a pea-blown whistle. It was Des, of course, who halted the session, and strode with purpose towards the interloper.
"Robbie!" barked Des. "Robbie!
"Do I interrupt your work? Do I burst into your office unannounced?"
"Ah, no, Des, you don't," said Delmege.
"Then get the fuck out of mine!" said Des.
And away our Robbie went, doing his best not to slink.
His players, of course, sniggered, loved it. Des knew they would. The verbal was partly annoyance, partly show, partly big dog pissing on a tree.
He'll do the same with journos.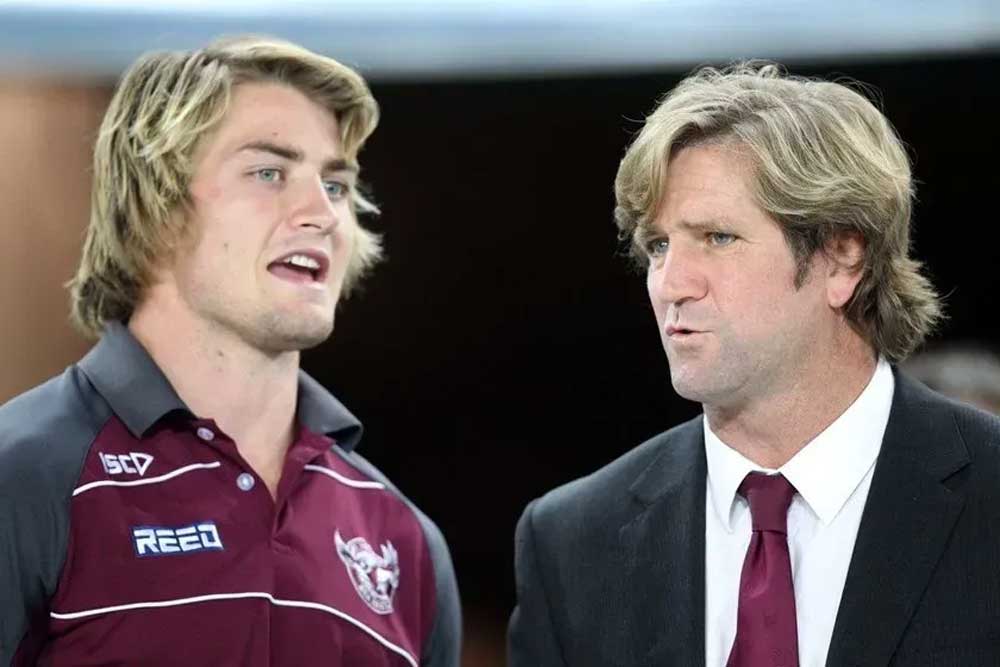 I was near the Narrabeen car park once having a yarn with Kieran Foran when a presence loomed in the periphery: Des.
You know that close talker on Seinfeld? It was like that – Des, up close, tight, on you. He was almost on my leg. It was awkward, I deferred to him, motioned that player and coach should talk. They did. Shared a laugh.
Afterwards I continued with Foran. But Des had asked: "Who's territory is this?" And the answer was: "Yours, Des."
Des is like a mad, fun uncle: quick with a quip; protective; and clearly tough, he'll put a boot up your arse because he loves you. Players will run for a man like that.
They will work and sweat and bleed for him. He's got their back, and they know it.
When the Brett Stewart saga broke ten years ago after the Eagles' ill-fated season launch at Manly Wharf Bar, Des took control.
He spent a hot minute deciding that Stewart was innocent; that it was an extortion attempt by a grub, the father of a girl who'd accused Stewart of sexual assault.
A man can tell if a young bloke is lying, particularly those with whom one spends every day. Des was a teacher once – he knows young blokes. He knows they aren't sociopaths or criminal masterminds; they're largely guileless, innocents. Boys.
Des went with Stewart to the police station, to court, out in public. It was probably the chief executive's job. Hasler made it his. No arguments.
The Stewart family will never forget it.
In 2007, Rugby League Week's players poll declared Jamie Lyon was the game's "Most Overrated Player". It was always a vexed topic, always reported on. It could've been the Braith Anasta award, the Willie Mason. It was more about the weight of a player's press against their play.
And so Des summoned the nearest League Week journo to his office, and ripped in, demanded to know if the magazine understood what it had done to poor Jamie.
The "kid" was bereft, apparently, his confidence shot.
Talk to Lyon today, he'll tell you he didn't give too much of a stuff, though he did appreciate Des going into bat. He could hear it out the door.
And there, friends, is very much the rub.
Another year, a Daily Telegraph journo rang Terry Lamb about the travails of the Bulldogs. Lamb was half-cut at a golf day and declared that Hasler wasn't the right coach for Canterbury, didn't understand the "culture", a few other things. There followed a back page screamer.
The writer was baled up in the tunnel at Belmore Oval, lambasted in front of players.
The Tele, like League Week, was just reporting its news, warts and all.
But Des, like Wayne Bennett, like Ricky Stuart, saw it as an attack on his players, his club; his people. Himself? Maybe a bit. But he's more about the boys. And the verbals are part pantomime, part protection by deflection.
And like Bennett's boys, Des' players know it. And they love him for it.
TEACHER MAN
Des turned up at Brookvale in 1984 after Scott Fulton tipped off his dad, Bob Fulton, that there was a Penrith player teaching at St Pius X College at Chatswood.
Des had always told students it wasn't him in the Big League program, scoring 8s and 9s in the ratings.
But the boys knew. Bloke was mad fit. And hard. There were veins in his calves like cables.
Bob Fulton brought Des to Narrabeen for a trial. Watched him score four tries. Told head office: "Sign him right now".
Smart move, Boze.
Des would play 256 games for Manly and win two premierships ('87 and '96). He went on Roo Tours in '86 and '90. He was so good he forced Phil Blake out.
And Blake was ridiculous. In 1983 Blake scored 27 tries. Hasler was a halfback without much of a pass. But Fulton knew: he was fit; he was tough; he would run all day.
And he would never give up. Ever.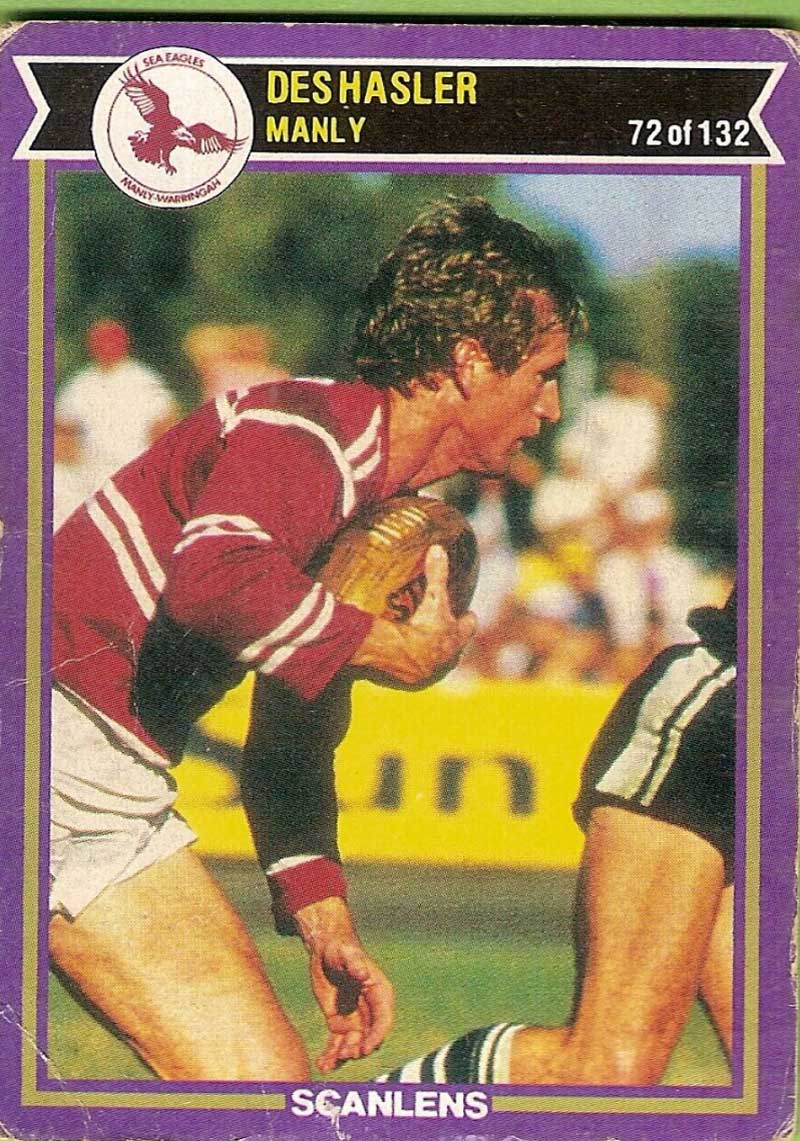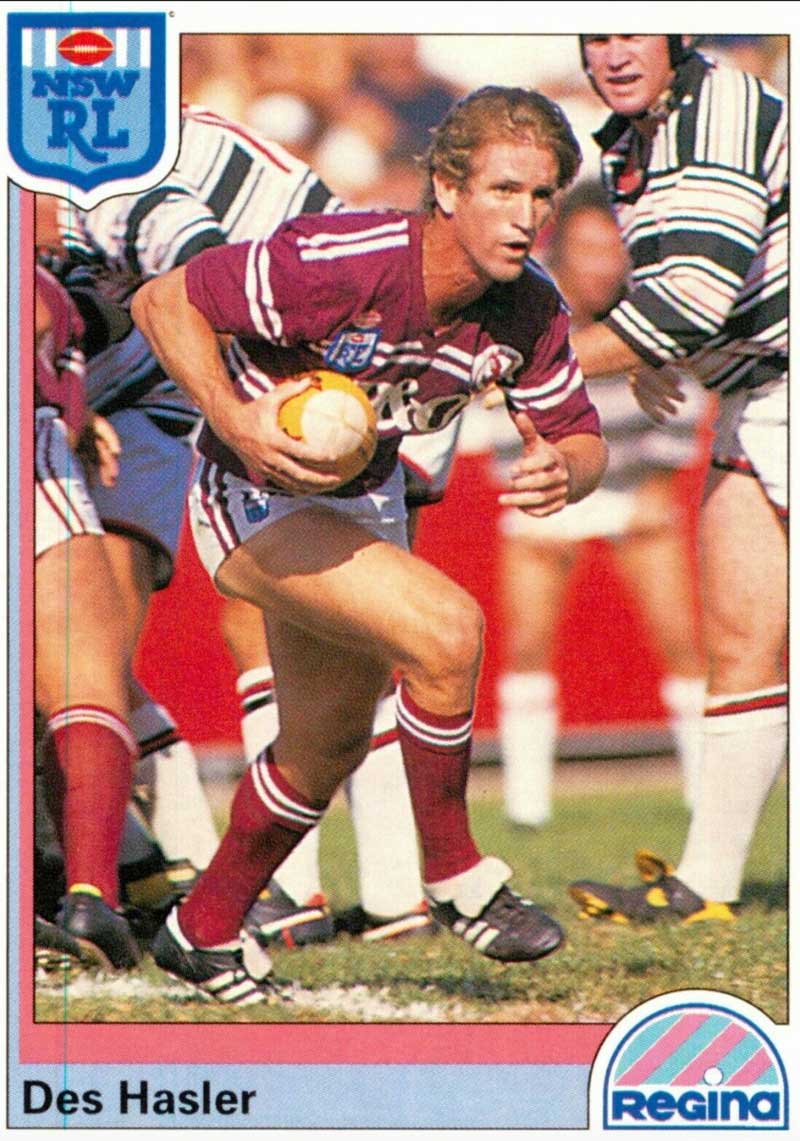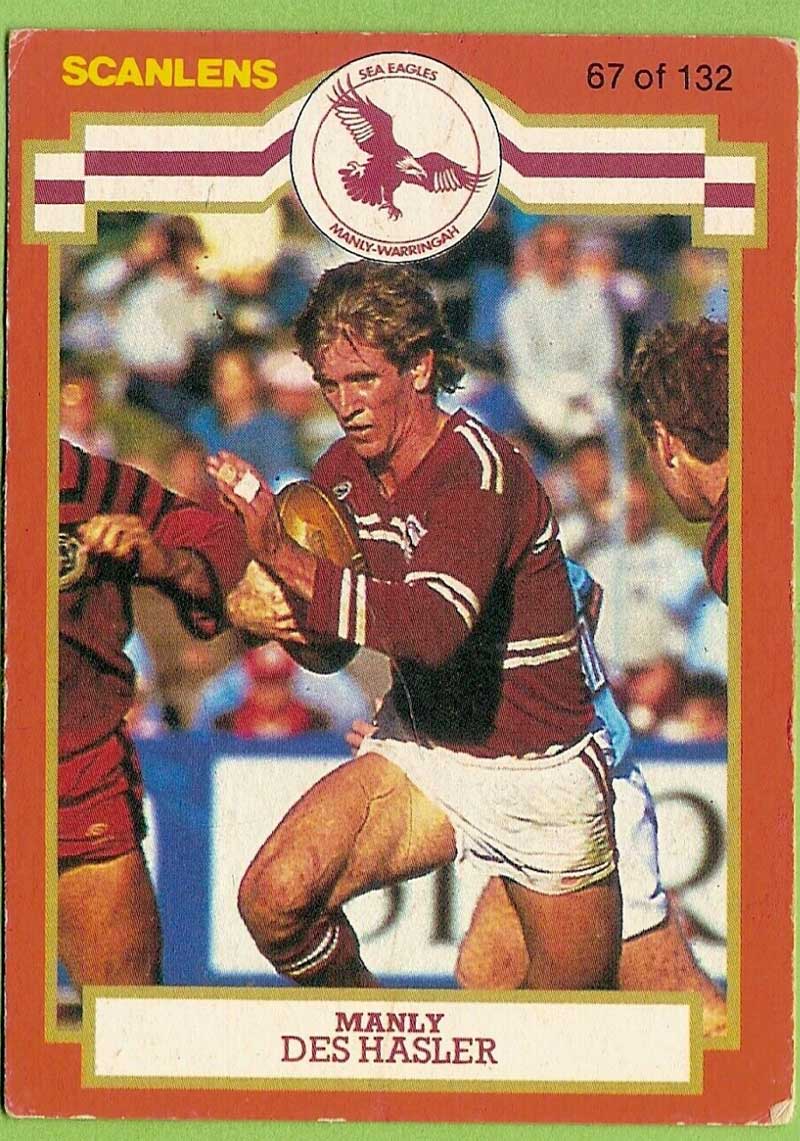 Blokes kept fit in the '80s – but Des was next level. He was on the Wayne Pearce train. Outside the boxer and Bulldog Billy Johnstone – who would go on to be a conditioning legend – there weren't a lot on the train.
"Des was the hardest, fittest bloke I ever played with," Paul Vautin says. "He was my favourite bloke to play with."
In the gym, Des would hang off the roof, doing isometrics, or something, blokes didn't know what it was. It was just Des, hanging off things.
Des was working his core before it was called one. He was ripping off Pilates-style moves before it was a thing. He was Spiderman in Manly kit, inverted, mullet dangling.
He'd get on the bike machine, ride flat out for a minute forwards, then flat out a minute backwards.
He'd get onto the field, hop for a hundred metres. Hundred right leg, hundred left leg.
People would gaze out the dressing shed windows – what the hell is he doing?
He wrung every ounce of ability from 75 kilograms. He was a greyhound with muscles.
There's an apocryphal story that Des would sprints up Brookie Hill after games. It's never been confirmed. But it's telling that people who know Des could not discount it.
"Sounds like something he'd do," said a mate.
As Ivan Drago said of Rocky, he is a piece of iron.
MAD SCIENCE
As Trent Barrett could tell you, in the arms race of sports science, other NRL clubs have caught – and some have passed – Manly. But back in the day, Manly were America, if not Russia.
Des was using GPS before anybody. He was using Steve Dank and calves' blood well before Dank stank up Cronulla.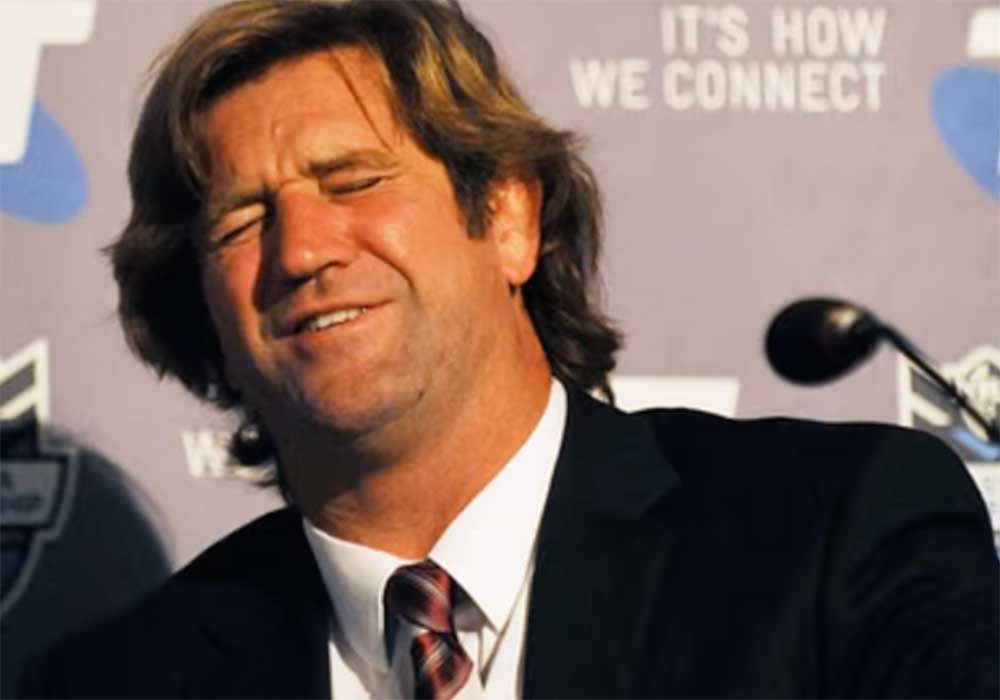 After Manly won the comp in 2011 (beating Melbourne Storm 40-0), they went to England for the World Club Challenge.
Des arranged for a small group of Manly's senior folks and sports science types to visit Manchester United, who spent a fortune on sports science.
Des came away thinking that for the cost of it, there was little that was ahead of what he was doing at Narrabeen.
Des has never slept much. He'll be up at 3am, thinking.
For several years he commuted between Collaroy and Belmore. As the crow flies it's 35km. As a Sydney car drives; it's an hour without traffic or lights, which there never ever is not.
Yet there he was, first there at 06:00, last to leave at 19:30.
He would beat traffic as Gary Jack would beat the toll road to Wollongong. Preparation is key. It always has been. Practice. Prepare. Put in, get out.
"He's so committed to what he does," Steve Menzies says. "He's just relentless. You didn't really see that playing with him.
"But being coached by him, you realise how meticulous he is."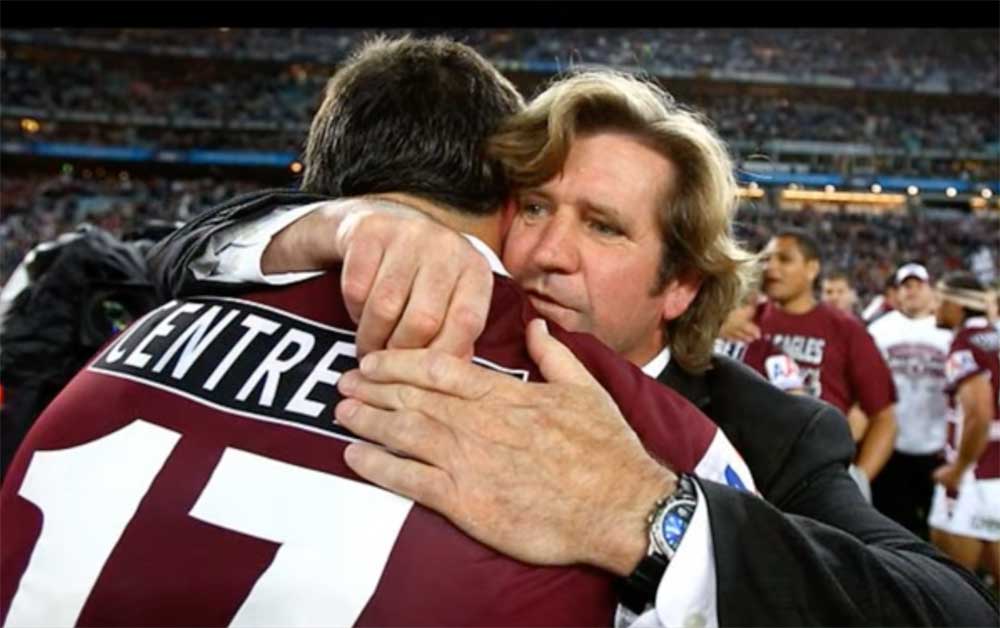 Des's winning percentage as coach is nearly 60 per cent, which puts him in the elite, Bennett and Bellyache category. Like those worthies, players play for him.
Since he came back the end of 2018, the Sea Eagles' board did a smart thing: they gave him free rein.
He'd got them to the top doing it his way. They figured he could do it again, even if he did leave both his previous coaching positions – one at this very Manly – acrimoniously.
"Dessie doesn't play political games very well," says a Manly insider. "He positions himself as the boss of 'his' area and that's how he operates.
"That's been challenged twice and out the door he's gone twice."
So Des has done it his way – for good or ill. He runs the football department – and effectively the entire club – like a fiefdom.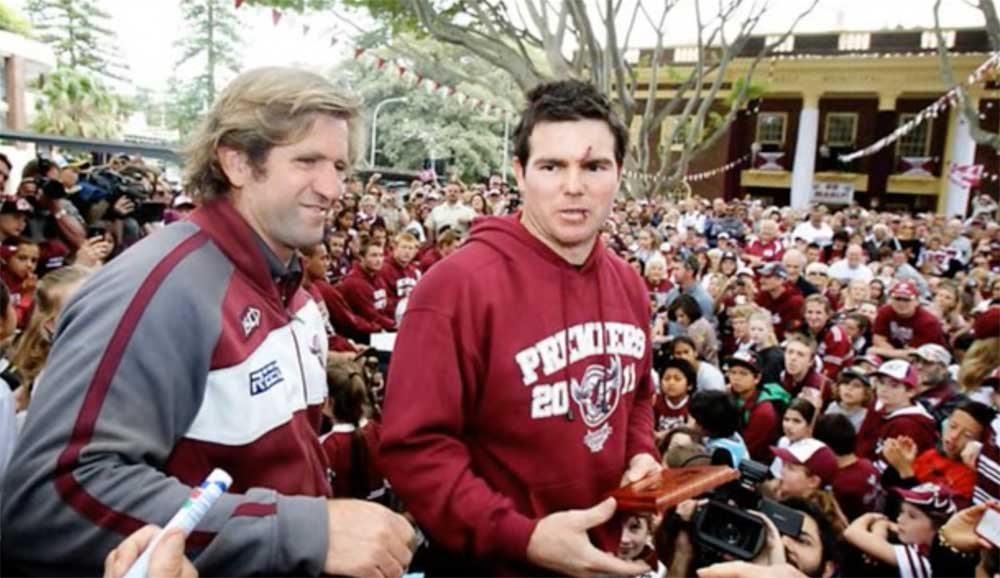 He was responsible for everything at the Bulldogs – recruitment, job lot. He tried to sign Tom Trbojevic but the Manly junior couldn't leave his brother or the beaches.
He did lure some serious meat – Sam Kasiano, James Graham, Tony Williams, David Klemmer, Frank Pritchard.
Loves a big human, Des.
And the footy the Dogs played in 2012 (minor premiers, grand finalists) and 2014 (grand finalists) was best practice. Big humans played the ball; hot backs scorched the earth. And repeat.
Since then; not so much. Indeed the Bulldogs have beaten like Mexican pinatas. And instead of chocolates coming out they've leaked players.
They played Manly at Brookvale early in 2017 and looked dinkum listless. Against a pack full of the above-mentioned monsters, Martin Taupau had a blinder – five offloads, two hundred metres. Daly Cherry-Evans ran riot off the back of it. Manly won 36-nil. The Dogs were not a happy team at Hawthorn.
Yet Des ploughed inexorably on, sure of his rightness. Sure of a playing style that wasn't producing. Sure of a practice of back-ended deals to keep Canterbury under the cap.
And away they went, somewhere else: Taupau, Kasiano, Graham, Klemmer, Dale Finucane, Mick Ennis, Damien Cook.
When Josh Reynolds went to Wests Tigers, part of Belmore's soul went with him.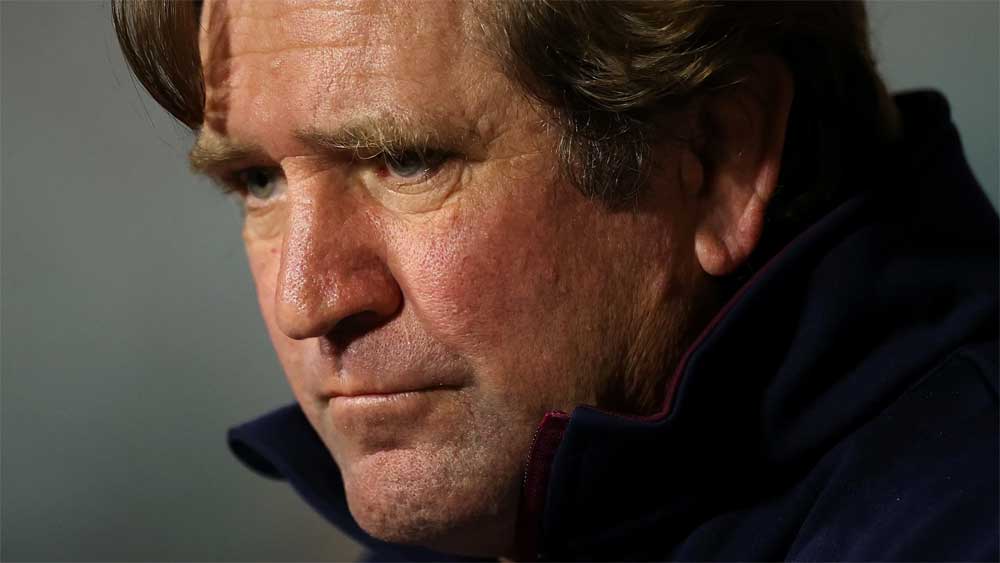 After finishing seventh in 2016 and eleventh in 2017, the club tried to punt Des without paying him out. Des was not having that, oh no. He sued for $2 million. The matter was settled out of court.Don't come between Des and a dollar coin, is a tired old trope that is tried and true.
DOOR MAN
Around rugby league and on the northern beaches particularly, tales of Des abound.
They'll tell you he loves country-and-western music and once sang in a band. They'll tell you he would travel by train from Penrith to Circular Quay and busk for change. After he'd earned a few bob he'd catch the Manly Ferry.
His wife drove a Toyota Land Cruiser; he'd give her $5 for petrol.
He once picked up 50 cents in the race at Brookvale and put it in his footy sock.
He arrived at a function late because there was free parking after 8pm.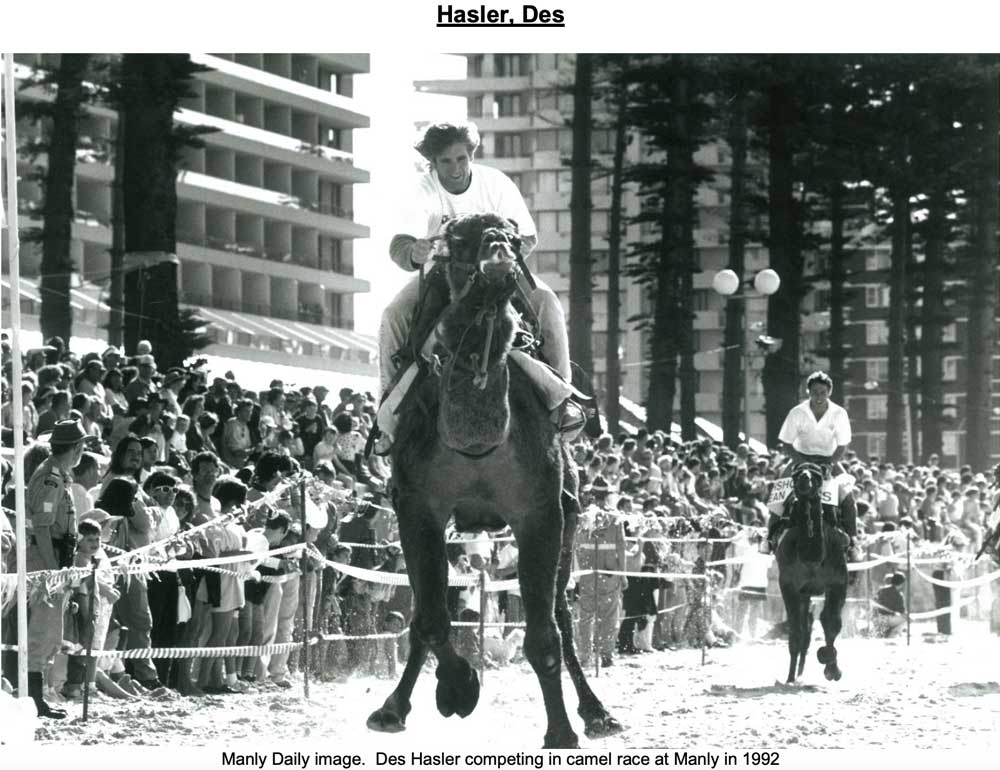 He remains mates with parents from his kids' school. He's involved at church. He's mates with Thomas Keneally. He helped Zali Steggall train for the Olympics.
He taught at St Pius X at Chatswood and also St Augustine's next to Brookvale Oval.
Des's brother Danny Hasler was a teacher at St Augustine's, too. An elite-level long-distance runner, he died of brain cancer in 2013. At the funeral service, Des stood up and sang a song they'd sung together as kids. Unaccompanied. Unadorned. A beautiful, plaintive lone voice in a church…
Des is a devotee of The Art of War by the Chinese warlord, Sun Tzu, written in 500BC. He's always re-reading it, picking out gems. He was tipped onto it by former Wallabies coach Rod Macqueen, who lived near Des in Collaroy.
But as it was for Shane Warne (who thought the team bus was more useful than John Buchanan was as coach), for most of Des's players, the war book is so much malarkey. They barely know Clive Churchill, much less Winston.
But they'll go to war for Des. They know he's a Manly Man. They respect his hardness.
And they like the mad old buzzard.
Paul Vautin reckons he's mellowed."
"He's not ripping doors off hinges any more," Vautin says.
MATT CLEARY IS A SYDNEY SPORTS WRITER AND EDITOR OF THE BEACHES CHAMPION
Get The Latest News!
Don't miss our top stories delivered FREE each Friday.