School Upgrade: New classrooms, gymnasium and a rooftop basketball court! Your first look at the all new Mosman High.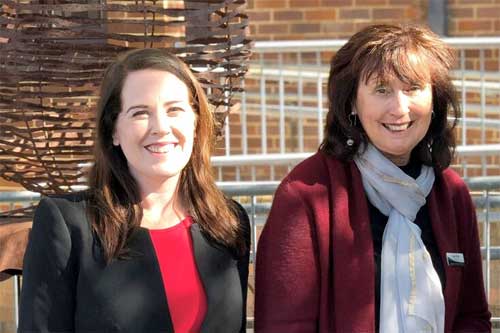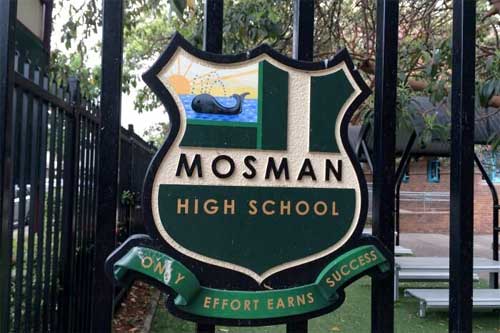 This is your first look at the all new Mosman High School, a state-of-the-art educational facility boasting 16 additional classrooms, a gymnasium, performing arts unit and new outdoor play areas – including a rooftop basketball court.
The major upgrade, set to cost between $30 and $50 million, is the first stage of a two-part expansion plan that will increase the school's capacity to 1500 students by 2031.
Construction will commence late next year.
Member for North Shore Felicity Wilson has confirmed the lodgement of the State Significant Development Application (SSDA) is now "imminent", saying contractors are invited to submit tenders for early involvement in the planning and design stages.
"I look forward to seeing the progress for this upgraded high school and am pleased the planning process is already underway," Ms Wilson said.
"We are delivering on our commitment to bring local students the latest facilities and support the growing school community.
"Mosman High School has a fantastic reputation in our local area, and the teachers, staff, parents, and students all pull together to keep that reputation thriving."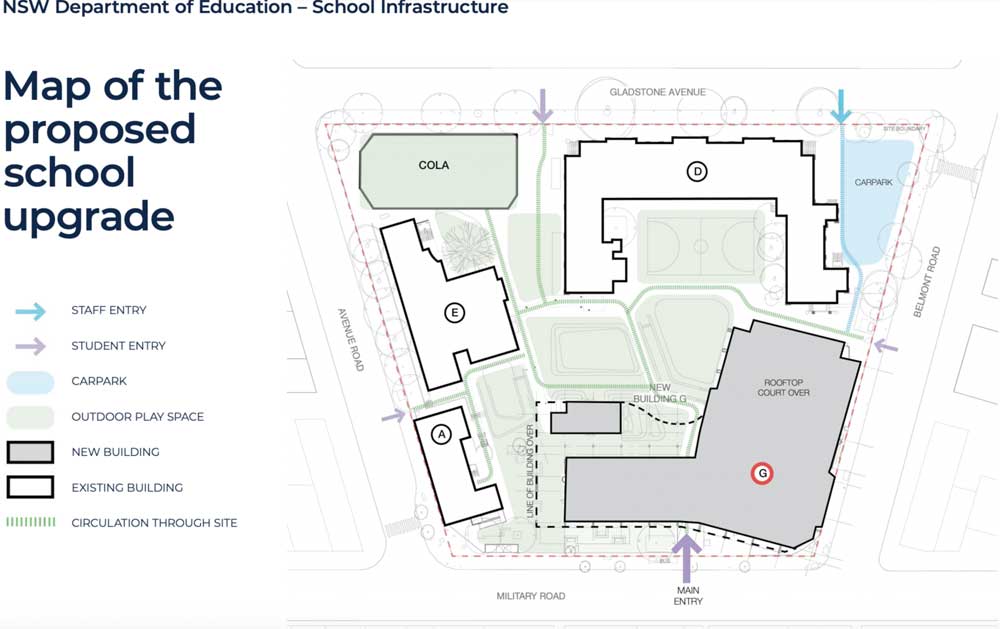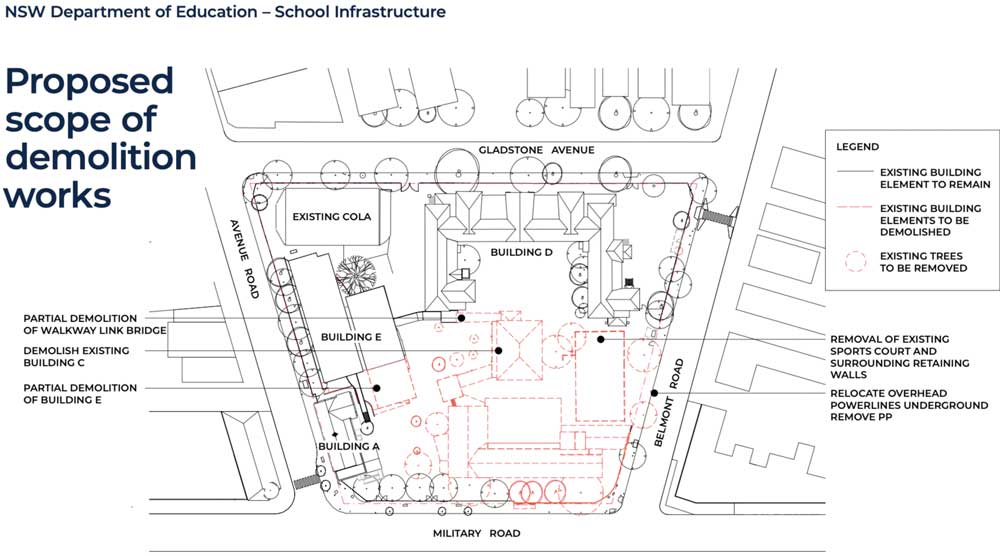 In a submission to the NSW Department of Planning, Industry and Environment, Senior Project Director Daniel Herbertson said the objective of the project is to expand Mosman High into a "Stream 9" capacity school of 1500 students, to meet growth demands by 2031.
Stage One will provide capacity for 1200 students, with a Stage Two future upgrade allowing for a further 300.
The school has a current enrolment of 1,116 and is "severely restricted" in student and teaching spaces, Mr. Herbertson said.
"Existing facilities are undersized and in poor condition," he said, "the current number of teaching spaces will not sustain future enrolment growth and limited teaching spaces at the school inhibits opportunities for student learning."
"Mosman High School is also severely restricted in student outdoor space. The current average of outdoor play space per student is 5.5 metres squared, in comparison to the Chatswood Secondary School cluster average of 16 metres squared."
The scope of proposed works includes the demolition of three existing campus buildings, plus removal of the current sports court, retaining walls and nominated trees.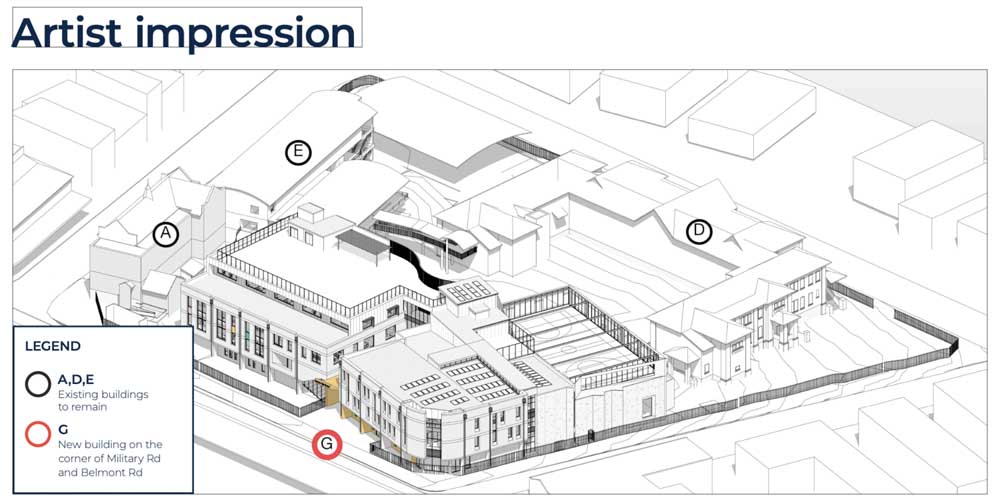 A new, four storey structure on the corner of Belmont and Military roads will provide Admin and Staff facilities, a modern gymnasium and library, plus new canteen, Science Learning Unit, Health and Performing Arts Unit.
"Locally there is a strong demand to attend Mosman High, known for its creative skills development, academic rigour, and culture of inclusion," Ms Wilson said.
"This is an exciting addition and will deliver modern resources to local students, now and into the future.
"We have worked closely with the school on this project collaboratively, to ensure that we get the design right for the school and the wider community," Ms Wilson said.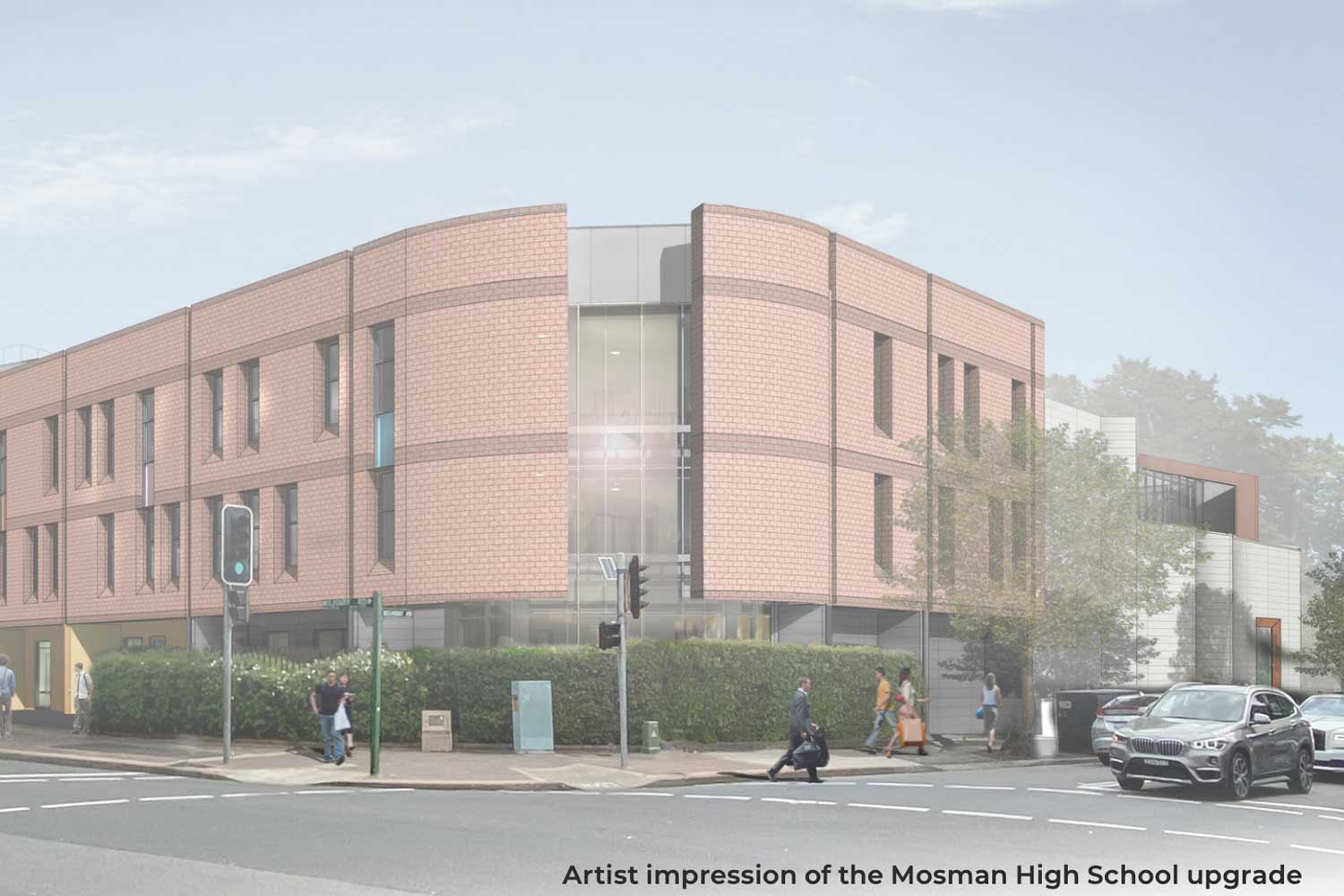 Minister for Education Sarah Mitchell said the NSW Government was committed to providing new and upgraded schools for communities across the state.
"We're making the largest investment in public education infrastructure in the history of NSW, and I'm pleased that Mosman students will benefit from this investment," Ms Mitchell said.
The NSW Government is investing $6.7 billion over four years to deliver 190 new and upgraded schools to support communities across NSW. In addition, $500 million has been allocated to the sustainable Cooler Classrooms program to provide air conditioning to schools.
Get The Latest News!
Don't miss our top stories delivered FREE each Friday.