Flashback 1954: Mosman gripped by Royal fever, thousands line local streets, when Queen Elizabeth comes to town.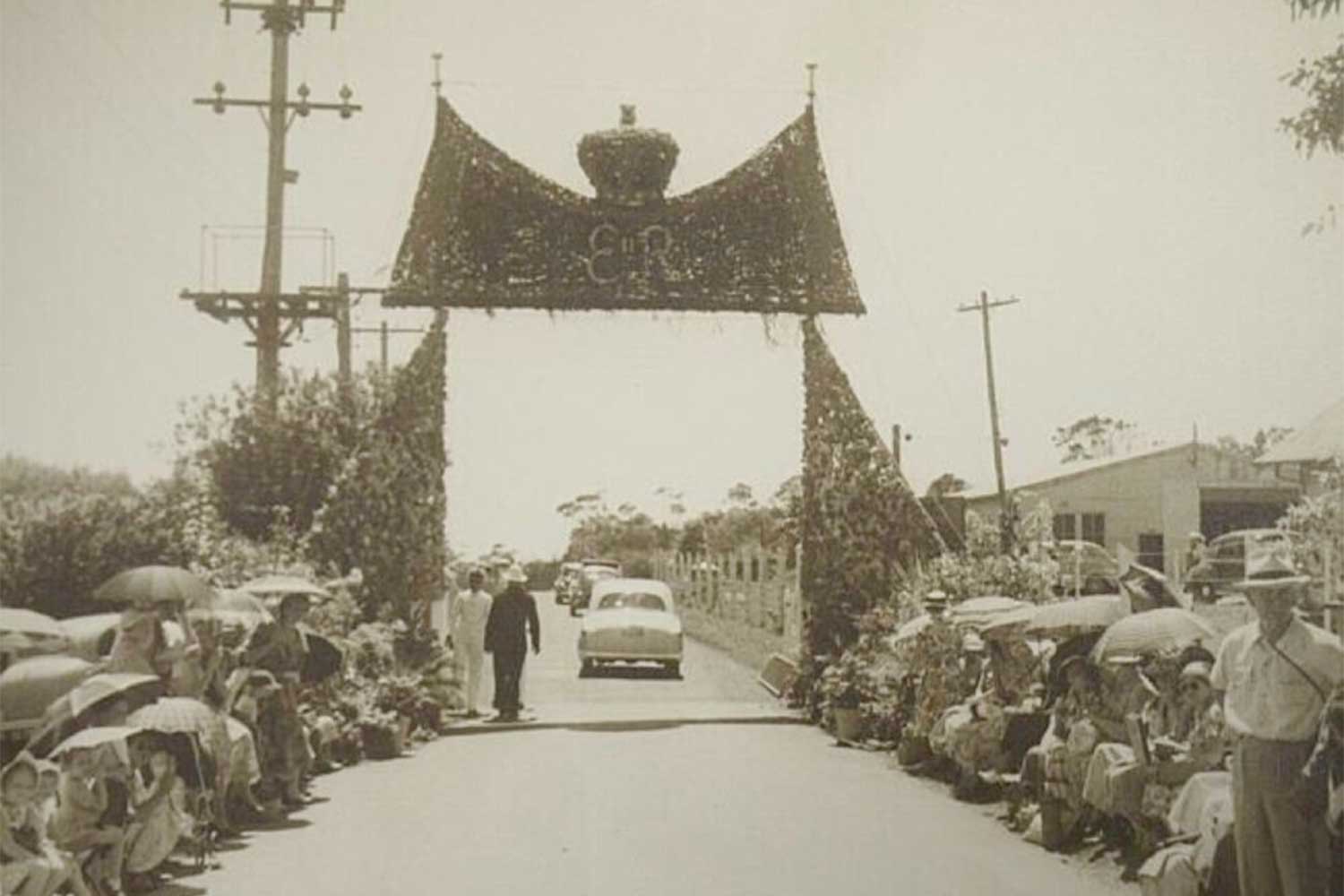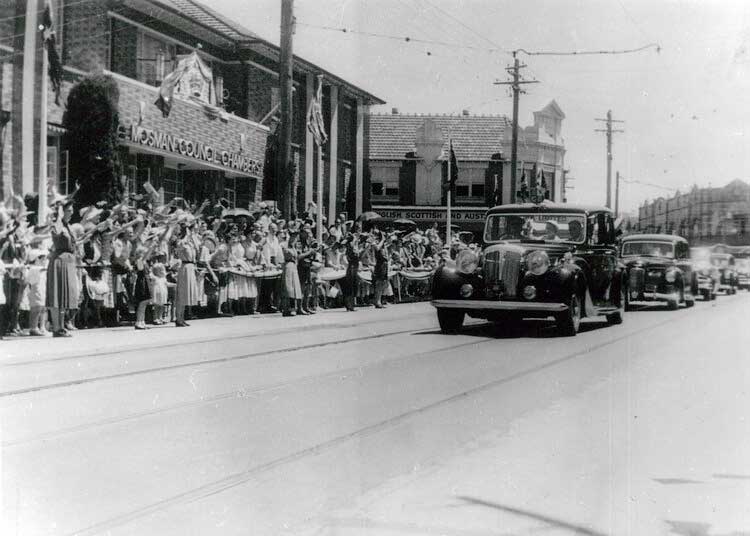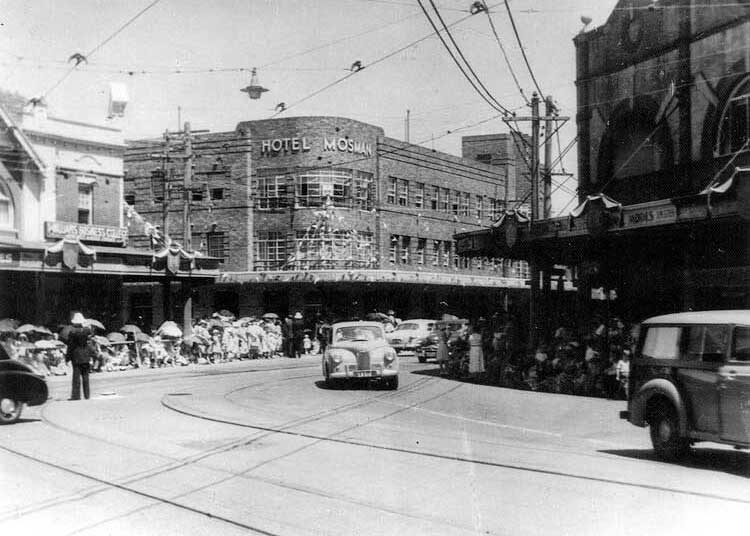 When Queen Elizabeth stepped onto Australian soil for the first time on 3rd February 1954, the nation was gripped by Royal fever. Over the next 58 days, she would visit 57 cities and towns, with more than 75% of the population catching a glimpse of the young monarch. On February 18th, it was Mosman's turn, as ANNA USHER reports.
It was just after sunrise when the young woman aboard ocean liner SS Gothic saw Sydney Heads for the first time.
With a pastel silk scarf covering her carefully coiffed hair, the radiant 27-year-old couldn't help but smile as the opulent steamer made its way into the world's most spectacular harbour.
Looking west, with the misty colours of dawn revealing a coastline of unspoiled beaches and bays, the most recognised face in the world stood on the ship's bridge, took a deep breath, and savoured her final moment of solitude before the pandemonium began.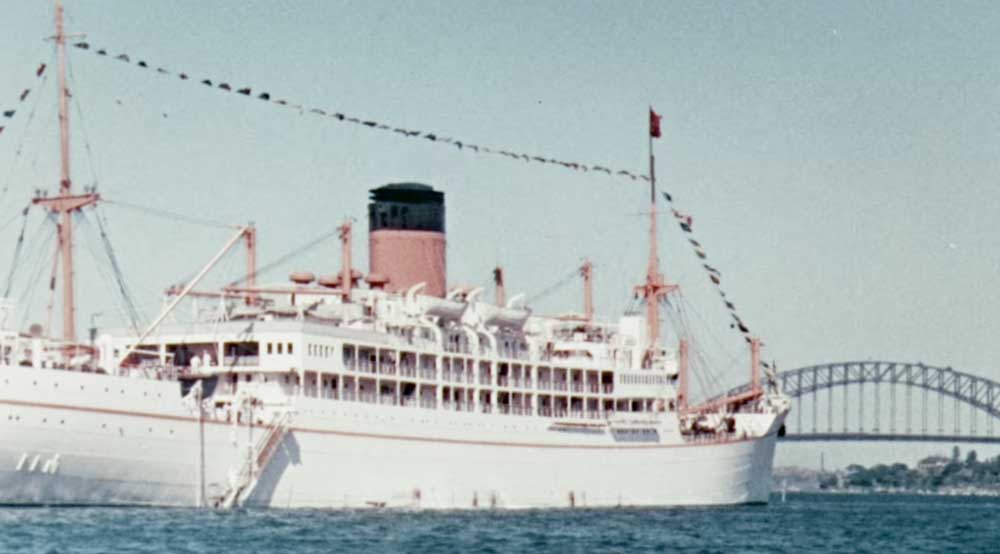 Over the next fifty-seven days, Queen Elizabeth II would dazzle a star-struck nation on a relentless journey around Australia. The itinerary was seven capital cities and seventy country towns, covering 27,000 miles (43,452 km) by car, train, plane and boat.
Sydney's people slept poorly on the night before The Queen's arrival on February 3, 1954. At least half a million of them had stayed up late, preparing picnic food and laying out their finest clothes, knowing they had to hit the road before 6am if they were to get a decent view of the Monarch.
In Mosman, crowds lined the foreshore from every possible vantage point, and as the royal masthead slowly appeared, the dreamy drone of bagpipes echoed from the eastern edge of Middle Head. "The first notes of music to reach The Queen and Duke from these shores came from the Mosman District Scottish Pipe Band," Mosman Mayor John Warre would later recall in a minute to the Council.
"Her Majesty Queen Elizabeth II and His Royal Highness, The Duke of Edinburgh, received such a welcome that must forever stay in their memory as an outstanding token of the love and loyalty of their Australian subjects."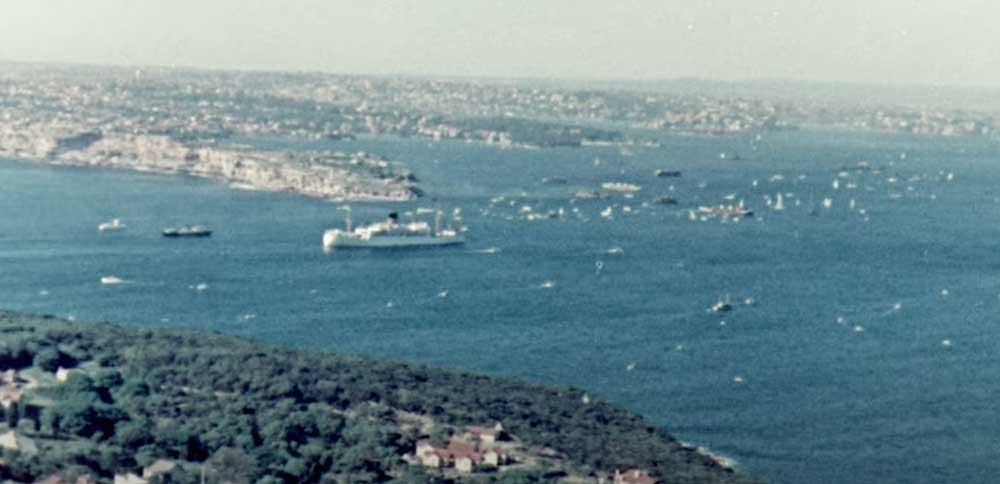 At 8:30am, the Gothic made its way around Bradleys Head to anchor in Athol Bay, prompting a thunderous roar from boats big and small on the water.
"A mighty hosanna of cheers and sirens, foghorns and whistles and an echo overhead as six RAAF Mustangs and six Vampire jet fighters gave a Royal salute to their Supreme Commander," Britain's News Chronicle reported, "she was here at last".
"There were thousands of sightseers at Taronga," Dolly Baverstock reported in the Australian Women's Weekly, "and even the animals were excited by the crowds streaming in."
"Spectators stretched all the way from the Harbour Bridge to the zoo, where a disused monkey pit provided a prime view of the regal visitors," she said.
At 10:25am, after receiving Prime Minister Robert Menzies and NSW Premier John Cahill, The Queen gave the nation the moment they'd been waiting for. Wearing a white organza dress patterned with pale yellow wattle, she stepped onto the Royal Barge, bound for Farm Cove and a city hysterical with excitement.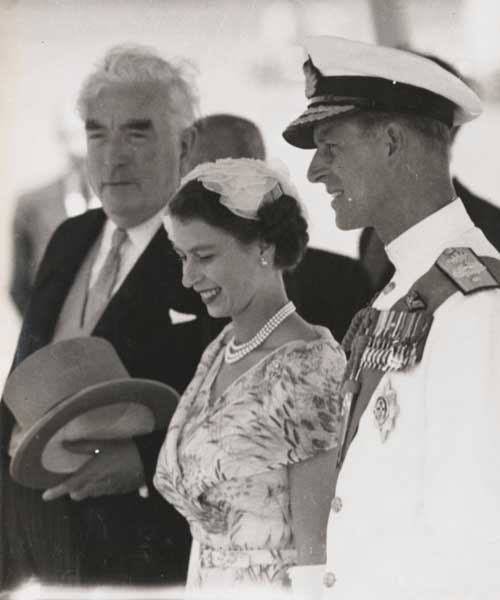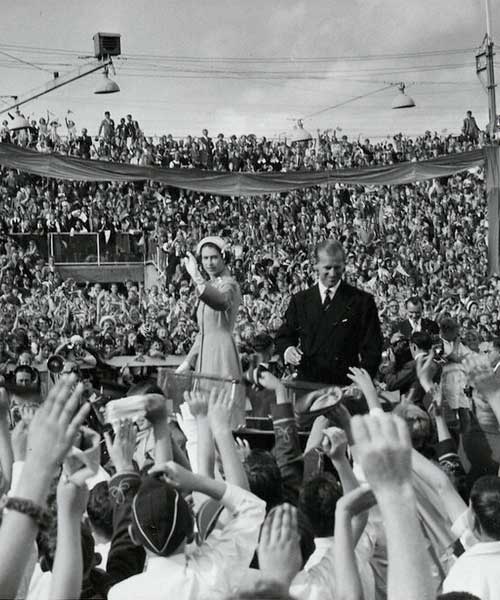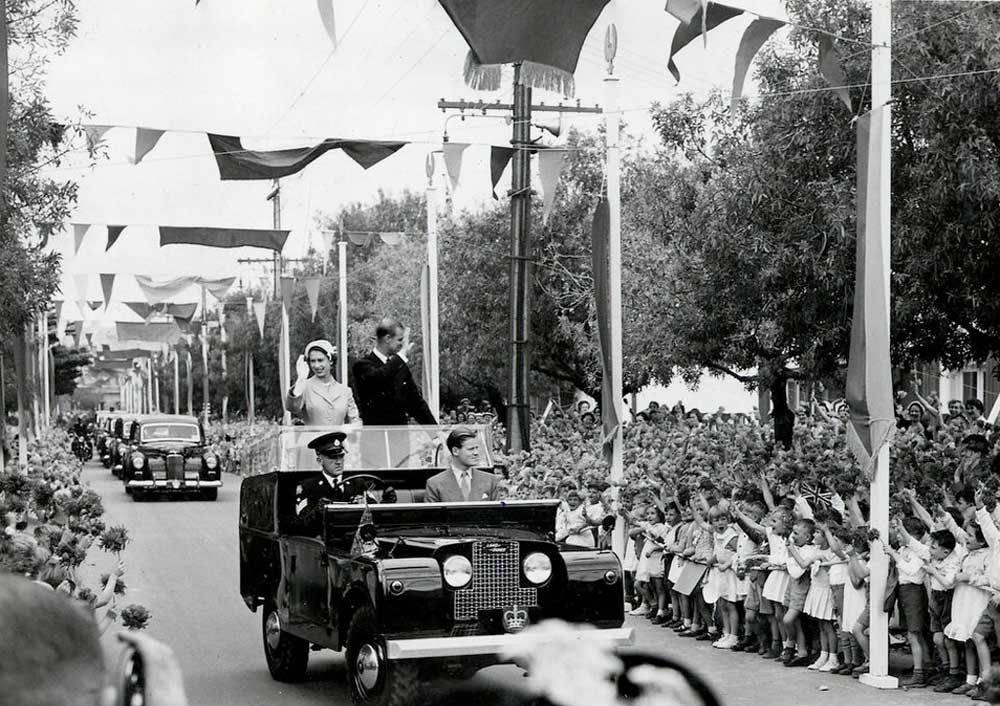 One million people lined a ten-mile royal route to deliver an ebullient, almost frantic, welcome, with many scrambling up ladders and trees to catch a glimpse of the couple as they made their way to Government House.
"The city was a sea of waving flags, paper crowns, confetti and shredded newspaper," Wendy O'Brien recalls, "we were overcome with excitement, and I can remember grown men in tears."
"Australian people had been preparing for this moment for years, and we all knew it was an important moment in history."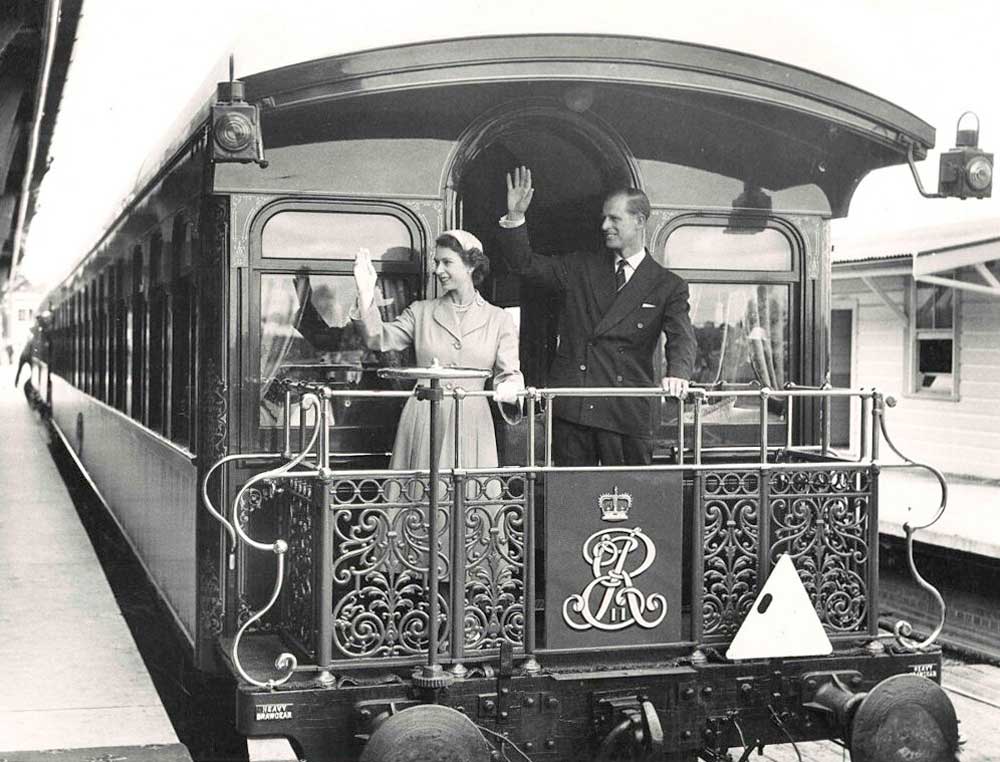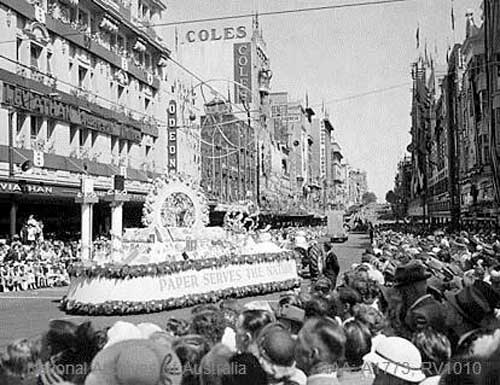 Elizabeth and Philip would spend the next sixteen days in New South Wales and the ACT, waving and smiling in searing heat, to unprecedented crowds of joyously delirious, shrieking subjects.
On Thursday, February 18, their last day in Sydney, it was finally Mosman's turn to 'officially' host the newly crowned Queen Elizabeth.
Council had decided on a striking shield motif flanked with red, white and blue bunting and gold rosettes to adorn storefronts on Military Rd, from Cremorne Junction to the Buena Vista.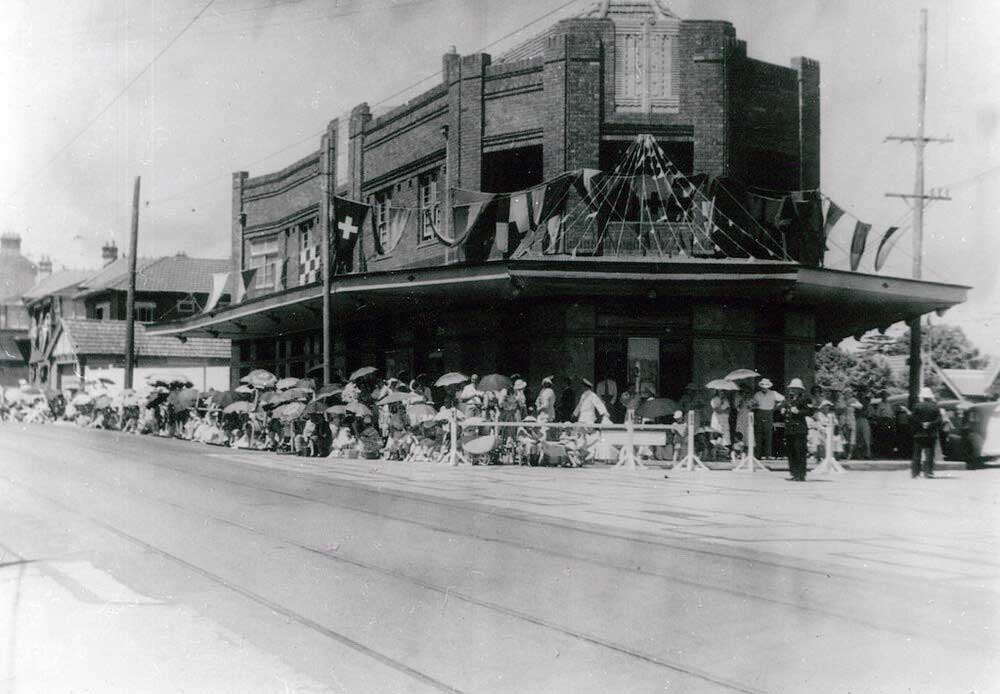 "The response of retailers … was practically a continuous line of awning display right along Military Rd from Cremorne to Mosman," 1954 Mosman Council Minutes state.
At 11:30am, the Royal Dakota arrived at Mascot from Canberra, where the Royal party transferred to their black and blue Daimler landaulette for the 12-mile (19km) trip to HMAS Penguin at Balmoral.
More than 600,000 people lined the route, along Old Botany Rd, O'Riordan St, Bourke St, Taylor Square, Oxford St, College, Park, Druitt, Clarence streets, the Bradfield Highway, Pacific Highway, Miller and Falcon Streets, Military Rd and finally Middle Head Rd.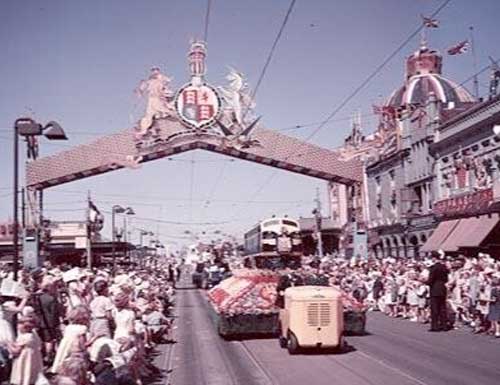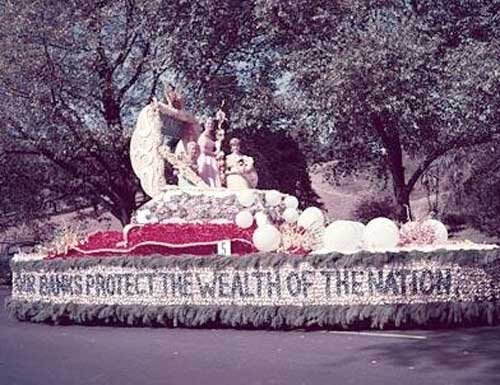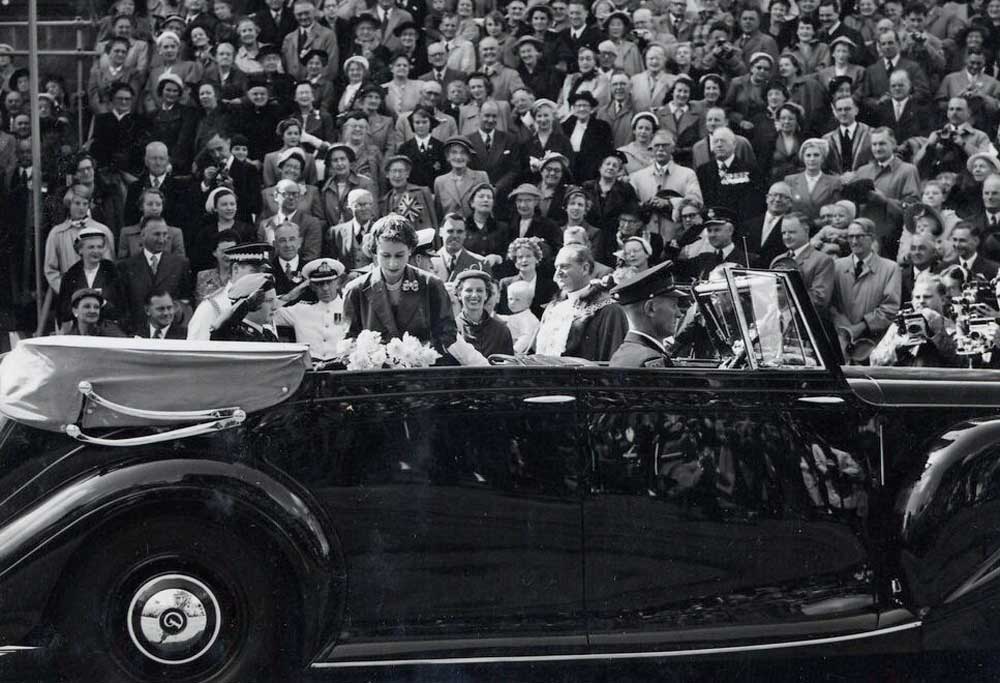 The Sydney Morning Herald told of crowds 30 deep in some places, "with red, white and blue streamers, balloons and paper showering the Royal couple as they passed".
In St Leonards Park, North Sydney, nearly 50,000 lower north shore school children stood in searing heat to greet the Monarch when she arrived at 12:10pm.
"The Queen and Duke sat on the turned down hood of an open car as they drove through a sea of fluttering flags and screaming, shouting children," the Sydney Sun that afternoon.
From North Sydney, the entourage moved slowly amidst heaving crowds, with "women and children evading the cordon, rushing forward to wave flags and cheer at The Queen."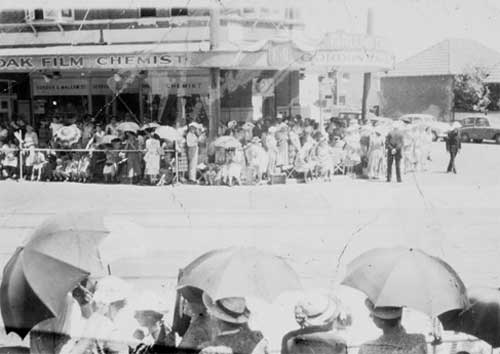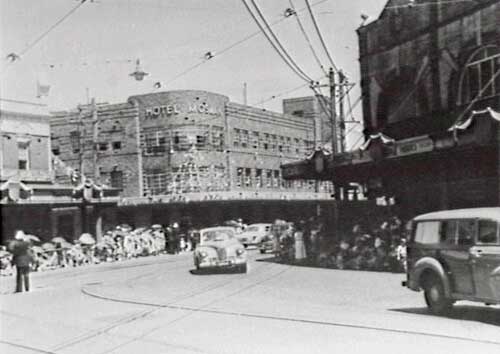 "Thousands of women lined Military Rd, 'coo-eed' and shouted, "God bless you, come back to us," as the Queen and Duke passed, the newspaper report said.
"A happy incident at Cremorne Junction occurred when the Queen signalled to her driver to stop the Royal car, leant out and took a cellophane-enclosed posy from a small girl who ran on the roadway.
"Tumultuous cheers greeted the action, and the Queen looked really delighted."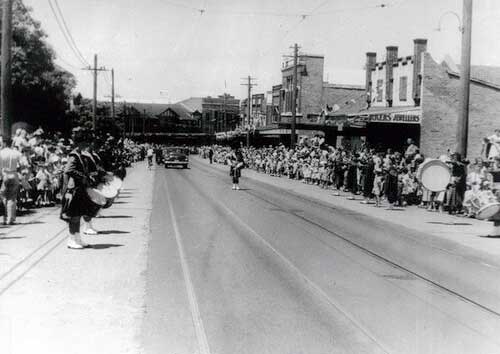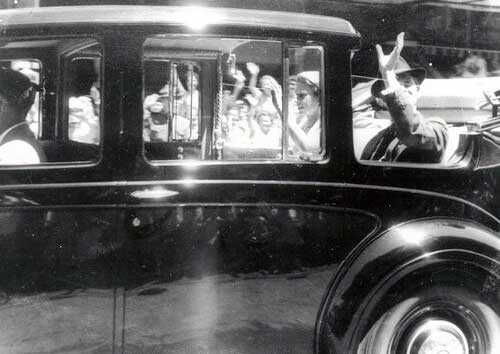 But the best was yet to come.
Driving down Military Rd, the royal couple were impressed with Mosman's decorated Town Hall. But it was a substantial floral canopy, arched over HMAS Penguin and made with marigolds and crepe myrtle, that drew high praise from The Queen.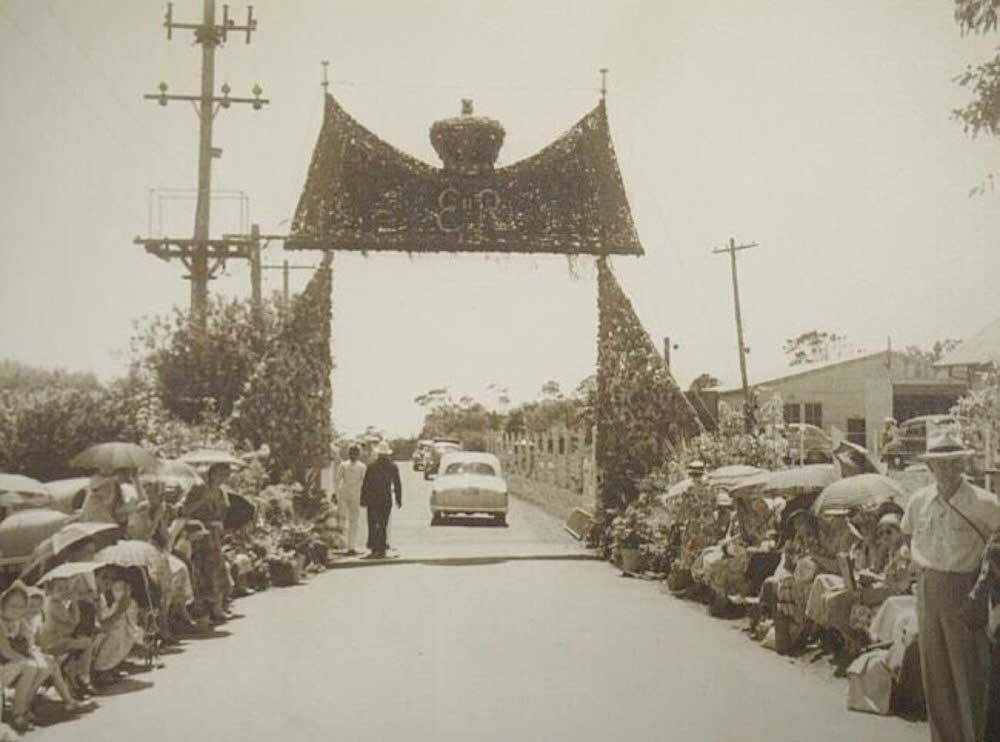 "They drove over a carpet of flowers and under a floral arch which was unique," Mayor Warre said at the time, "it was the only one they had encountered during this tour.
"We cannot speak highly enough of the stupendous result achieved by members of the Mosman Home Gardeners and Orchid Society, all of whom must be very proud and happy.
"200 people wired two tons of flowers to the Crown arch and side wings," wrote Mayor Warre.
"As the Royal Car passed under the arch, the Choir of St Clements Church lifted their voices in praise."
"I, in the company of all residents in this Municipality, feel that as a result of the visit of Her Majesty and His Royal Highness, the ties of loyalty must ever be closer bound, and a greater understanding of the problems of the British Commonwealth of Nations be achieved to the betterment of the world."
Get The Latest News!
Don't miss our top stories delivered FREE each Friday.