Photo Special: Celebrating 50 years of the Sydney Opera House, Australia's most remarkable building.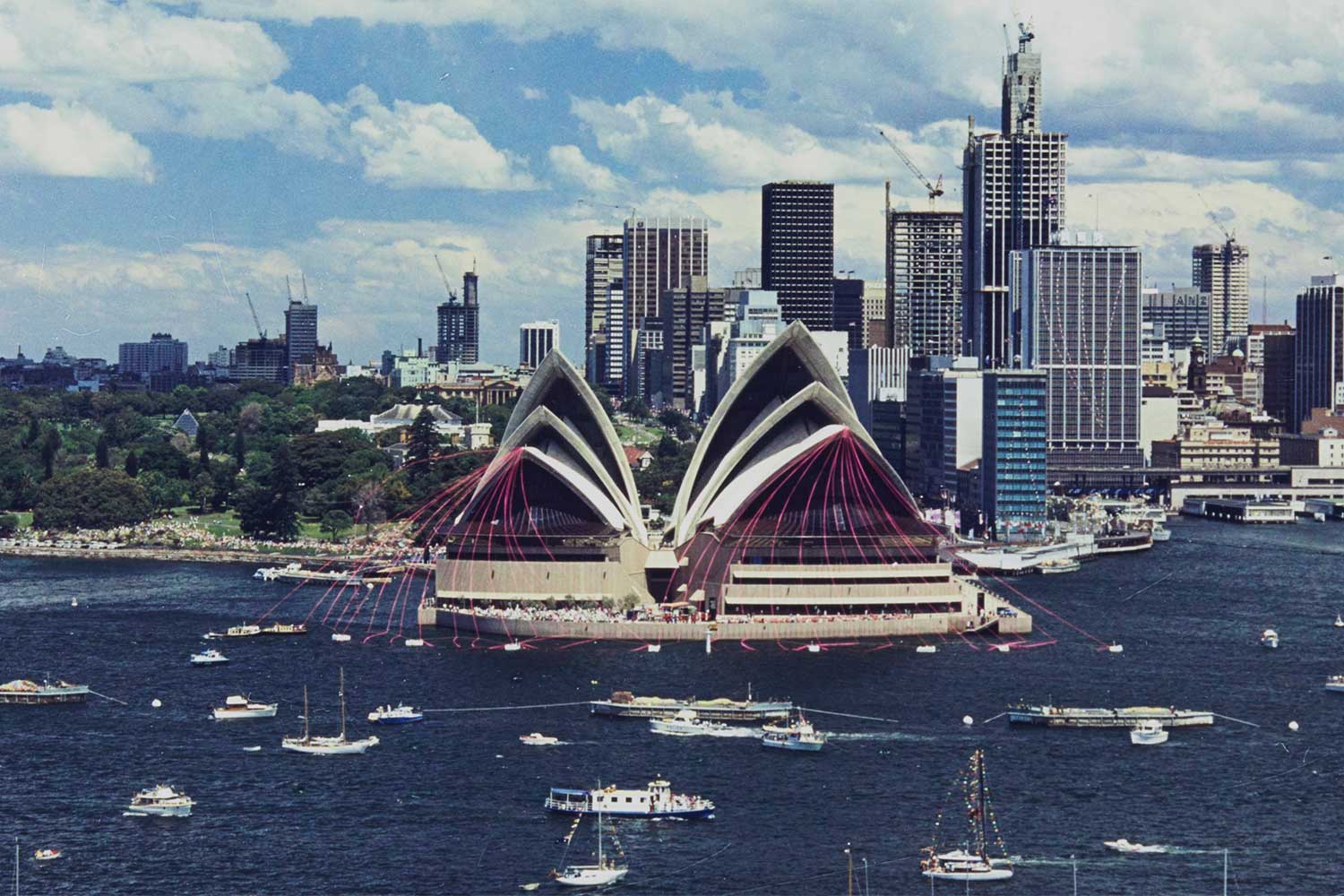 It took two decades, two architects, ten thousand workers and $102 million to build one of the world's most iconic buildings.
On 20 October 1973, after years of trouble-plagued construction, Queen Elizabeth officially opened the Sydney Opera House as more than one million people swamped every vantage point for a celebration like no other.
Dressed in a powder blue silk frock with a wide belt and matching "Baker Boy" hat, the Monarch launched proceedings at precisely 2:50pm, delivering the first official speech as a howling north-westerly swept through a shimmering harbour.
"Every great imaginative venture has had to be tempered by the fire of controversy," the Monarch told the crowd, "Controversy of the most extreme kind attended the building of the Pyramids, yet they stand today – 4000 years later – acknowledged as one of the wonders of the world. So, I hope and believe it will be with the Sydney Opera House."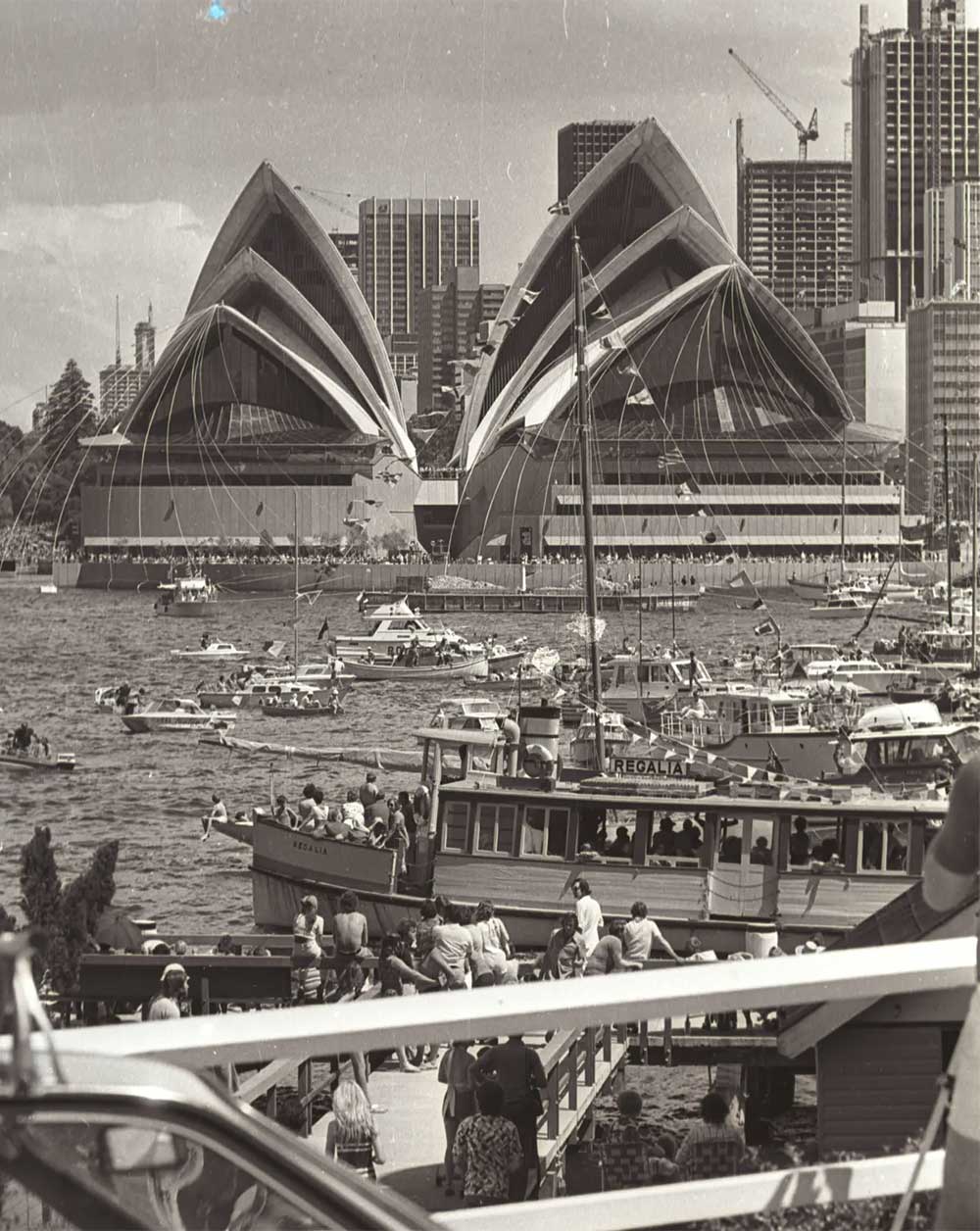 Giant pink ribbons, hung from the front shells and attached to four tugs, cascaded into the water as the boats pulled away at the same time 60,000 helium balloons and 100 white doves were released, all of them swept wildly off course by the 45 knot winds.
At 3:20pm, a two-minute "cock-a-doodle-doo" broke out from the flotilla of decorated Navy vessels, small boats, canoes, and even surfboards – all of them making as much noise as possible to celebrate the fact the monument to modernism was finally open.
Sydney's biggest party meant hungry hordes needed to be fed. At Bradfield Park, four steers were roasted and 300,000 pies, 96,000 doughnuts and 150,000 cups of coffee were distributed from service points dotted around the harbour.
Over its 50-year history, the Sydney Opera House has hosted countless performances from opera to comedy, dance and drama. It is home to eight resident companies: Opera Australia, the Sydney Symphony Orchestra, the Australian Chamber Orchestra, Sydney Philharmonia Choirs, Bell Shakespeare, Sydney Theatre Company, the Australian Ballet and Bangarra Dance Theatre.
More than 10.9 million people visit the icon each year, with her sails providing photo opportunities for Royalty, Politicians, celebrities, and mere mortals. She's been used as an Olympic venue, a place of protest, a rock concert venue and location for international TV specials.
Get The Latest News!
Don't miss our top stories delivered FREE each Friday.
"Our" Opera House is of course, thanks to the brilliant work of Jørn Utzon, the Dane who dreamt up the design, departed mid-project in 1966 and never saw it complete.
Not everyone knows he was dyslexic but most now consider him a genius. He died in November 2008 aged 90, having never returned to Australia. He told a reporter in 2002 that he thought about the Opera House every day. "I have the building in my head like a composer has his symphony," he said.
Today, according to Deloitte, the Opera House has a social asset value of $11.4 billion. When adding it to its list of significant sites in 2007, UNESCO's World Heritage Committee described it as "one of the indisputable masterpieces of human creativity".
Happy 50th birthday to the best-looking building in the world!
Get The Latest News!
Don't miss our top stories delivered FREE each Friday.