Meet Ed Goddard, the "Mosman Mullet" who runs 30 kilometres each day.
On Monday morning at 9 am, Ed Goddard laces up his Asics and hits the road for his first run of the day.
Over the next one and a half hours, the man they call the "Mosman Mullet" will have clocked up 25 kilometres in a gigantic loop starting at Somerset St, then down to Bradleys Head and back uphill, before heading into the CBD – and home again.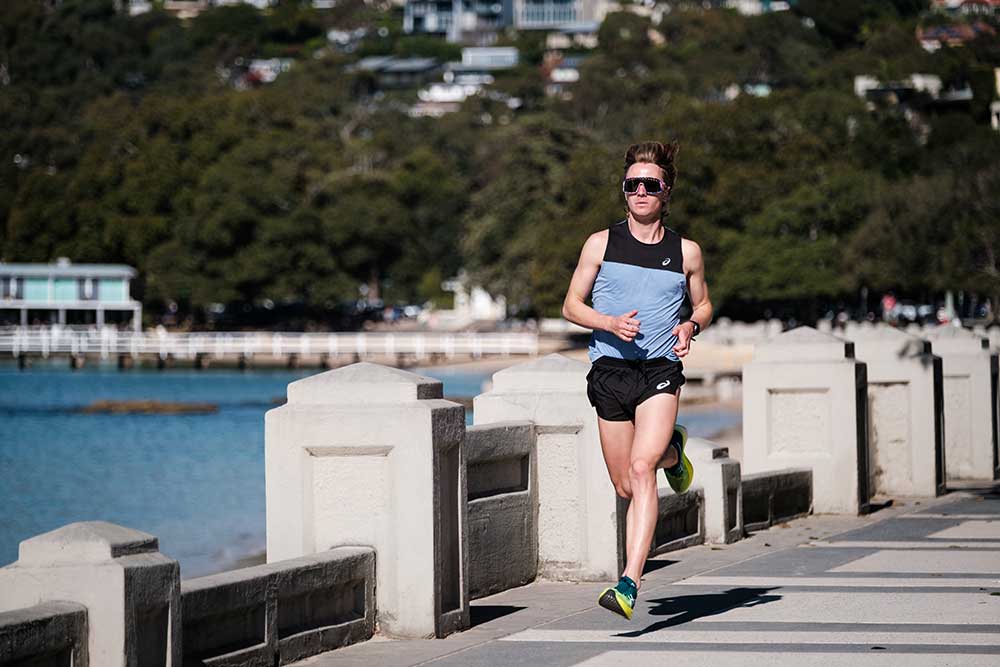 "Sometimes I change the route to suit my mood, but it's 25 kilometres every single morning," the 24-year-old Athlete tells me.
"And then I run another 7 kilometres in the afternoon."
Seven days a week, you'll find Ed pounding lower north shore streets and beaches, often shirtless and always with his trademark blond mullet trailing behind.
Like a lairy Forrest Gump in his fluoro, frameless Oakleys, there's no missing the full-time Athlete.
And that's just the way he likes it.
"I started running when I was in Year 8 and haven't stopped since," the Shore old boy says, "it's as much a part of my life as eating and breathing."
"As for the mullet, I've had it since 2016 when it wasn't considered fashionable – but I love it.
"My mates reckon it makes me go faster!"
After years of long-distance success, the young gun decided to try a Marathon in December 2021, clocking an impressive 2:15:13 at the Melbourne Running Festival.
Just four months later, Ed knocked two minutes off his time in the Manchester Marathon, running the 42 kilometres in two hours and 13 minutes.
And now he has the Olympic Games set firmly in his sights.
"I will be running the London Marathon in October, and then the plan is to qualify for the World Championships," Ed said.
"I'm one of the younger Marathon runners on the circuit, so my best years are ahead of me.
"If it all goes to plan, I would love to make the 2024 Olympic Games."
Running more than 210 kilometres each week and regular gym sessions leaves little time for anything else, Ed says, apart from a "daily dip" at Balmoral, which is essential for his mental health.
"I have an ocean dip 365 days a year, wherever I am in the world, and it's something that helps me decompress," he said.
"Just floating around in the water is good for the soul."
With legendary Australian champions like Steve Moneghetti in his corner, Ed says the key is to remain patient and "success will come".
"I chat to Steve regularly about Marathon running, and his advice is to remain patient," he says.
"Marathons are a hard thing on the body, and you must be patient in all aspects of the process.
"It takes time, energy and mental toughness to be a great Marathon competitor," Ed says.
"Most runners don't hit peak performance until their mid 30's, so I am fortunate to have ten years up my sleeve."
Get The Latest News!
Don't miss our top stories delivered FREE each Friday.