Food History: 350-year-old Christmas Pudding recipe made famous by Mosman home cook.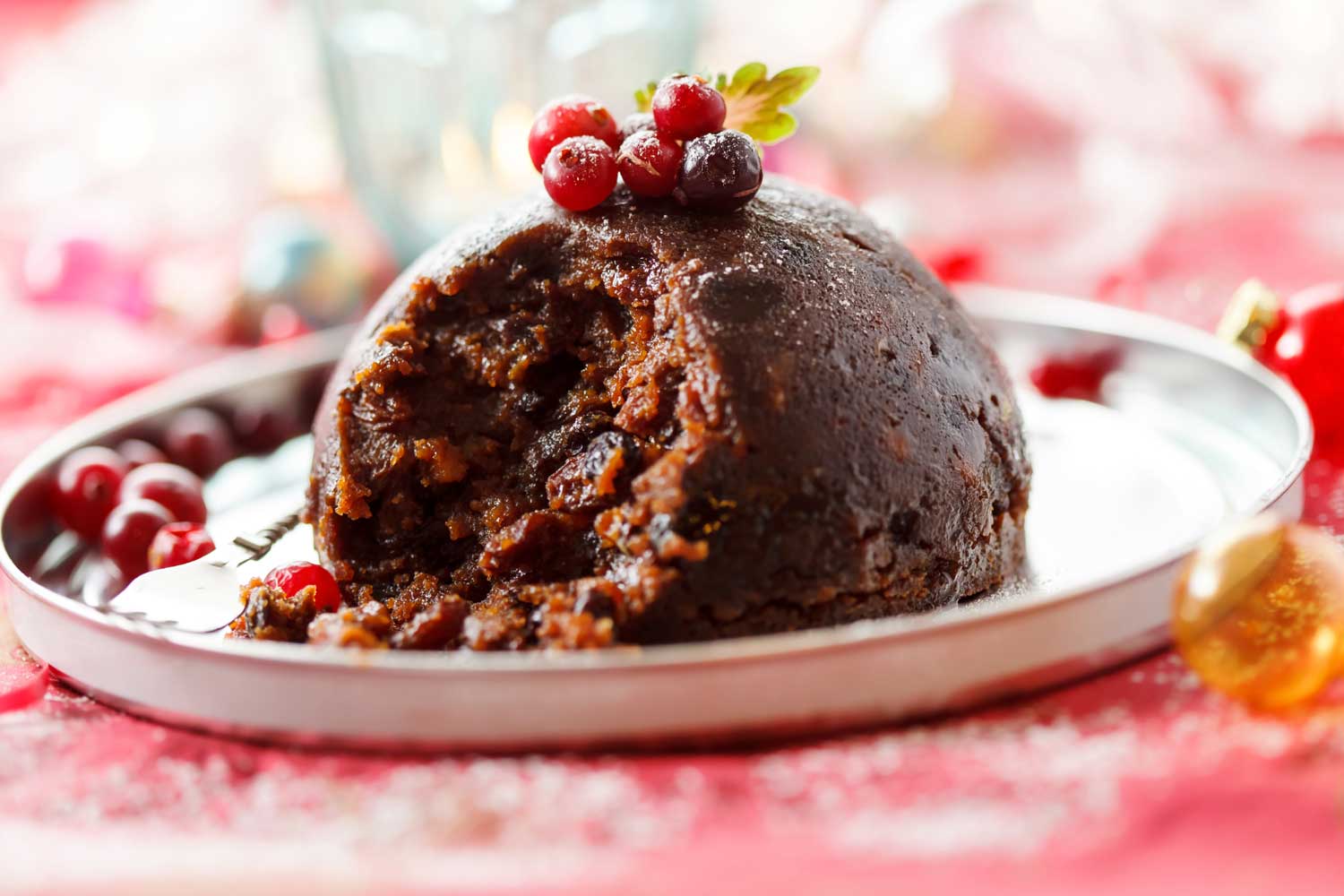 It's fair to say there are two types of families in Australia; Those who love Christmas pudding, and the ones who don't.
While I'm not a big fan of the pudding, it's been part of my family fabric for generations; a complicated labour of love which starts with gathering the very best dried fruit, dousing it in booze (for at least a week), then grating three-day old bread into fine crumbs before mixing the heavy batter by hand.
This combination of sticky, sweaty summer days and a lunch time feast of dense, wintry foods is how many choose to celebrate Christmas in Australia, a bizarre hangover from colonial times, when our English forebears would cook piping hot dinners on December 25.
In 1936, the Sydney Morning Herald rounded up some of the city's top home cooks and hostesses, asking them to share their secret family recipes for Christmas Pudding.
Mrs Parkes 350-year-old Pudding Recipe
1 lb each of butter, brown sugar, plain flour.
10 eggs.
½ lb breadcrumbs.
1 lb seeded raisins
1 b currants
¼ lb Jordan almonds
6 oz lemon peel
1 packet mixed spice
1 grated nutmeg
3 wineglasses of brandy
1 wine glass of rum
Cream the butter, add sugar beating by hand – then add eggs one at a time.
Add flour and breadcrumbs.
Put fruit in slowly, beating all the time.
Add brandy and rum.
Steam for six hours in a basin.
Mrs Monks' Economy Pudding Recipe
1 lb each of currants, raisins, plain flour, suet, breadcrumbs.
3 eggs.
½ cup treacle and sugar
1 tsp mixed spice.
1 large glass of brandy.
Prepare fruit and lay in sun to dry.
Mix the dry ingredients together.
Warm the treacle and add a little milk.
Beat into the pudding with the eggs – then add brandy and stir well.
Dip the pudding cloth into boiling water, flour and turn the pudding into it.
Tie up securely. Boil 6-7 hours.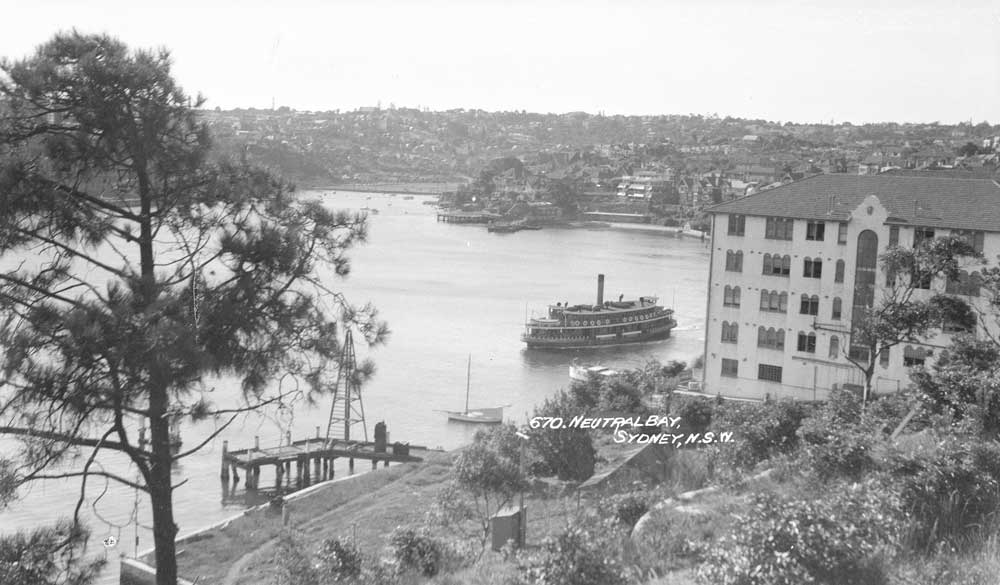 Mrs Ella Spain, wife of of Neutral Bay Commander Staunton William Spain, was known to begin her festive baking months before Christmas, with a dozen fruit cakes in her pantry on the day a Herald reporter visited.
"Mrs Spain chose the hottest day this week to make 50lb of mixture, containing 60 eggs, sufficient for nine puddings," the story reads.
"She had two willing helpers, her sisters Mrs A.F Manchee and Mrs F.W Brennan.
"Mrs Spain took five hours on the previous day to prepare all the fruit and about three hours to blanch and chop the almonds."
The most important part of the procedure, Mrs Spain told the journalist, was tying the cloth firmly so water couldn't seep into the pudding.
"This she does by holding the cloth in one hand and pulling the ends tightly through her fingers."
Mrs Spain's Deluxe Pudding Recipe
1lb each of currants, seeded raisins, sultanas, butter, sugar.
½ lb lemon peel and blanched almonds cut fine.
10 eggs.
A ¼ lb plain flour.
Essence of lemon and vanilla.
Salt spoon each of mixed spice and nutmeg.
1 wine glass of brandy.
Cream butter, sugar, add egg yolks and whites separately and not too quickly.
Add spice, fruit, and sifted flour – then the brandy.
Cook for six hours on the day of making – and then four hours on Christmas Day.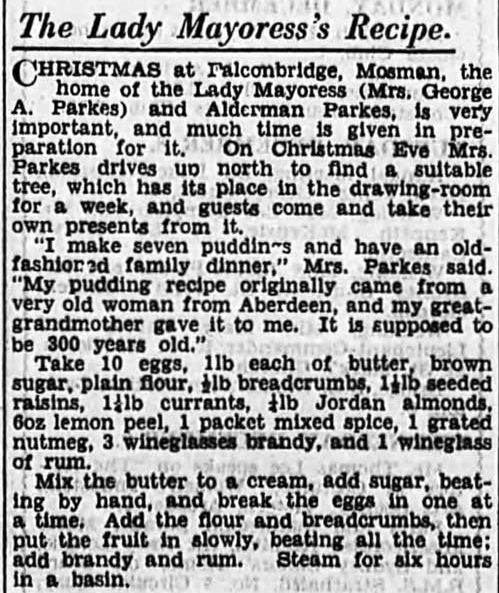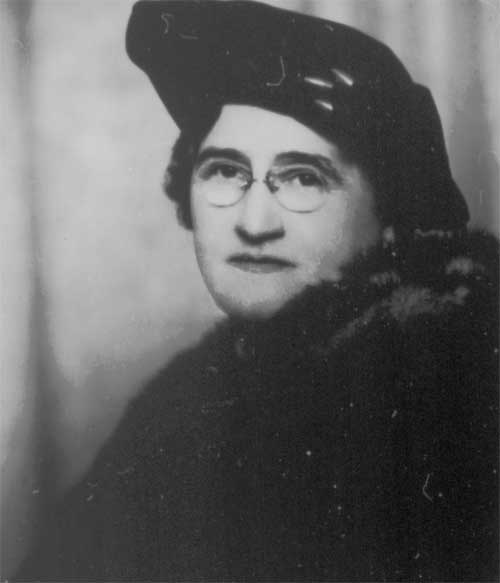 Over in Mosman, Mrs George Parkes told the Herald she'd been planning Christmas Day in 1936 for months.
A popular Sydney socialite, Mrs Parkes was Lady Mayoress of Sydney, who lived with her husband (Alderman George A Parkes) at 'Faulconbridge' a grand Federation home at 25 Prince Albert St.
"I make seven puddings and have an old-fashioned family dinner," she said.
"My pudding recipe originally came from a very old woman in Aberdeen, and my great-grandmother gave it to me.
"It is more than 300 years old."
Mrs Isabel Monk (wife of Violist Cyril Monk) was well known for her entertaining skills at the couple's Raglan St home, and she too shared her secret family recipe for an "Economy Christmas Pudding".
"It's not too rich and is economical when catering for a crowd on Christmas Day," she said.
Do you have a Christmas Pudding recipe to share? We'd love to see them!
Get The Latest News!
Don't miss our top stories delivered FREE each Friday.