Flashback 1959: Big Bear Supermarket – a futuristic American phenomenon – opens in Neutral Bay.
Lower north shore housewives had never seen anything like it – and on Thursday, 27 August 1959, thousands rushed to experience an American phenomenon known as the "supermarket" for the first time.
Hailed as Australia's largest one-stop shopping centre, Big Bear heralded a new era in consumer retailing with all the magic of a fairy tale.
From its main entrance on Military Rd, the converted tram depot offered 50,000 square feet of floor space and a carnival of choice: grocery staples, dairy produce, meats, fruit, and fish sat under the same roof as clothing, manchester, kitchen appliances, sporting goods and confectionery.
"This [supermarket] is a dream for the average housewife, who until now trudged from shop to shop in her local shopping precinct, her basket and string bag becoming heavier and heavier with every purchase," reporter John Grigsby wrote.
"Further, if she has a car, she is confronted with the problem of finding a place to park. She either leaves the children in the car or they trudge along with her, tired and irritable."
Not so at Big Bear.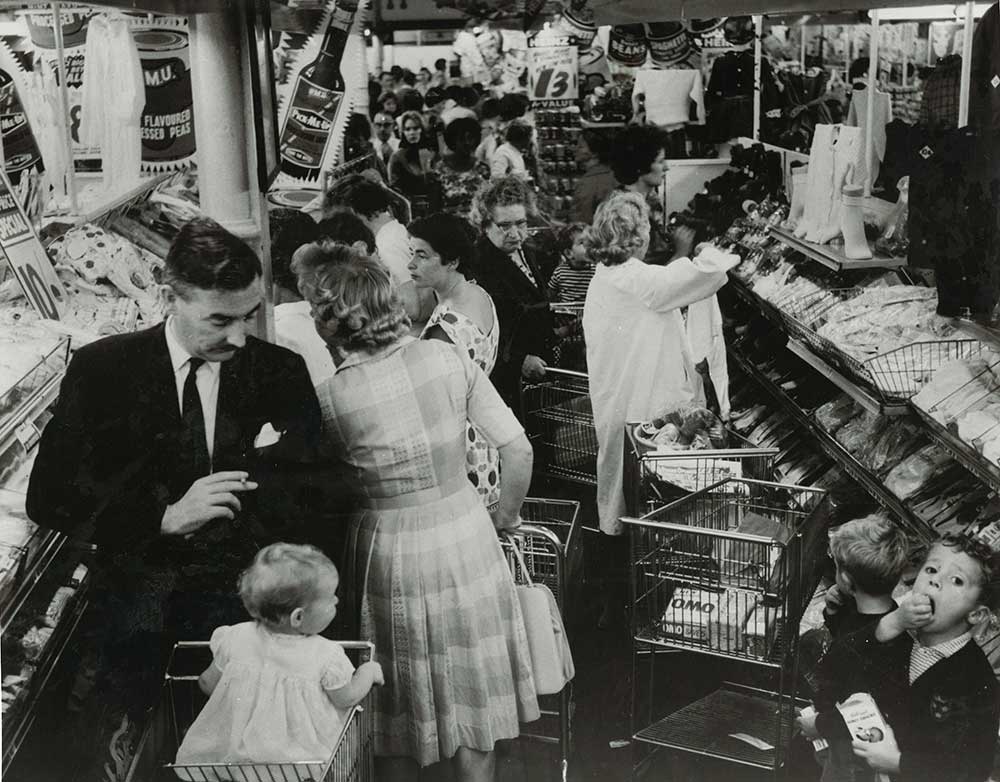 A two-deck parking lot for 400 vehicles, with a unique conveyor system allowing customers' purchases to travel from the shop counter directly to the boot (in under seven minutes), was a ground-breaking and futuristic invention featured in the pages of the Sydney Morning Herald.
"The belt is constructed to carry up to 1000 lbs (453kg). The main belt, running the length of the supermarket from Ernest St to Military Rd, operates at 160 feet (48m) a minute."
Big Bear was the first shopping centre venture for retailer F.J Palmer Holdings, a company that dated back to 1880, when a men's clothing business was Founded in Regent St, Redfern, by Frederick John Palmer. By 1953, the family owned 60 stores in four states, with an annual turnover of £5 million.
Named after a successful supermarket chain in the US, there was no mistaking the flash local landmark, with its huge, fluorescent plastic bear marking the entrance and 38 flagpoles with brightly coloured standards enticing curious Sydneysiders to adopt this novel way of purchasing daily essentials.
Facing Military Rd was an extended wing of the building, which housed a milk bar, fruit and vegetable stall, American-style drug store, coffee bar and a convenient drive-through bottle shop to please thirsty afternoon commuters in the days before Random Breath Testing.
Once inside, shoppers were given a quick lesson in navigating one of 400 trolleys – and a directory board showed them how to map out their new-fangled supermarket journey.
"The directory board operates on a system of numbers from one to 64," the Sydney Morning Herald told readers just days before the official opening, "each department has an individual number listed on the board. For women's cosmetics, the number is 25."
"Having ascertained this, the customer finds the number 25 among those suspended from the supermarket roof. Directly beneath the number will be the cosmetics display."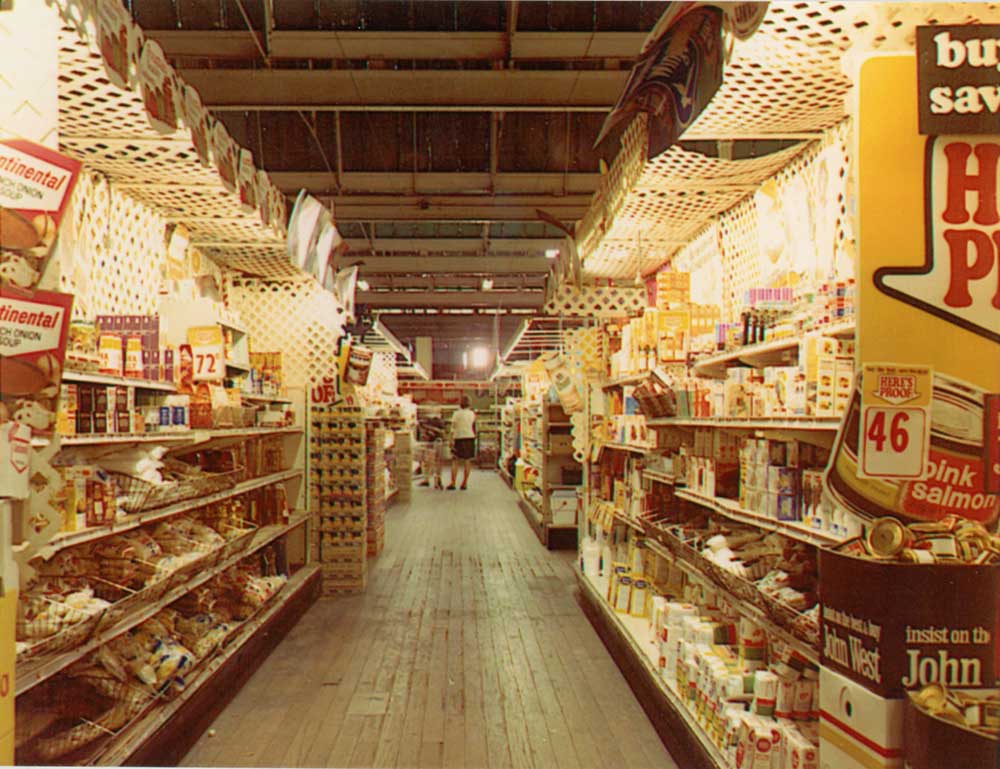 Piped music and 85 immaculately groomed shop assistants – who had their fingernails checked for cleanliness before each shift – also helped to provide a relaxing escape from the daily grind.
"A section of the supermarket is set aside for mothers who wish to leave their children in prams while they shop," the Herald wrote. "The prams will be numbered, and if a child starts to cry, the mother will be paged over the loudspeaker system."
But it wasn't just lower north shore homemakers who were dazzled by this new American way of shopping.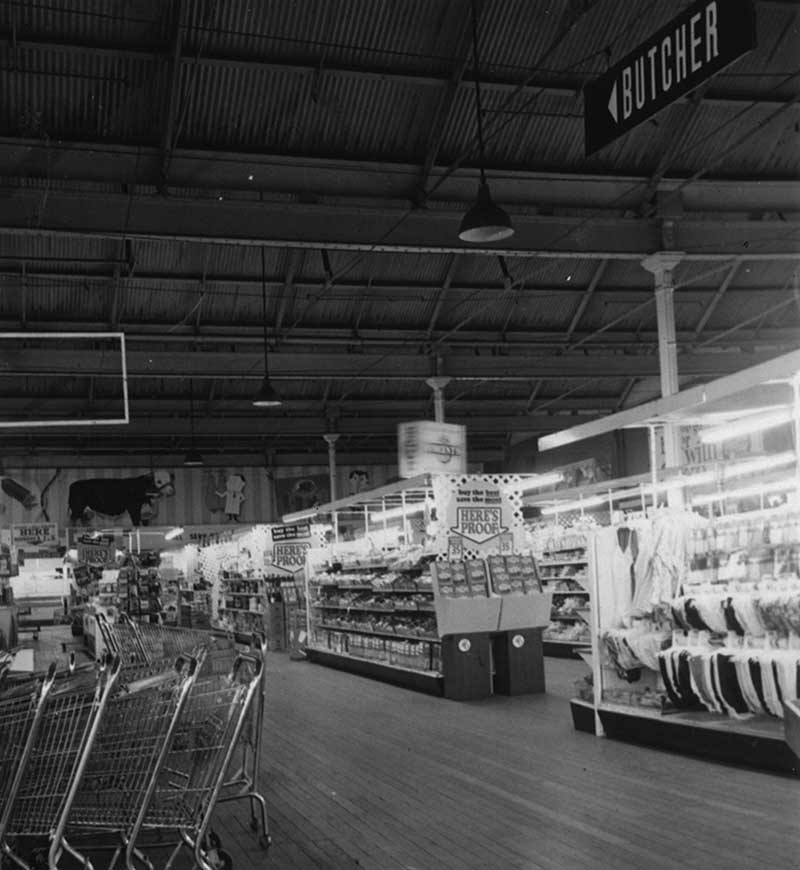 North Sydney's rugby league team, who had survived years without a nickname, became known as the Bears after securing a sponsorship deal with the supermarket in 1959.
"The North Sydney players have added a bear emblem to their jerseys high on the left shoulder," the Herald revealed, "with the company supplying them with a flag measuring nine feet by six feet, flown at every match played.
"The company has also issued warm-up jackets to members who play in the first-grade side.
Get The Latest News!
Don't miss our top stories delivered FREE each Friday.
"Ties were supplied to players in all grades. The flag, jackets and ties all have the bear emblem."
Big Bear proved a big hit in its first three months of trade, with 261,000 customers through the doors and a sales turnover of £250,000.
"Average sales per hour are £449, and the average spend per customer is 19 [shillings]/2 [pence]," Chairman F.L Palmer told investors on 26 November 1959, "peak trading reached £697 last Friday and £1224 last Saturday."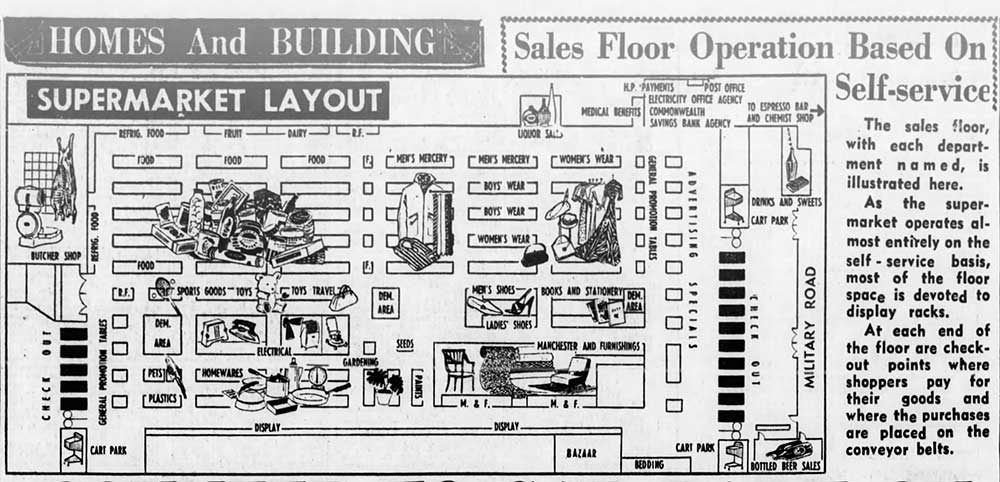 This early success, however, was short-lived.
By 1961, the one-stop shop was converted into 30 separate lock-up stores, leaving just the food section of the supermarket open for business.
"Not only was the Big Bear in what Neutral Bay residents thought was the wrong suburb, it was even at the wrong end of the street," The Bulletin magazine told readers in May of that year. "Nobody would have gone there unless they were prepared to make a special trip from the right end of the junction."
"It was presumed at first that all those housewives with cars on the north shore would be prepared to make the trip to Neutral Bay for at least one shopping expedition a week.
However, Competition in groceries is keen everywhere these days, and the thrifty-minded on the north shore would find no saving after adding the cost of petrol to Big Bear prices when compared with the "specials" their local grocers offer."
Since then, Big Bear has been reincarnated several times, with varying degrees of success.
In 1987 Sid Londish's Comrealty Group redeveloped the site to include an 8000 sqm office tower with adjoining shops.
Another jump start in 1994 saw Big Bear again refurbished as a single-level shopping centre with 17 specialty shops and a 2,000 sqm Coles supermarket.
But by 1997, Big Bear had become a "big dud", with a syndicate of Japanese banks selling the property for $26 million to a private investor, compared with its 1987 construction cost of $45 million.
The site is undergoing another transformation with plans for 19 new and existing shops on the ground level, new public walkways and a fresh layout of Neutral Bay Medical Centre and Pharmacy.
Get The Latest News!
Don't miss our top stories delivered FREE each Friday.