Amazing photos of Hotel Mosman revealed for the first time. See inside the landmark building!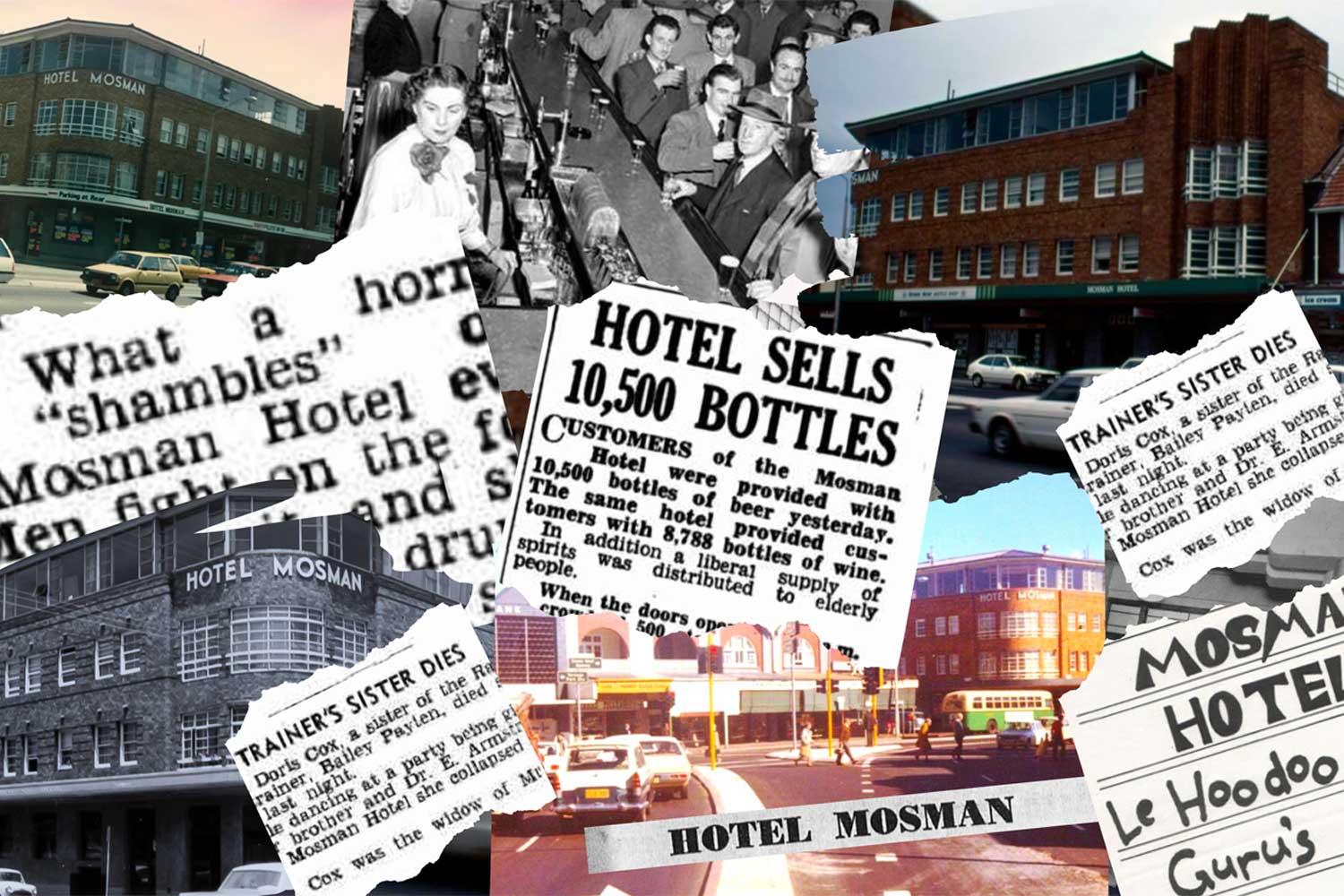 Mosman Collective is thrilled to introduce you to writer Mick Roberts, who joins our local history team this week. A newspaper journalist and author with an interest in Australian cultural and social history, Mick has been writing on the subject for 30 years. His first report traces the history of former local landmark, Hotel Mosman.
For more than a century, dominating the corner of Military Road and Vista Street, the Hotel Mosman was one of Sydney's favourite pubs.
In its heyday, when Sydney's breweries monopolised the hospitality industry – the imposing landmark was the pride and joy of its owner, Tooheys Limited.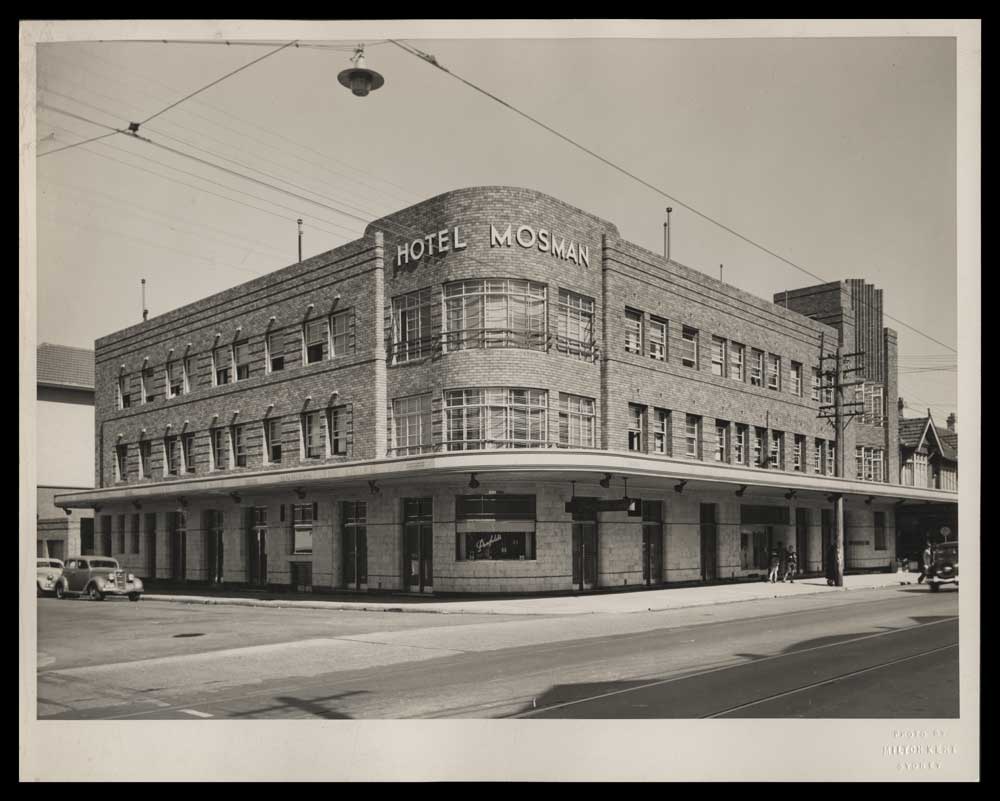 Of the Brewery's 215 tied houses in NSW, the Hotel Mosman – in 1950 – fetched its highest rental.
Although rebuilt twice, the pub maintained its position as a premier tourist hotel while providing a popular bar for thirsty locals to enjoy a drink.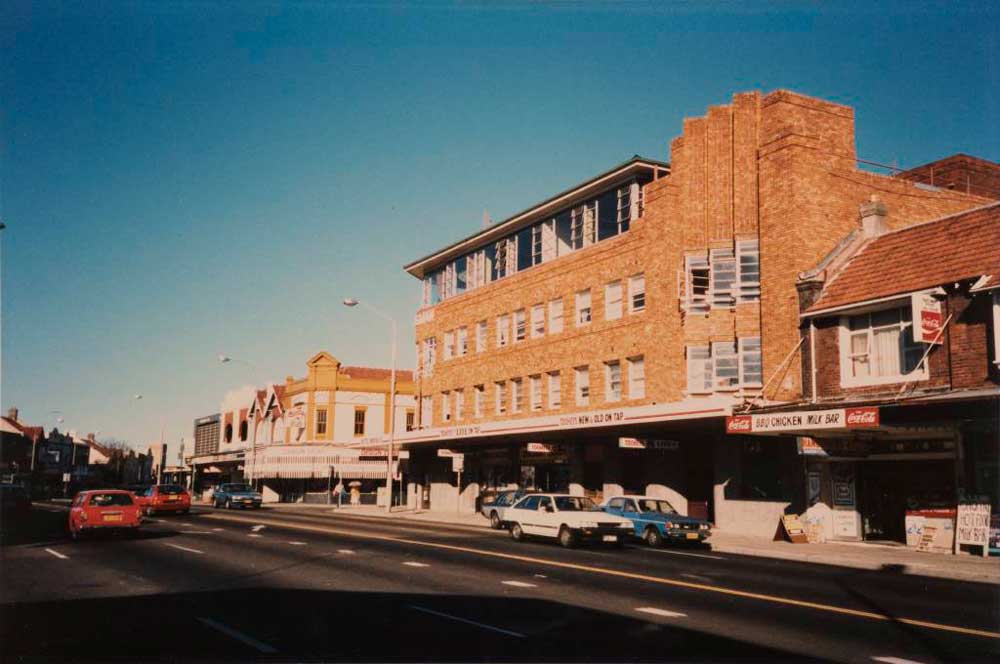 When it opened in 1885, at the highest point in Mosman, the pub became known as "The Inkerman", a nod to its owner Joseph Harding, who had fought in the Crimean War.
Boasting unparalleled views of Sydney Harbour, Harding's hotel even had a viewing platform on its roof-top, offering a "splendid panoramic view of Sydney and the country", south to the National Park and southwest to Glebe.
An experienced publican, the 43-year-old engaged north shore builder W.J Langdon to construct a two-storey brick hotel featuring cantilevered balconies facing Military Rd.
Bernhardt Otto Holtermann, best known for finding the world's largest gold specimen in 1872, laid the foundation stone.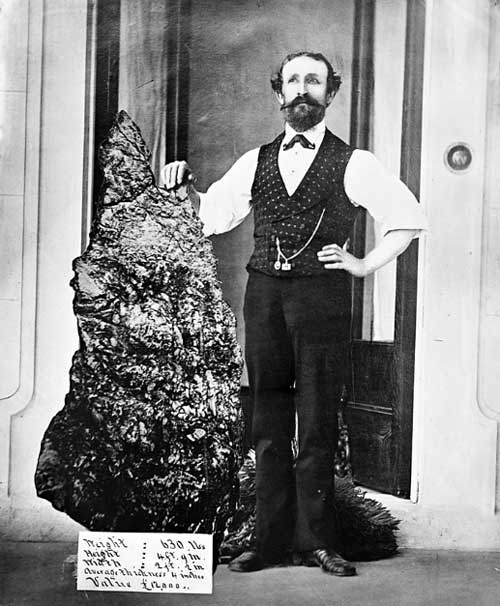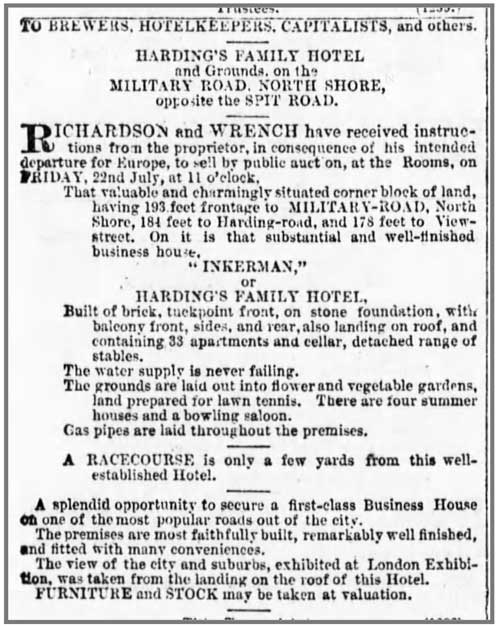 With its 33 rooms, "arranged to form separate suites for the accommodation of families" and an abundant water supply, Harding's Family Hotel, or "The Inkerman", provided a welcome respite to weary travellers and a much-needed watering hole for Mosman residents.
Despite its early success, Harding advertised the hotel for sale within months of opening, eventually selling in 1889 to Frank Snudden.
A Canadian native, Snudden had immigrated to Australia with his wife Elizabeth but soon raised local eyebrows after a salacious extra-marital affair was uncovered.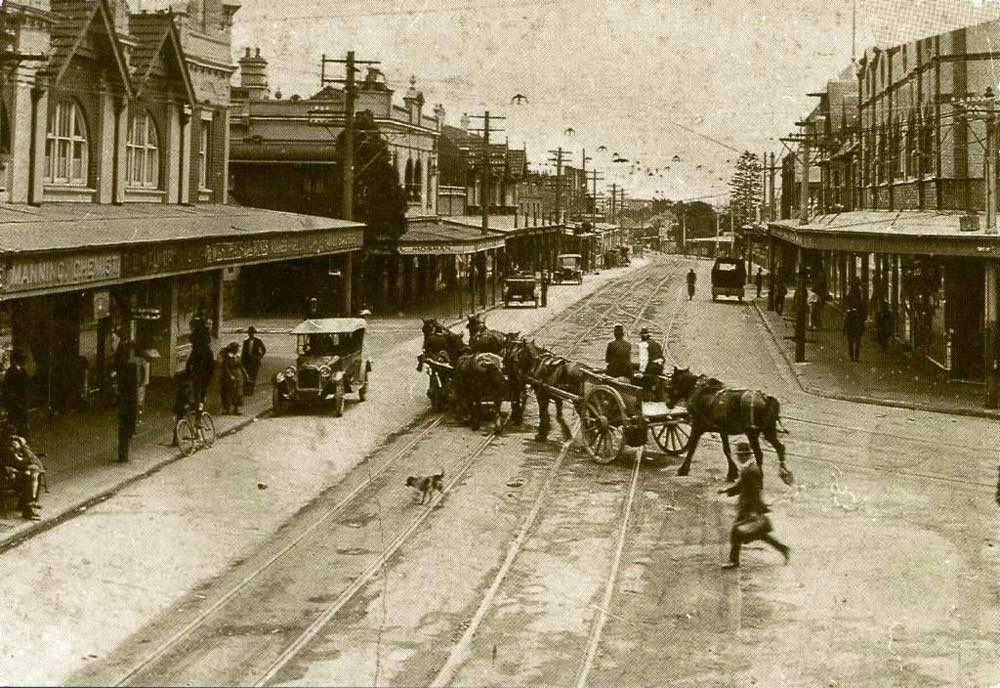 In 1897, 51-year-old George Stansell was next to be granted the licence.
Renamed "Stansell's Family Hotel", renovations were made to accommodate a fast-growing population, including updated furniture and fittings.
The Mosman Mail reported on January 1 1900 that the hotel balcony featured ornate ironwork with "shamrock and thistle ornamentation" and became the preferred location for "golden-tongued orators and single-hearted politicians" to deliver their messages to the community.
Stansell eventually sold the hotel to former Adelaide mayor Arthur Wellington Ware in 1908, who then passed the baton to local builder Joseph Blain Cook within a year.
Through most of World War I, Cook hosted the hotel with his wife, Elizabeth, having built the Buena Vista Hotel in 1899.
When he gained the license, a name change was made – and Hotel Mosman was borne.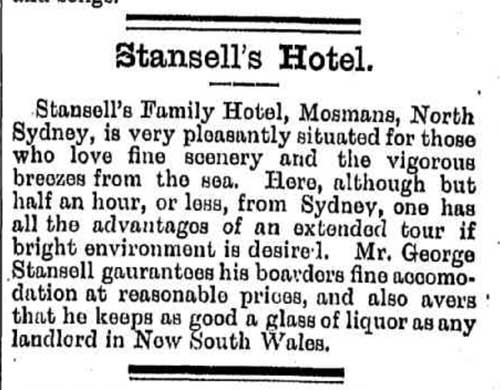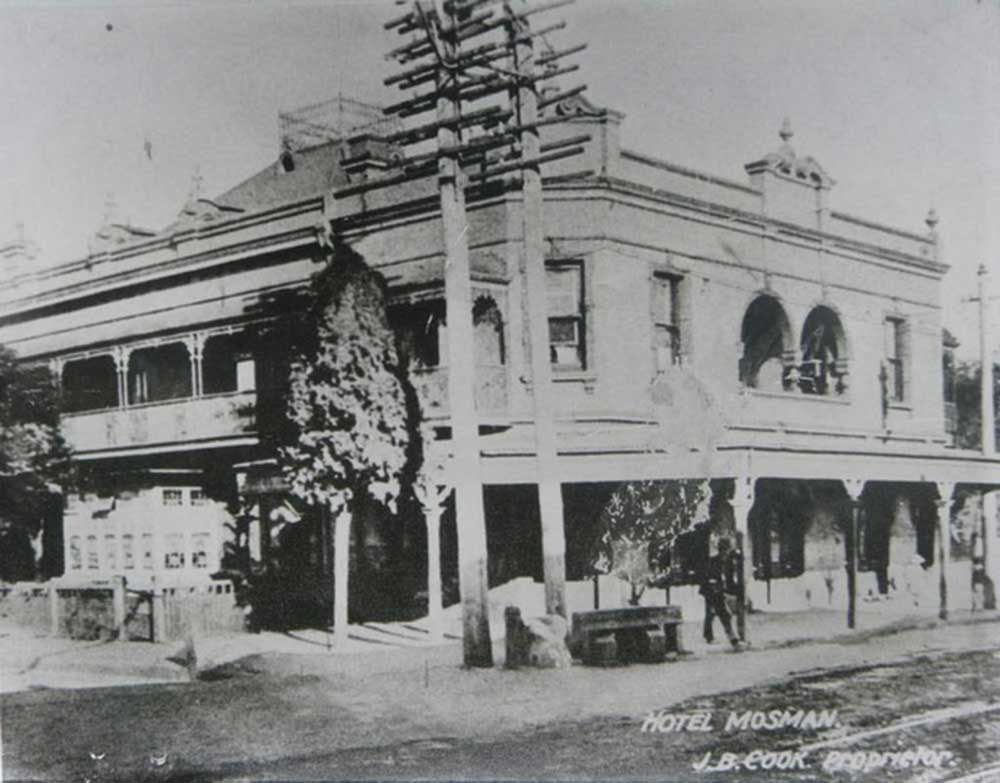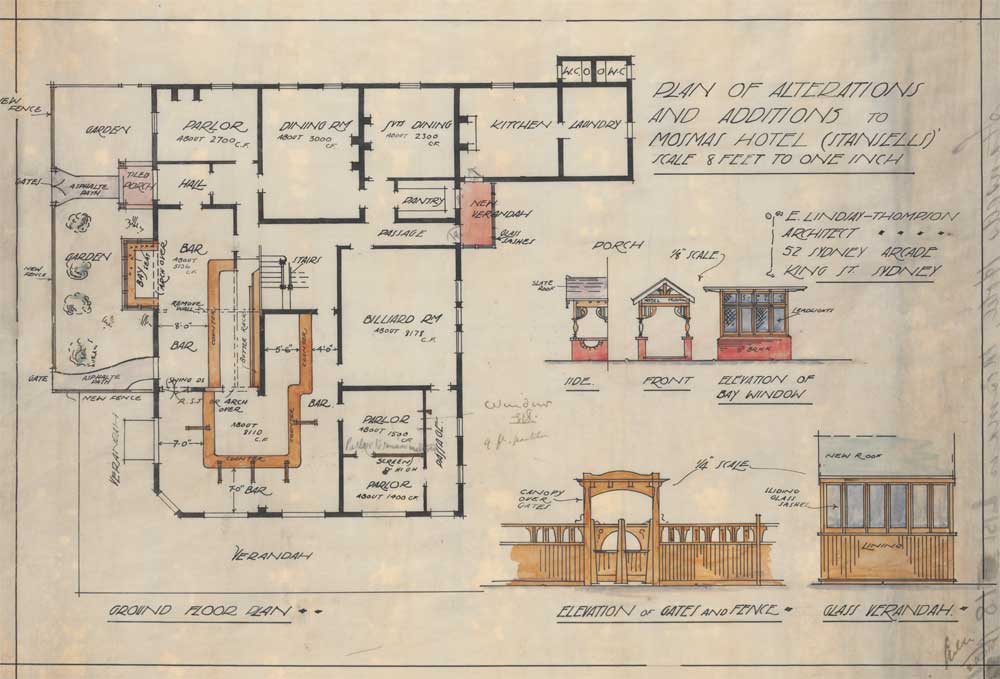 The Cooks retired from the Hotel Mosman in 1916, leasing the business to Patrick McGrath. Elizabeth died aged 56 in 1919, and her husband, Joseph the following year, was 62.
After his death, Hotel Mosman was bought from his estate by brewery giant, Tooheys Limited. It was during their ownership that two significant changes occurred on the site.
The Brewery rebuilt the old-established hotel – twice – during its ownership.
Tooheys, with the new leaseholder, James Moore, engaged architects, E. and E. R. Justelius to strip the old Hotel Mosman of its Victorian charm, including the ornate balconies and roof-top viewing platform, and give it a modern, contemporary look.
The architects contracted builder R. Blundell for the alterations and additions in October 1925.
By May the following year, McGrath was advertising the completed "New Hotel Mosman" as having "first-class accommodation for gentlemen", with "new furniture and hot and cold water in each bedroom".
Hotel Mosman had its second reincarnation in 1938 when Tooheys Limited again engaged hotel architects, Justelius and Frederick to update and extend building.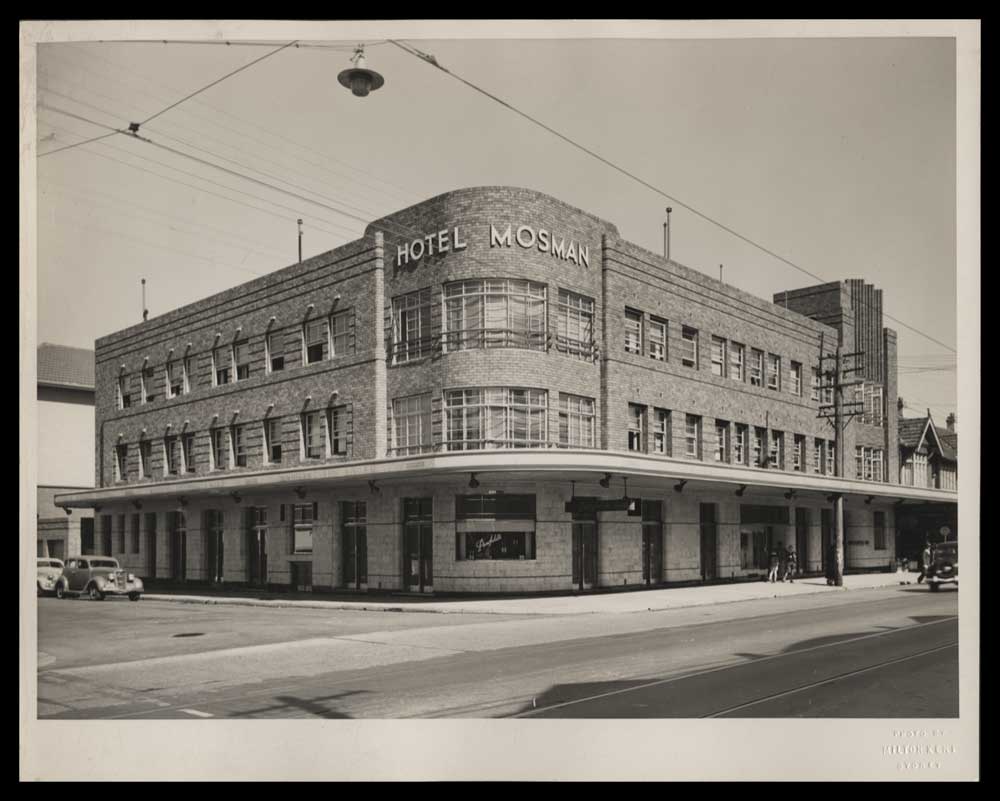 The 1925 version of Hotel Mosman made way for a new, three-storey landmark on the corner. When completed, it was the most impressive building on Sydney's lower north shore.
Interestingly there seems to have been no official opening of the grand building, which likely took place just before Prime Minister Robert Menzies announced Australia's entry into the Second World War, in September 1939.
Advertised as "Australia's most modern hotel" with exquisite furnishings, a hot water service and telephone in every room, no expense had been spared on the redevelopment of one of Sydney's largest suburban hotels.
The stunning structure took every advantage of its prime Spit Junction location, with its rounded curve entrance and sweeping lines. And in a suburb yet to shed its Imperial clothes, this shiny Art Deco masterpiece presented an air of progress and modernity.
Despite the outbreak of war, the Hotel Mosman became the place to be seen during the 1940s. Opulent parties, balls and wedding receptions became commonplace, and celebrities of the day – like Charles Kingsford Smith and Charles Ulm – attended functions there.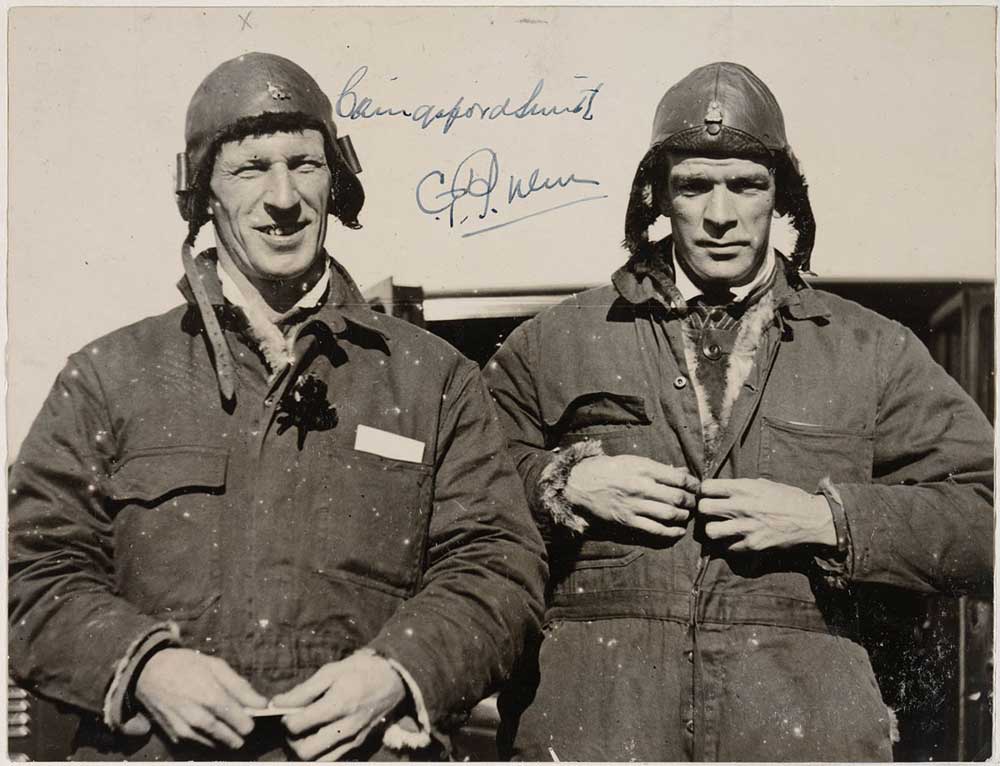 During a function in October 1940, Doris Cox, sister of Randwick horse trainer Bailey Payten, collapsed and died on the pub's dance floor while celebrating at a post race day party.
For most of World War Two, limits were placed on beer production in Australia, requiring breweries to reduce their output by two-thirds. By January 1943, newspapers reported 75 per cent of Sydney's bars were often closed due to a lack of beer and quotas put in place by the breweries.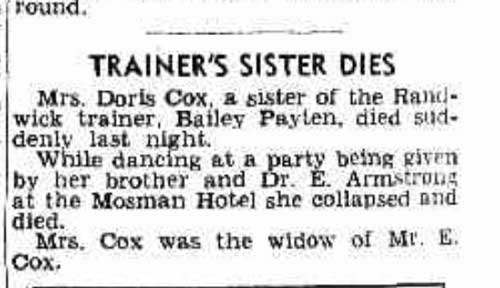 EXCLUSIVE IMAGES: HOTEL MOSMAN, 1940.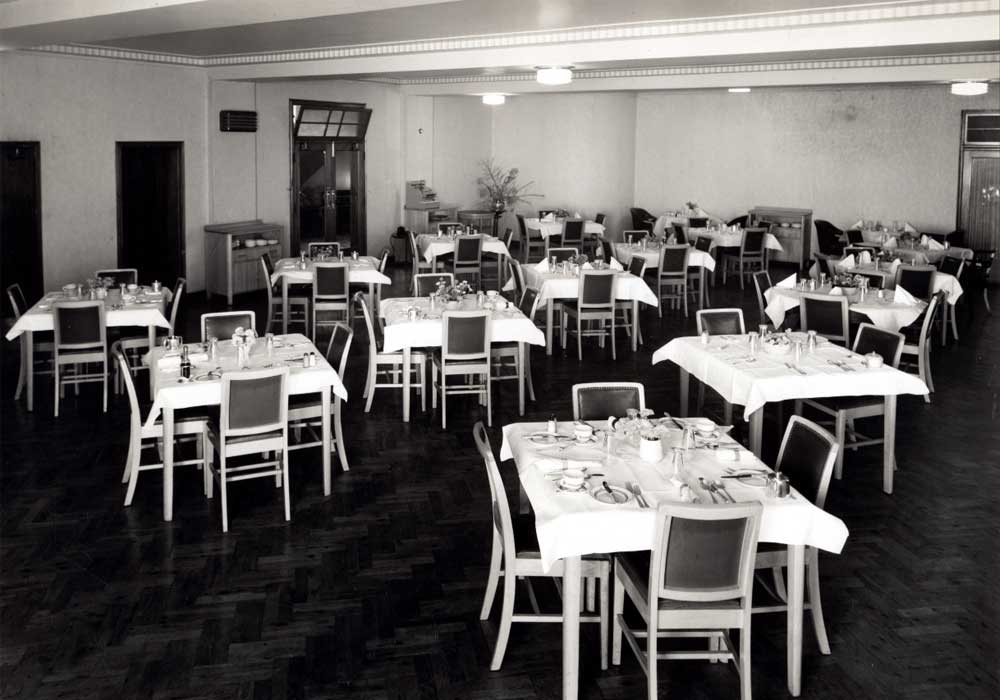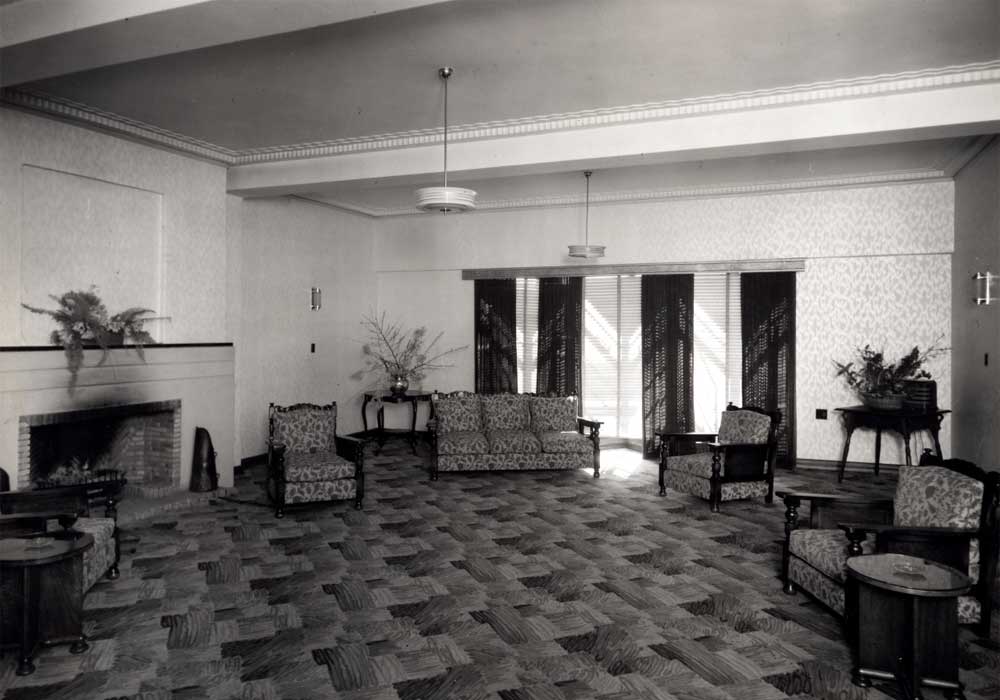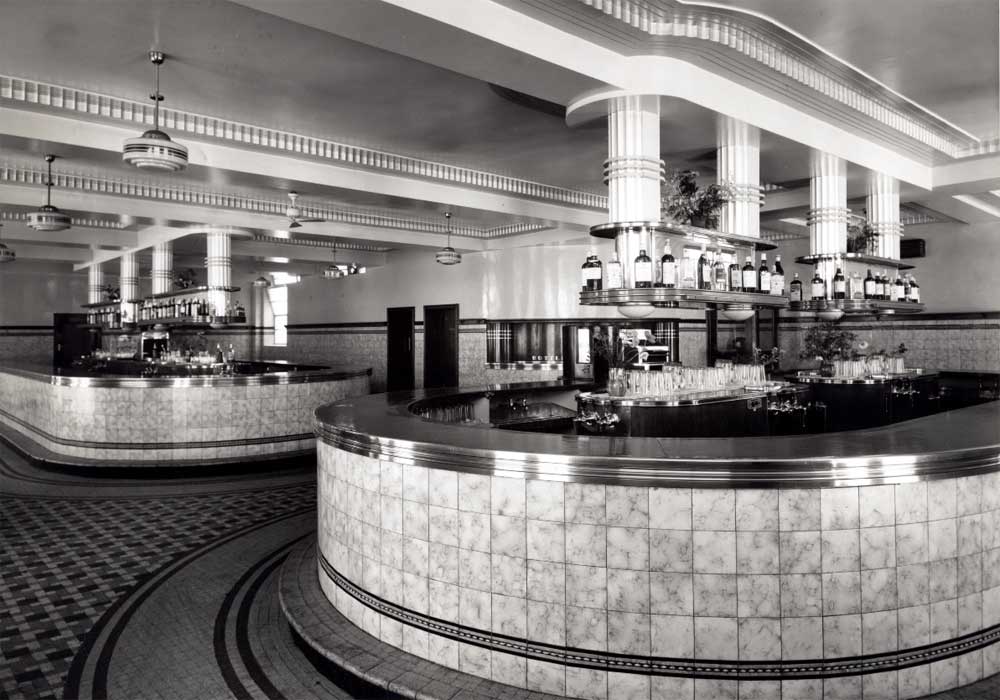 When Sydney pubs did manage to open, they were often shut by the afternoon, when beer quotas were exhausted.
If supplies were received, the result was chaos.
The Sydney Truth reported on December 24 1944, that publican Michael O'Regan had allocated 10,500 bottles of beer, just in time for Christmas.
He also received 8,788 bottles of wine and "a liberal supply of spirits".
Queues formed outside the pub from 7.30am – and when the doors opened at 11am a crowd of 500 stormed the bottle department.
O'Regan became known for reserving bottles of liquor for his regular customers during the shortages. The Daily Telegraph reported on Friday, December 7 1945, that he would put aside six bottles of beer, one of gin or rum and one wine, for each of his patrons to take home with them after enjoying a few drinks at the bar.
Another terrific tale involves a woman who regularly placed her three-year-old son in a garbage bin on the footpath outside the pub.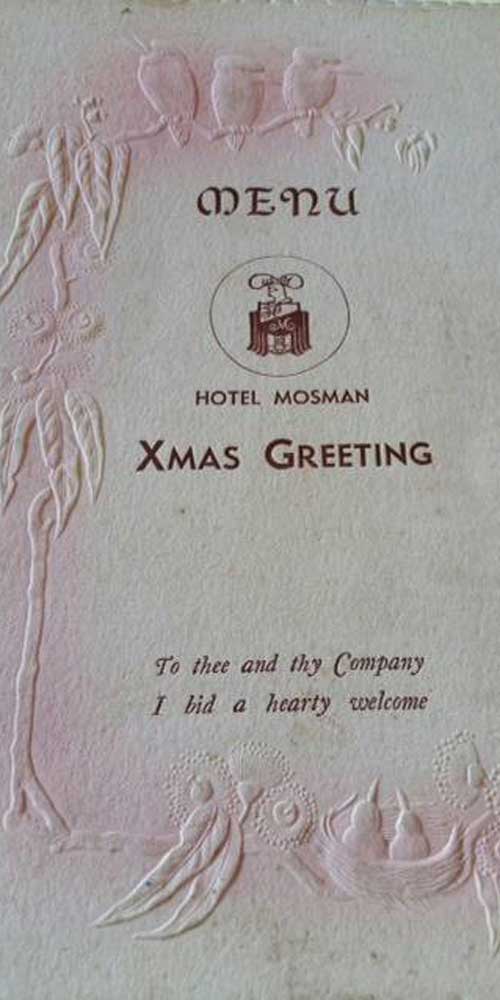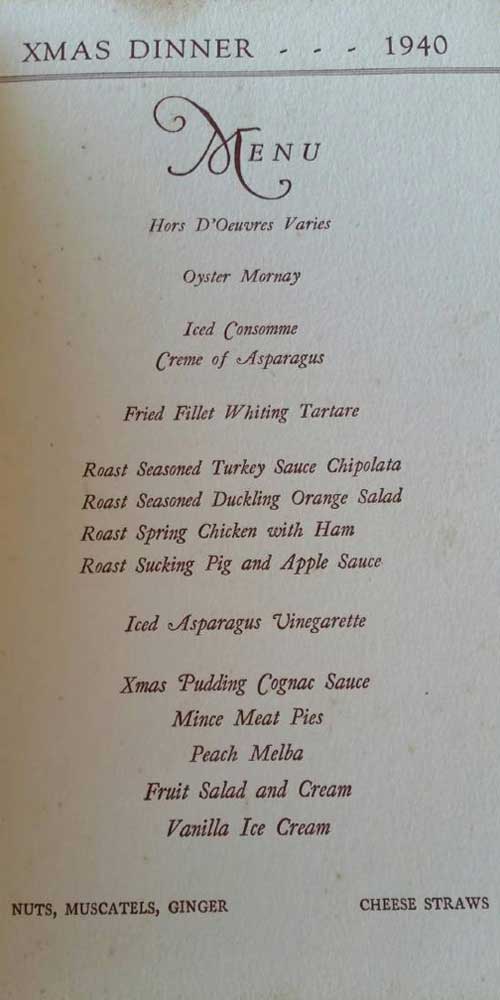 Mr Keane, the North Sydney supervisor of the National Salvage Campaign – a government initiative encouraging people to recycle for the war effort – first noticed the boy one Saturday morning. The Newcastle Sun on March 29, 1944, explained how Keane took the child out of the basket and placed him on the footpath.
For the next few weeks, Keane returned to the location, lifting the child out of the garbage bin each time.
His kind deeds came to an end, however, when the boy's mother stormed out of the hotel one afternoon, shouting: "So you're the one who's been stopping my kid's play and spoiling my drinking".
Like most Sydney pubs, the 'six-o'clock swill' was a nightly event in Mosman, when men – and a few brave women – would rush the bar between 5pm and closing time.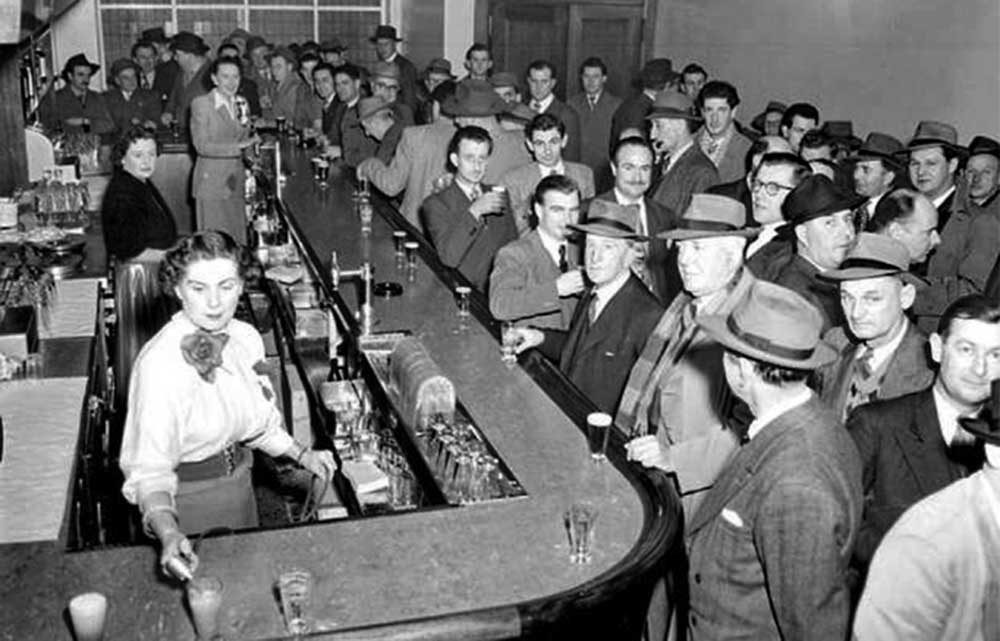 In 1947, The Daily Telegraph described 6pm closing as an "undignified stand-up battle for an after work drink in gloomy, unattractive surroundings."
"This rushed drinking against the clock forces most men to drink too much, too quickly and it leads to drunkenness. Our hog-trough drinking conditions amaze civilised Australian's and overseas visitors."
Around that time, Hotel Mosman was described by one local resident as a "horrible shambles" each evening. In a letter to the editor on March 4 1946, 'Been Around', wrote: "Men fight on the footpath, curse, shout, and spit, and sleep it off on the tram seats, and drunken women stagger down the main street. Give me Woolloomooloo any time."
In the late 1940s, wealthy businessman Walter Patrick McGrath took the head-lease of the pub from Tooheys Brewery.
From 1947 to 1949, retired NSW Police Detective Aubrey Keating took over the reins.
A hardened copper, his most unusual request was to supply a Taronga Zoo's baby elephant with a bucket of flat beer.
When the Keeper arrived at the pub and explained the mammal's plight, Keating drew off a quart, allowed it to stand for four hours, and sent it back to Taronga Zoo.
The elephant polished off the beer and reportedly showed immediate improvement.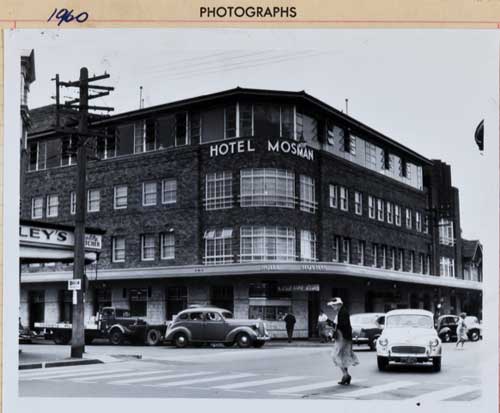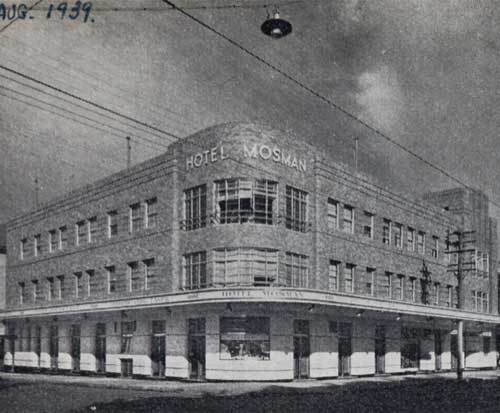 The hotel remained a playground for wealthy tourists during the 1940s, like the wealthy English businessman who cabled from Hong Kong, to reserve a suite for a week.
The Daily Telegraph reported on September 28, the man had requested a "memorable reunion" for his wife with a menu of hors d'oeuvres, ice, and soda, followed by Tasmanian Cascade or Melbourne beer.
After lunch in the Dining Room, he wanted bowls of flowers, with plenty of violets, roses, and lilies — but no white lilies.
Two bottles of Scotch and a bottle of sparkling hock or burgundy were also to be left in the suite.
"I would greatly appreciate it if you could assist me in making my stay at Mosman, a memorable reunion with my wife. My wife may arrive from Melbourne in the afternoon. My plane is not likely to reach Sydney until after dinner. We would prefer a suite with a double bed and our own bathroom."
Keating, the Telegraph reported, made assurances to meet all the guests' requirements.
"My wife will personally supervise the floral decorations," he said. "I will attend to all the other requests myself. He shall have Scotch, and she shall have roses. Mosman won't let tourists down."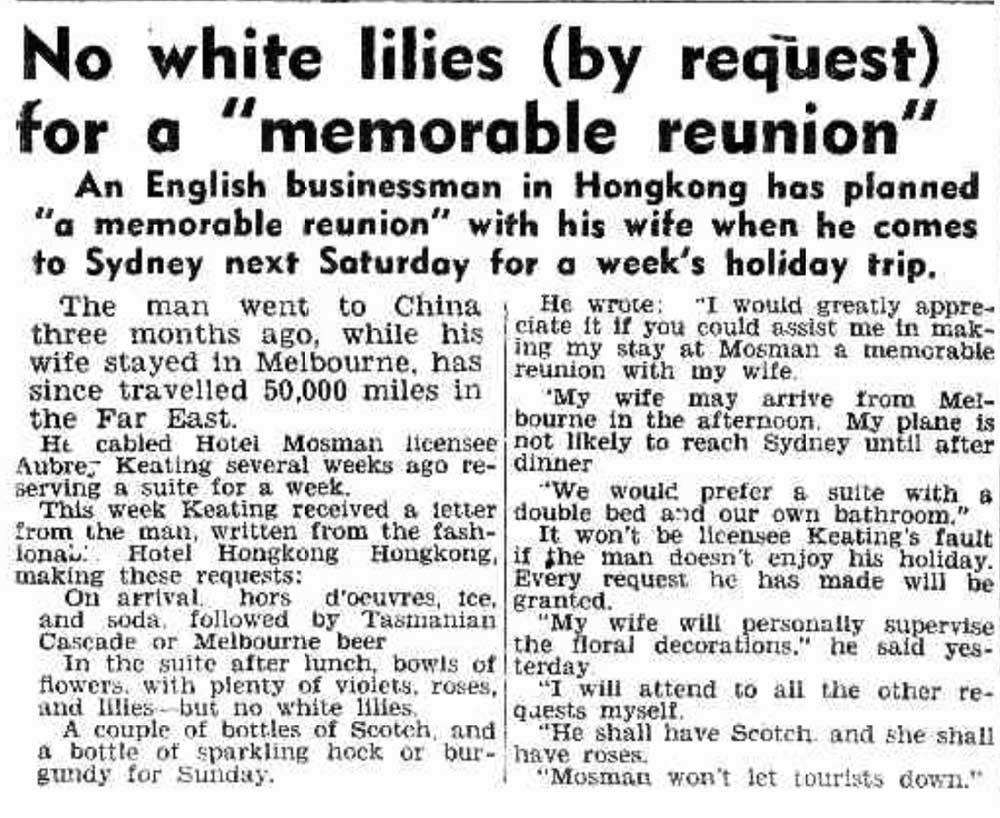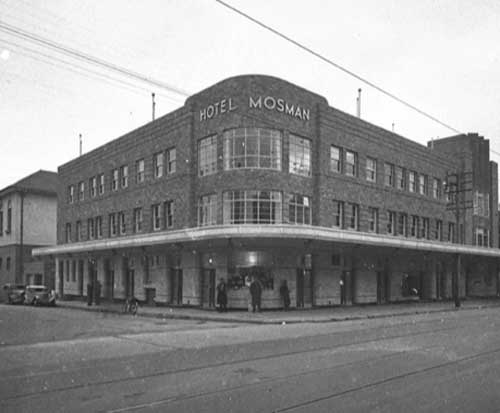 In 1950, Tooheys Brewery owned 216 hotels in NSW and held a lease or tenancy of 64 more. Of the freeholds, 78 were in the metropolitan area, including Hotel Mosman, commanding the highest weekly rent of £105.
Over three years, the lease was worth £12,500 to Tooheys. Undoubtedly, it was the goose that laid the golden egg amongst hundreds of pubs.
The hotel remained a favourite watering hole for locals in the 1960s, and an additional storey was added to the roof.
Dennis Francis, from Shadforth Street Mosman, recalls the hectic pace of the pub.
"The Mosman Hotel of a late afternoon was always packed, standing room only with drinkers hanging out of the doors on Friday afternoon," he said.
"The Salvation Army Band played on Spit Road; they also ran a chocolate wheel which was always popular."
HOTEL MOSMAN: 1970s and 1980s.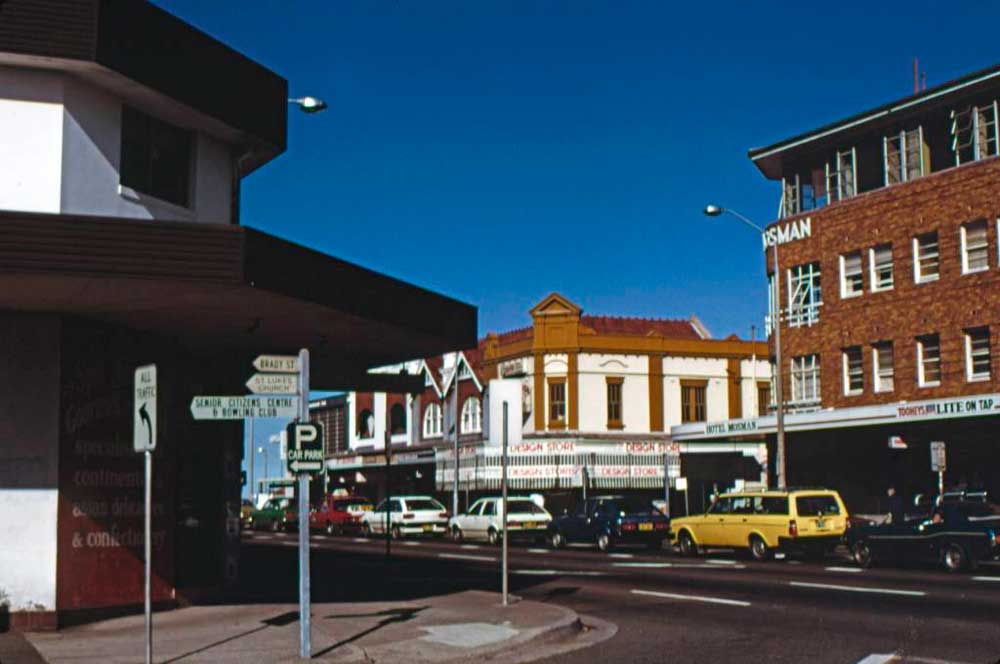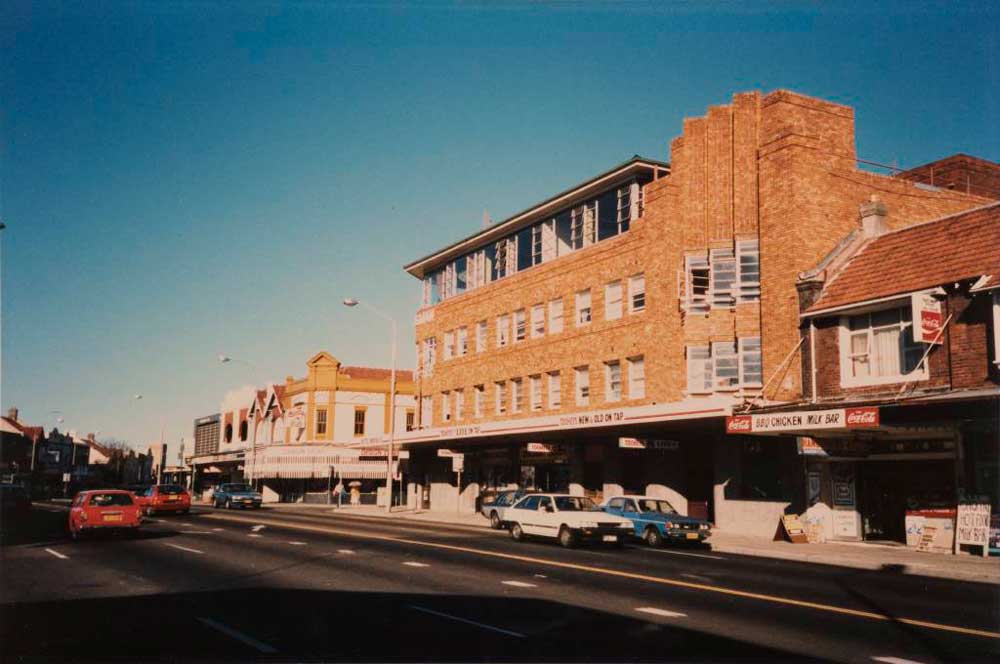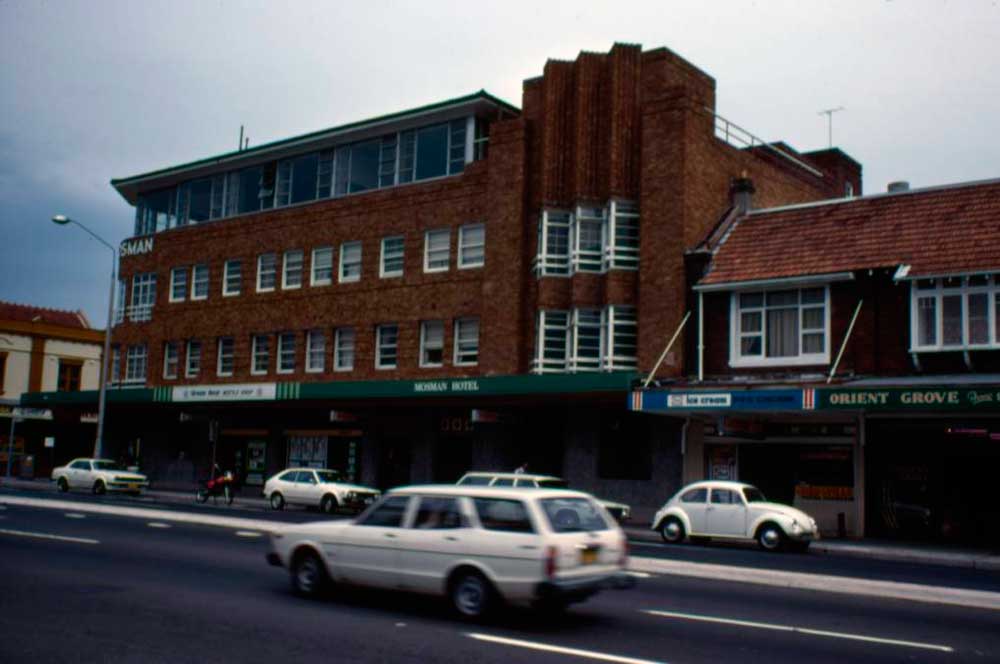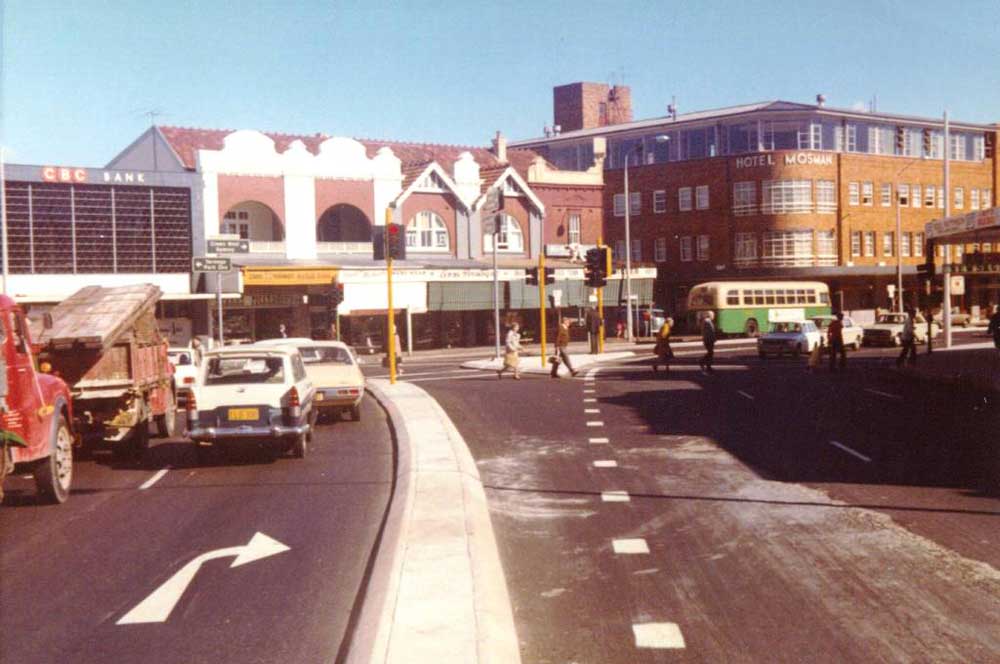 Before the pub's demise, it was a famous venue for Sydney's biggest musical acts.
Between 1980 and 1987, iconic bands like Sherbet, Choir Boys, Hoodoo Gurus, Spy v Spy, and INXS attracted massive crowds. But it wasn't enough to save the historic pub from the hand of developers.
The beginning of the end came for the Hotel Mosman in 1985.
When Alan Bond's 'Bond Corporation' purchased the Brewery now known as Castlemaine Tooheys, it inherited Hotel Mosman. The controversial new owner sold off many pubs, including Mosman's, in the late 1980s.
At the time, the lessees of the Hotel Mosman won a Supreme Court battle for compensation after they were evicted by the new owners. Despite this, the Hotel Mosman, after more than a century, closed for business in January 1988.
The site became part of a $40 million retail development undertaken by Austotel for a commercial and retail complex known as Bridgepoint.
Where the Hotel Mosman once traded, today sits Fitness First.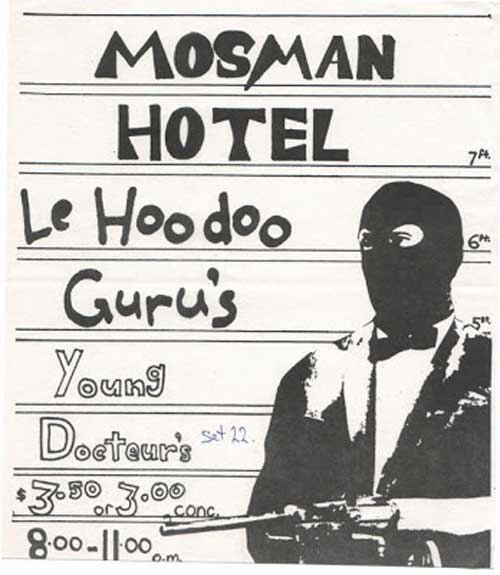 Get The Latest News!
Don't miss our top stories delivered FREE each Friday.