In 1988, a floating Chinese Restaurant with room for 500 diners outraged lower north shore locals.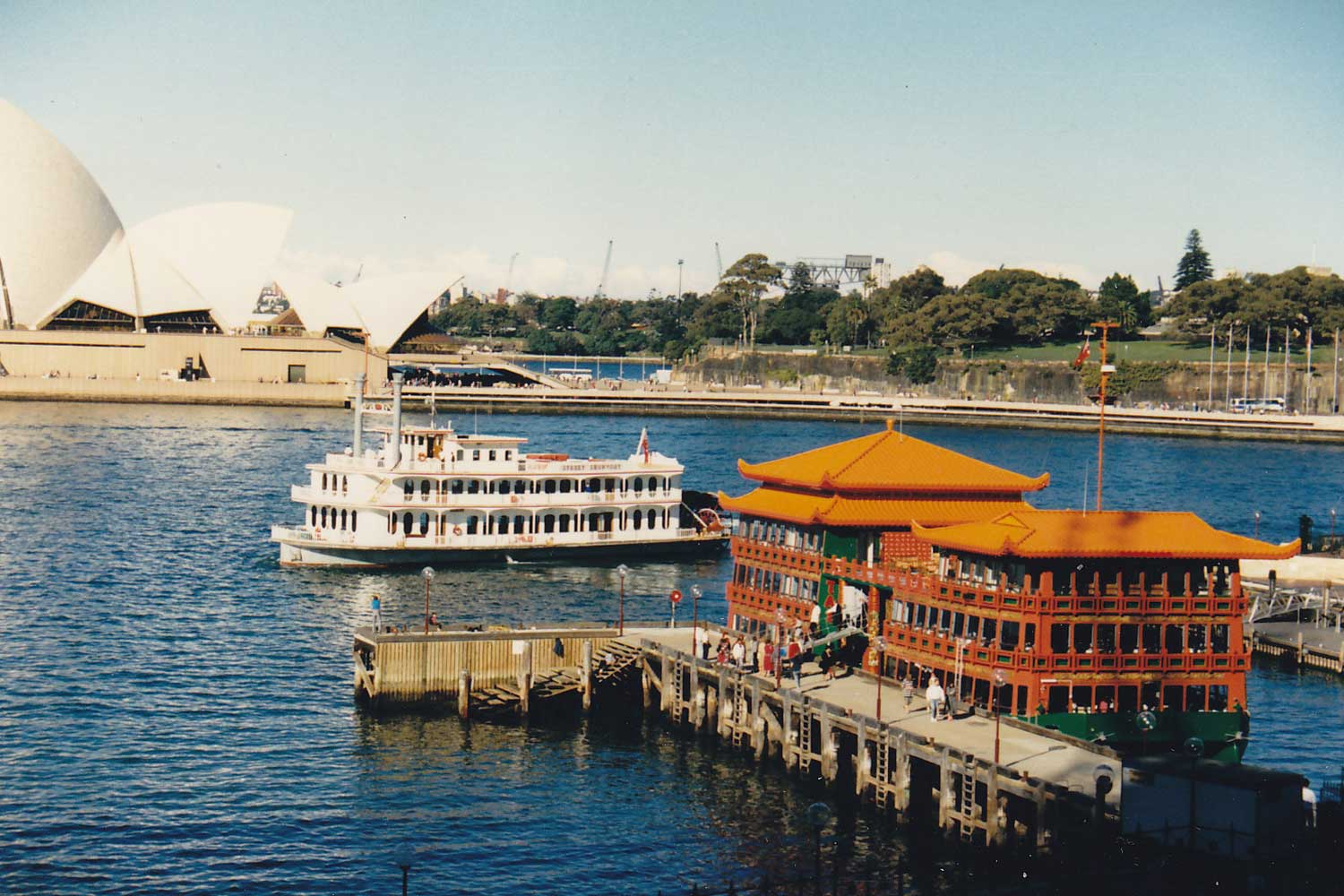 Today we're taking you back to those golden years of the 1980s – when hair was big, clothes were loud, and power ballads were super-charged with emotion. It was the decade when Alan Bond bought Hotel Mosman, Ken Done clobber was de-rigueur, and gaudy themed restaurants, like the MV Tai Pan, launched on Sydney Harbour.
If there is a symbol of short-lived, disastrous Sydney dining experiences, M.V Tai Pan would be it.
The three-storey, 35-metre floating Chinese restaurant with seating for 526 opened to incredulous Sydneysiders on Wednesday, 25 May 1988.
Hailed as "Sydney's most exciting attraction," the garish red and green vessel, topped by two traditional Asian pagodas, was a $5.5 million dream-come-true for owner Margaret Shen.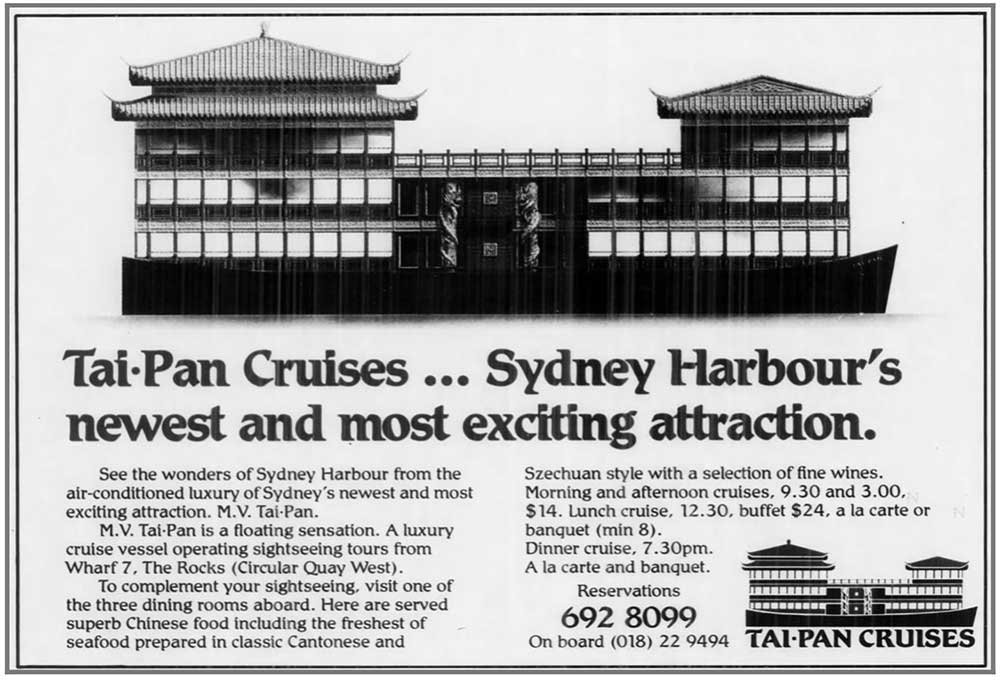 Shen had enjoyed massive success in the decade prior, with upmarket "Peking Palace" at Cremorne Plaza and CBD hotspot Noble House.
She thought M.V Tai Pan, a Hong Kong-style floating restaurant, would be no different.
"It's unique," Shen told reporters at the launch, "the idea started with my desire to own a Chinese junk merely for pleasure."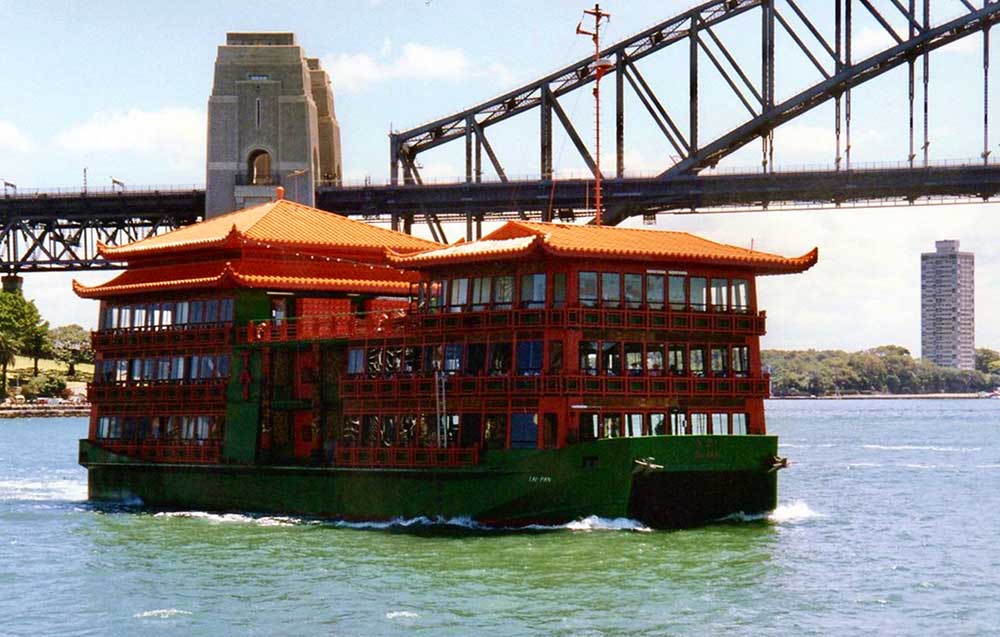 Ornately appointed, with three Chinese restaurants, a VIP area, aquarium, gift shop and an open-air bridge deck, the Tai Pan took visitors on Sydney Harbour sightseeing tours four times each day.
Departing from Wharf 7 at The Rocks, diners enjoyed a Chinese Buffet ($24) or a la carte extravaganza (entrees from $5 and mains from $12) while taking in iconic views around the harbour, including Kirribilli, Neutral Bay, Cremorne, and Bradleys Head.
But despite its promising start, Tai Pan suffered crushing food reviews and was renamed "Tai Panic" by restaurant critic Leo Schofield, who wrote on 1 October 1988; "Let's hope that the dreaded Tai Panic is well out of sight this afternoon and not uglying the harbour as usual."
"Each time I see it, I experience waves of nausea, and I know thousands of Sydneysiders feel the same way."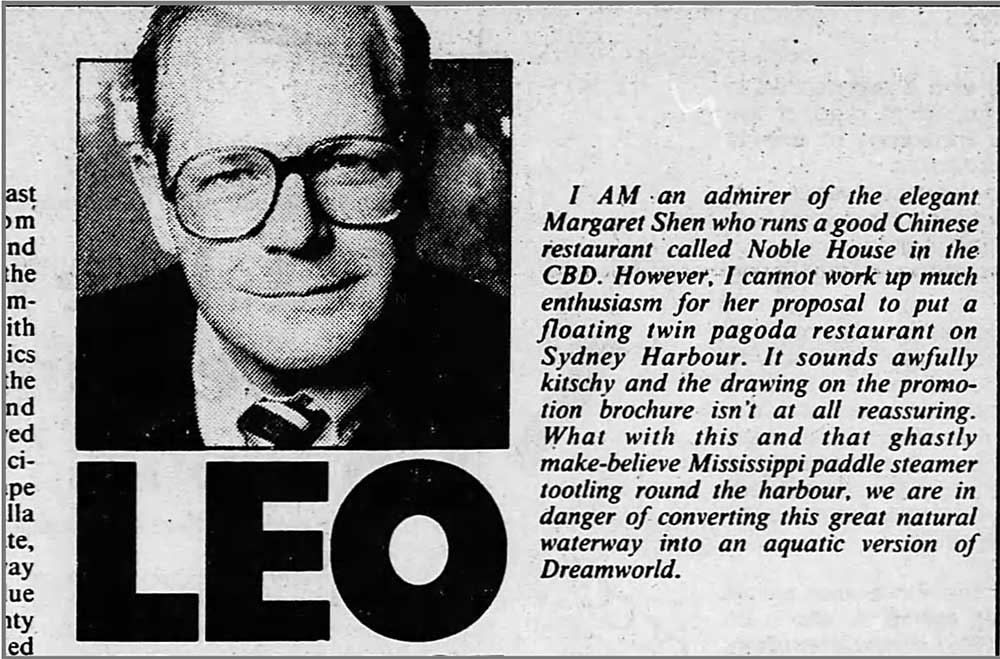 Agitating for the Tai Pai's removal, North Sydney locals even called on Maritime Services to establish "aesthetic standards" for commercial craft using Sydney Harbour.
"I don't want this monstrous eyesore bobbing around in my front yard and ruining the beauty of Sydney Harbour," resident Anne Smyth told the Daily Mirror.
Her sentiment was shared by many in neighbouring suburbs.
"I observed the Tai Pan floating restaurant in action this week. Dear God, it's a horror," one letter published in the Sydney Morning Herald read.
"Is there any way to prevent that ghastly looking Chinese floating restaurant, the Tai Pan, from going out on the harbour?" said another.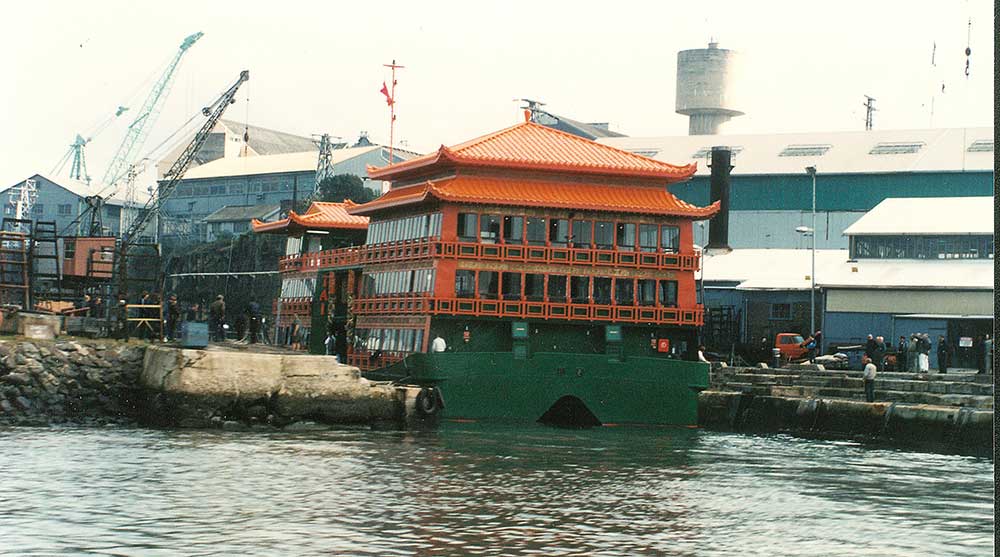 But Mosman's Barbara Worrall, who wrote to the Herald on 3 October 1988, loved the new addition to Sydney Harbour.
"My family, friends and I have enjoyed two very happy evenings aboard the Tai-Pan where the Chinese cuisine was superb, the service top-notch, the décor tastefully appointed, and the view of the harbour superb."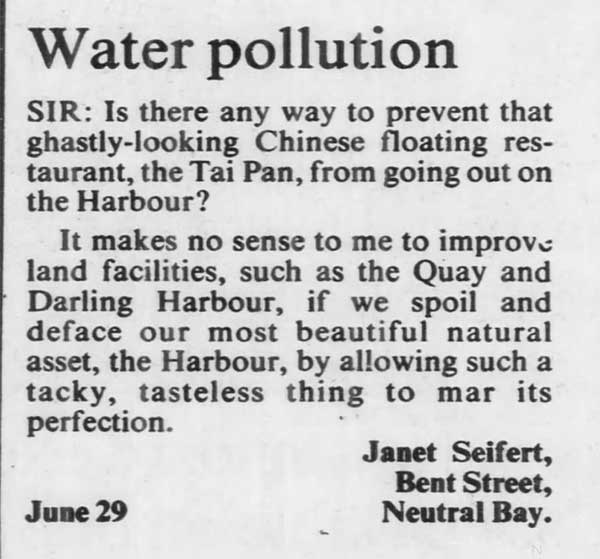 Sydney's short-lived floating Chinese restaurant, besieged by abusive phone calls and letters and even pelted with beer bottles, was liquidated 18 months after its grand opening.
Chinese casino magnate Stanley Ho purchased Tai Pan for just $1.5 million, and the floating restaurant left Sydney Harbour on 23 December 1990, never to be seen in local waters again.
FOOTNOTE: On 6 June 1994, Margaret Shen boarded a flight to Guangzhou, where she was to meet a delegation seeking stronger trade relations between New South Wales and China, led by the State's premier, John Fahey. The plane crashed shortly after take-off from Xi'an, resulting in the deaths of all on board. When her body was brought to Sydney two weeks later, Parliament suspended as a mark of respect. A requiem Mass was held at St Mary's Church, North Sydney and Margaret Shen was buried in Frenchs Forest cemetery. 
Get The Latest News!
Don't miss our top stories delivered FREE each Friday.