Remember when Mosman had a KFC? Step back in time with our EXCLUSIVE pics!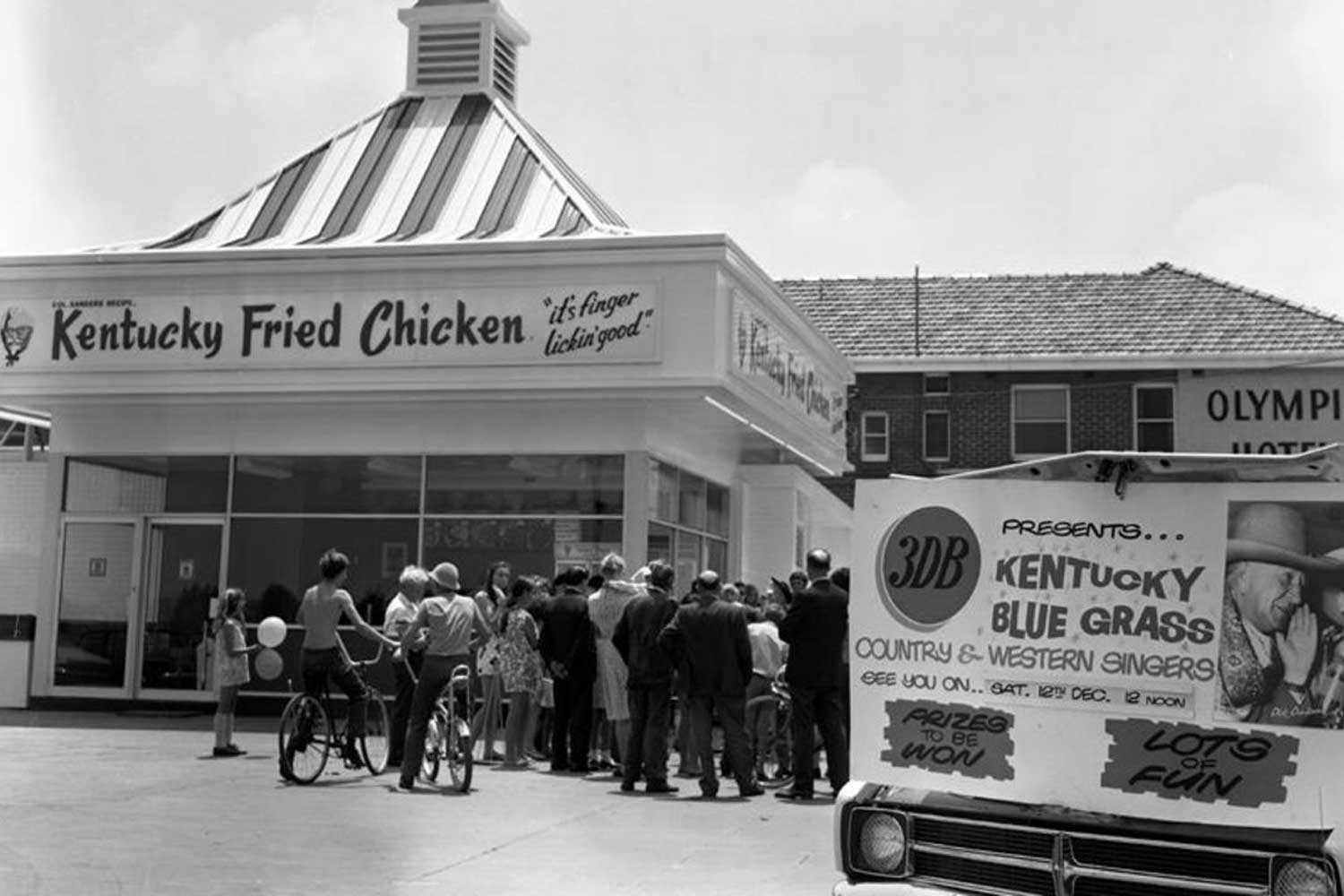 By ANNA USHER.
If you've been around long enough, you'll remember when Mosman boasted a range of fast-food options including Sizzler, the Black Stump and even a Subway.
But there was one cult outlet that arrived before all the others. And, when it opened to the public on 22 May 1970, local families lined up around the block to get their hands on the finger lickin' contents inside the store's distinctive red and white box.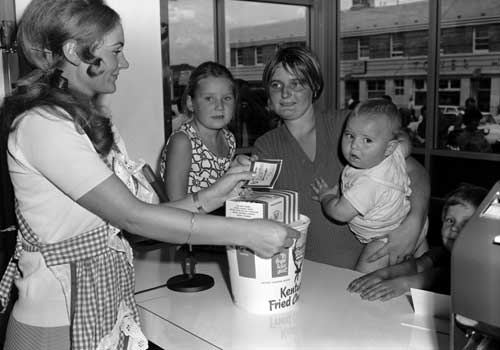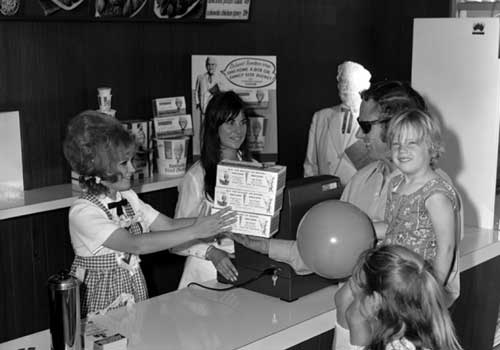 Kentucky Fried Chicken, located on the corner of Cowles and Military Rd, was a beacon for hungry kids and teens enticed by the heady aroma of 11 secret herbs and spices known to travel as far as Neutral Bay on a windy day.
Back then, if you had 45 cents you could buy a lunch pack with one piece of chicken and chips (not called fries at this point). Parents with a family to feed could get a 'barrel' (not a bucket) of 15 chicken pieces, gravy and five rolls for $3.95 – or 21 pieces for $5.95.
Small chips set you back 20 cents. The term 'Drive Thru' was unheard of. And, if you were a woman looking for work, it helped if you were easy on the eye!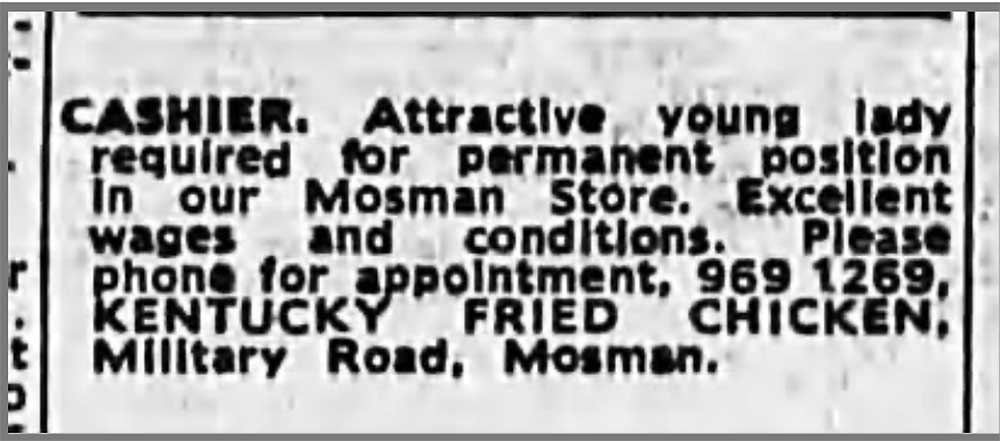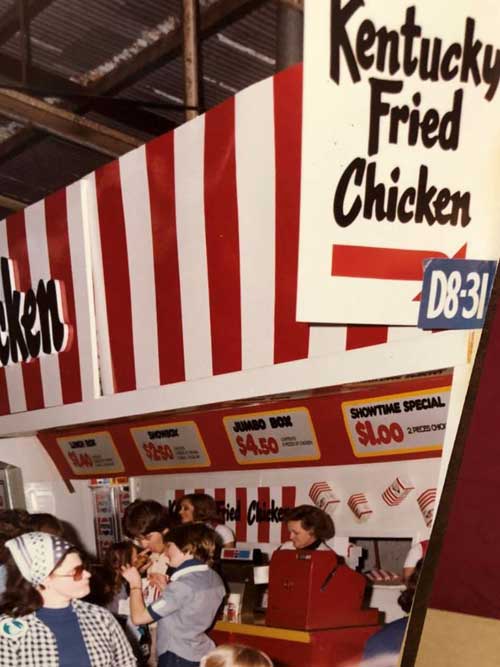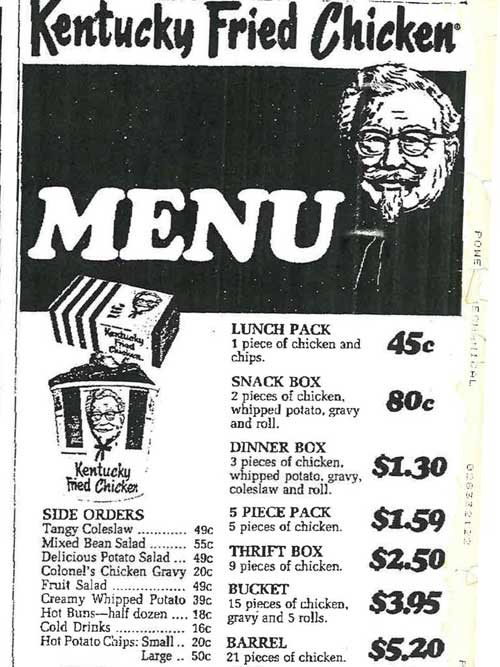 With a staff of 25, the Mosman store was the 18th to open in suburban Sydney, nearly ten years before rival McDonalds launched in Cremorne. And thanks to a generous 886 sqm footprint, it offered easy access for customers with an entry point on Cowles Rd and parking for a handful of cars.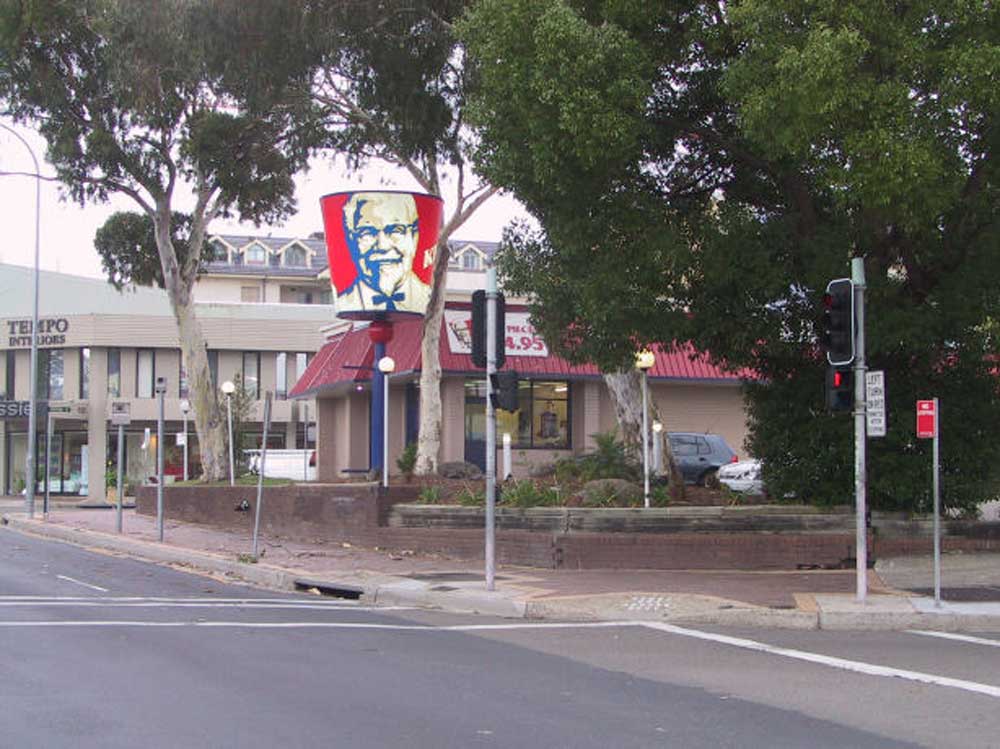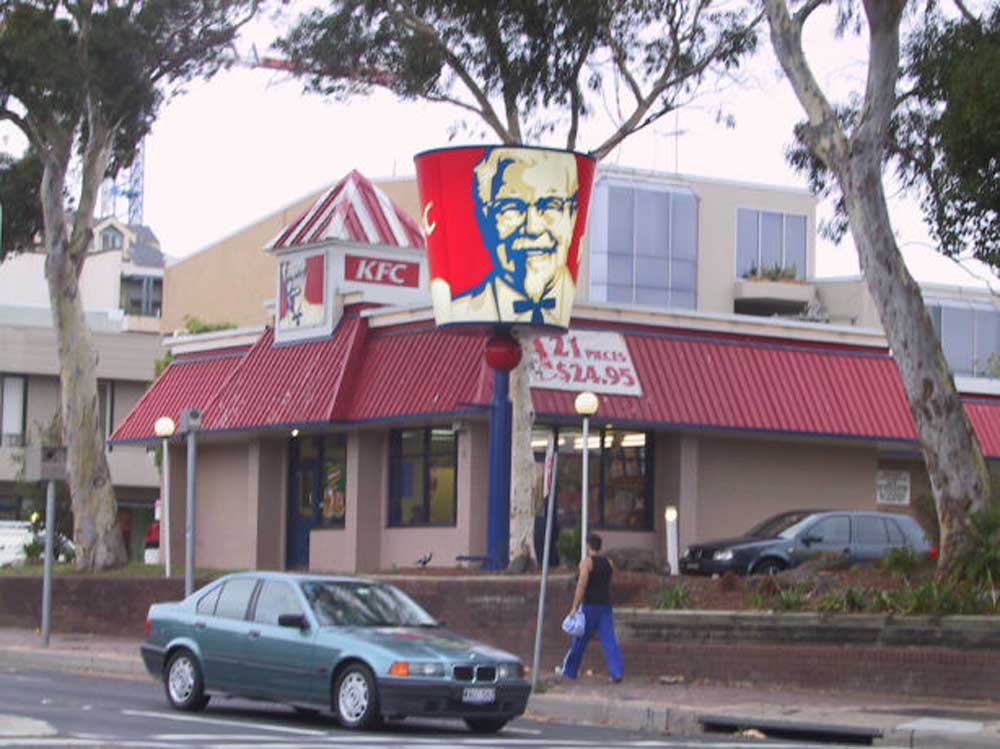 Former resident Michael Hopkinson, now living overseas, told Mosman Collective's local history group, "Mosman Memories", the store has a permanent place in his memory. "I remember this store well," he said, "it was my first taste of Kentucky Fried Chicken."
"I now call the States home and somehow the KFC taste here isn't the same as I remember at Cowles Rd."
Robyn Wallace remembers working at the store with her siblings from 1977 until the end of 1981.
"It used to be so busy, usually at night-time with the drinking lads from Mosman Hotel," she said, "there were no Zingers or Nuggets in my day, but they did have BBQ chooks in the early 80's, and croquettes (made of left-over chicken, as well as the usual Buckets, Barrels and Dinner boxes.
"I flogged a lot of coleslaw, mini cheesecakes and potato/gravy!"
Check out Sydney's first Kentucky Fried Chicken store!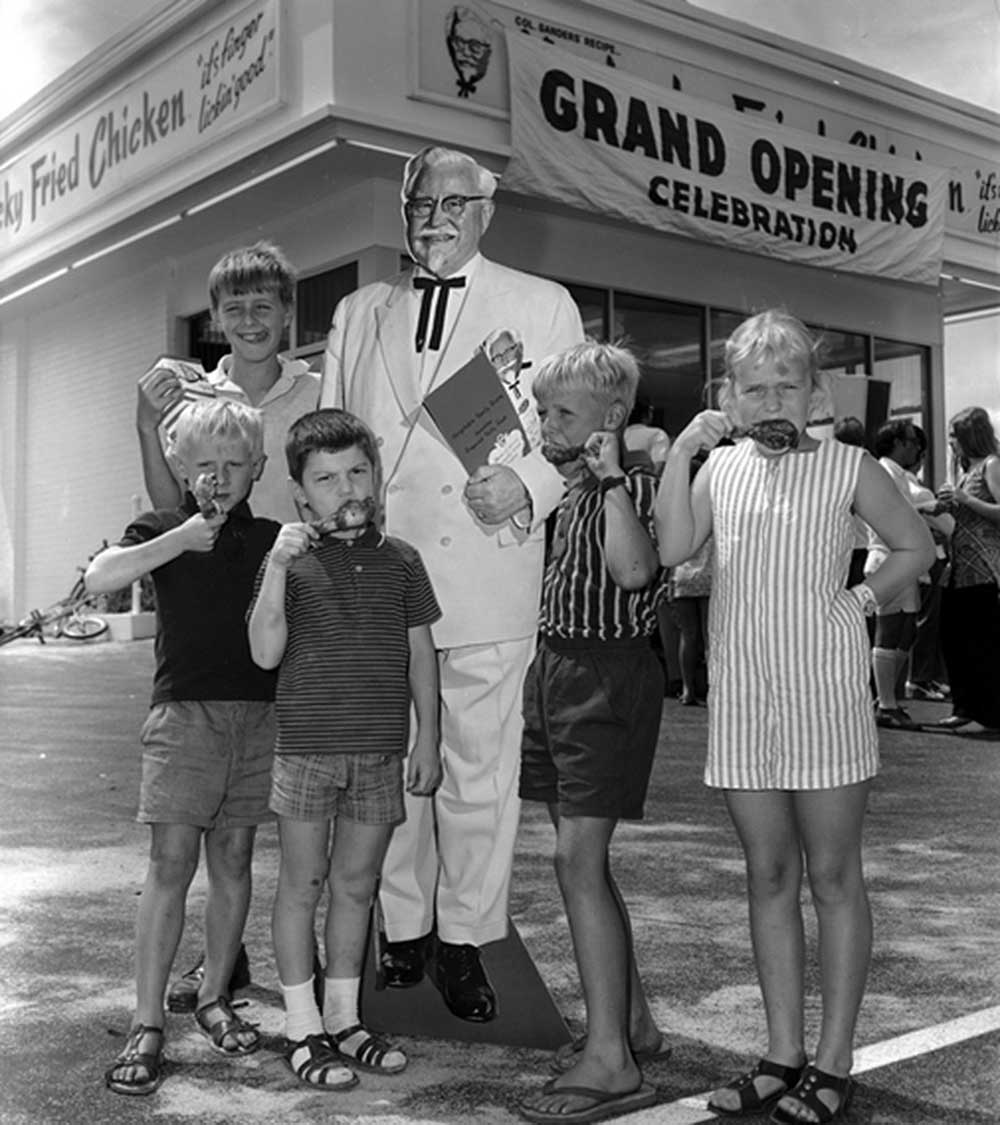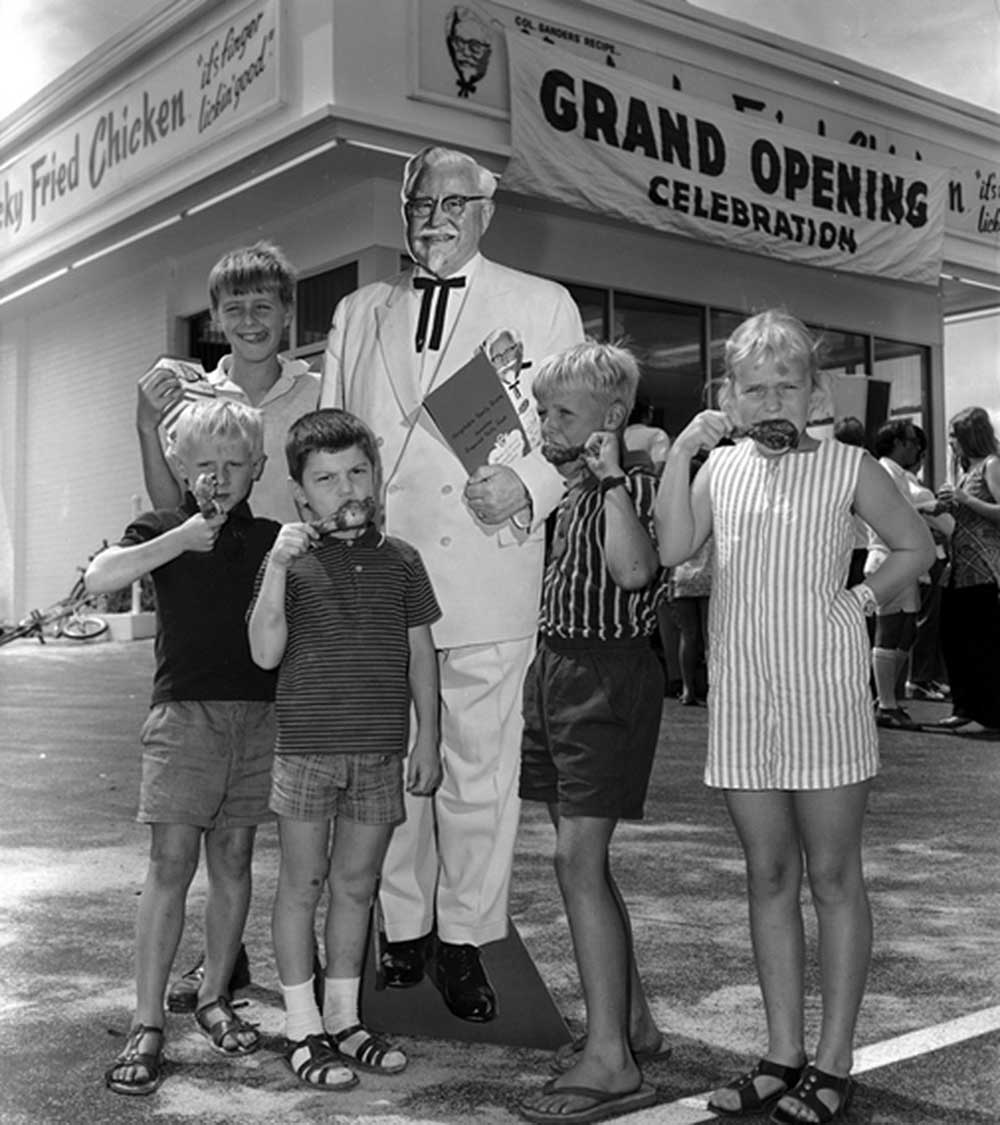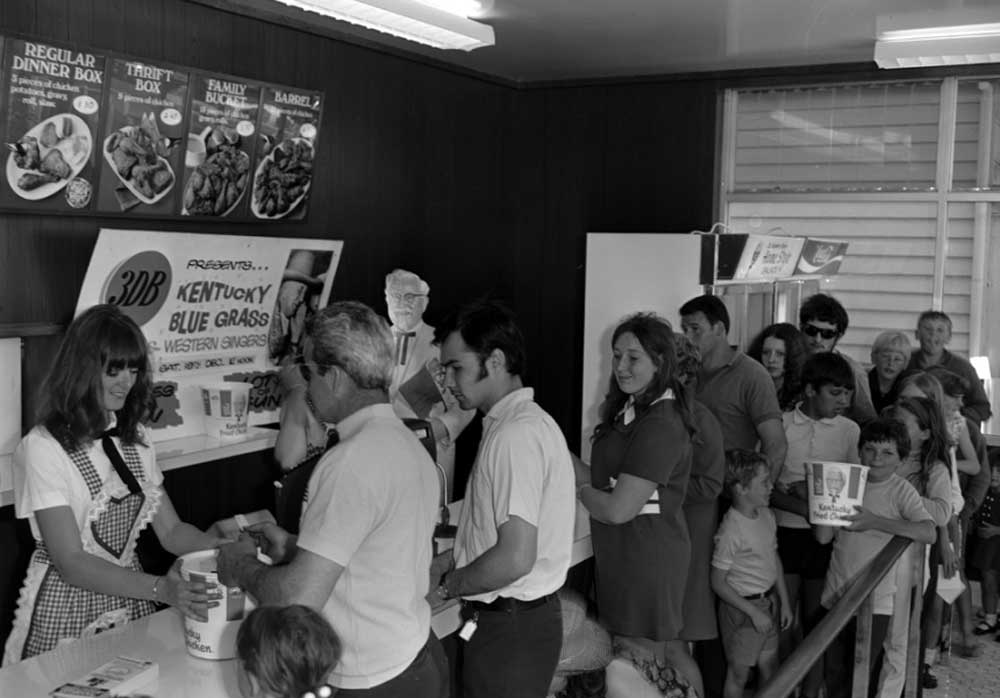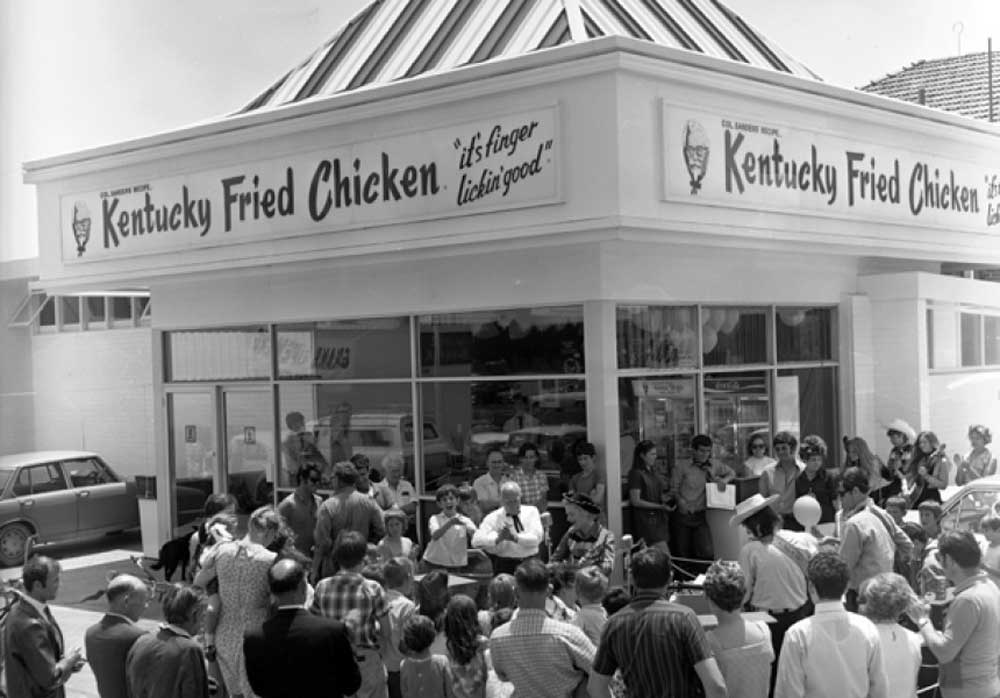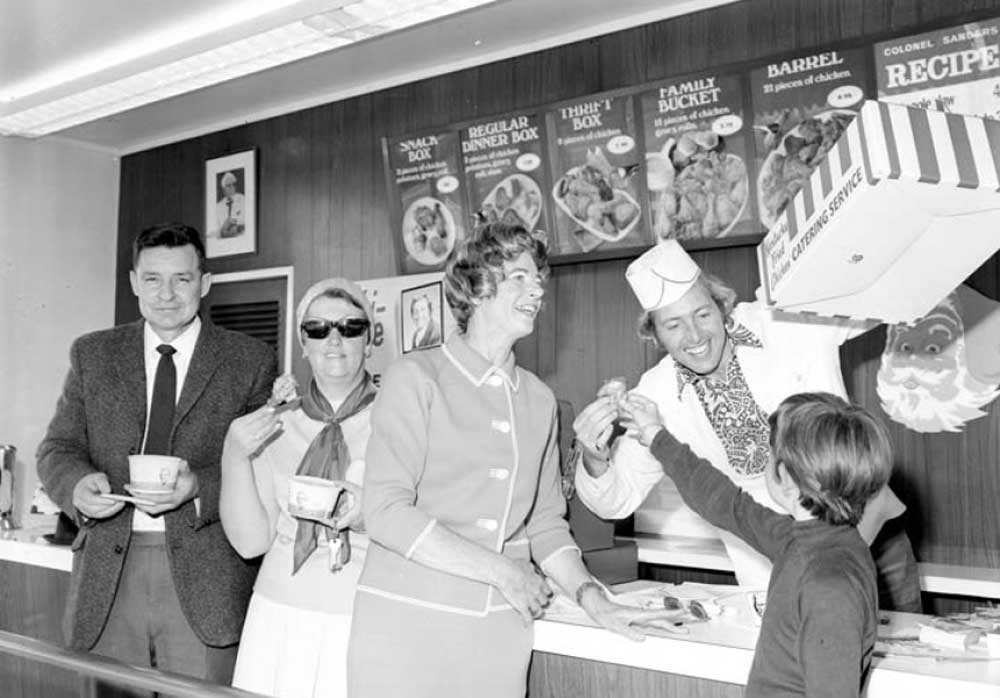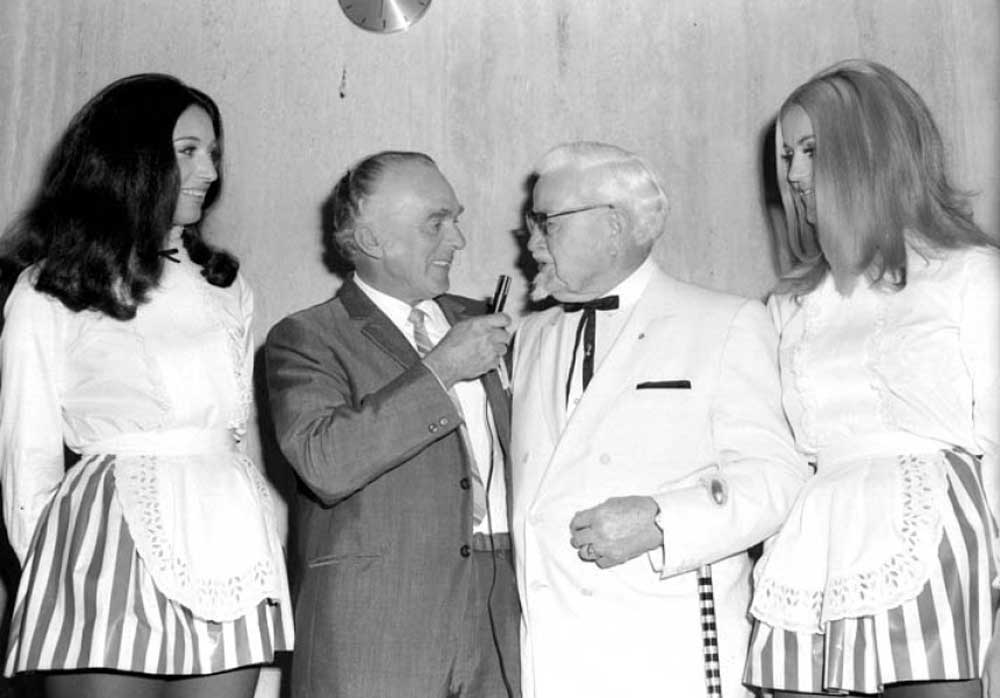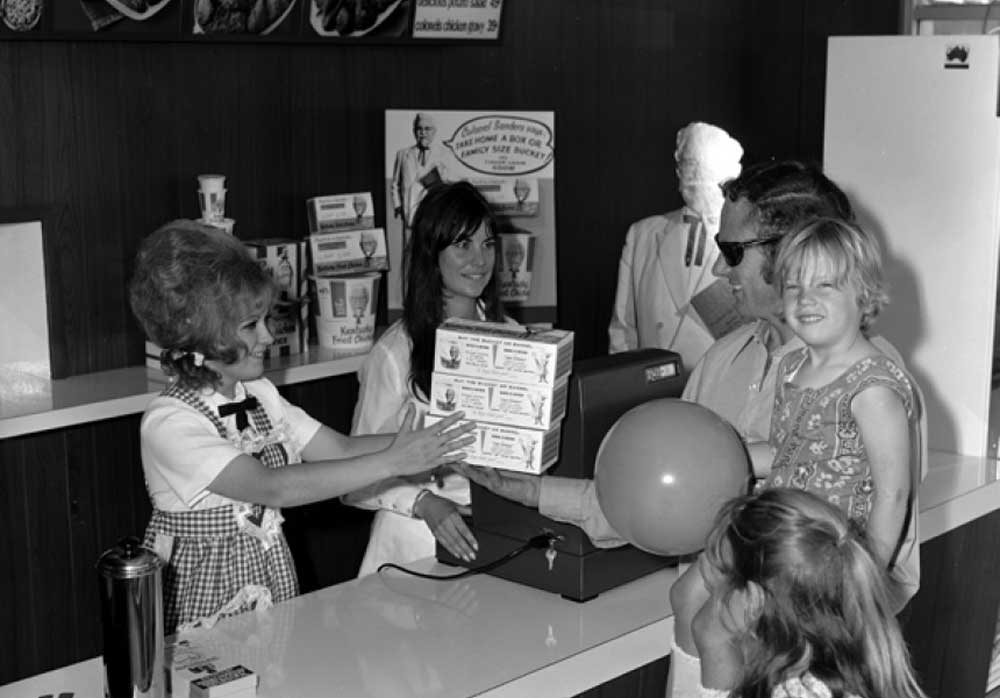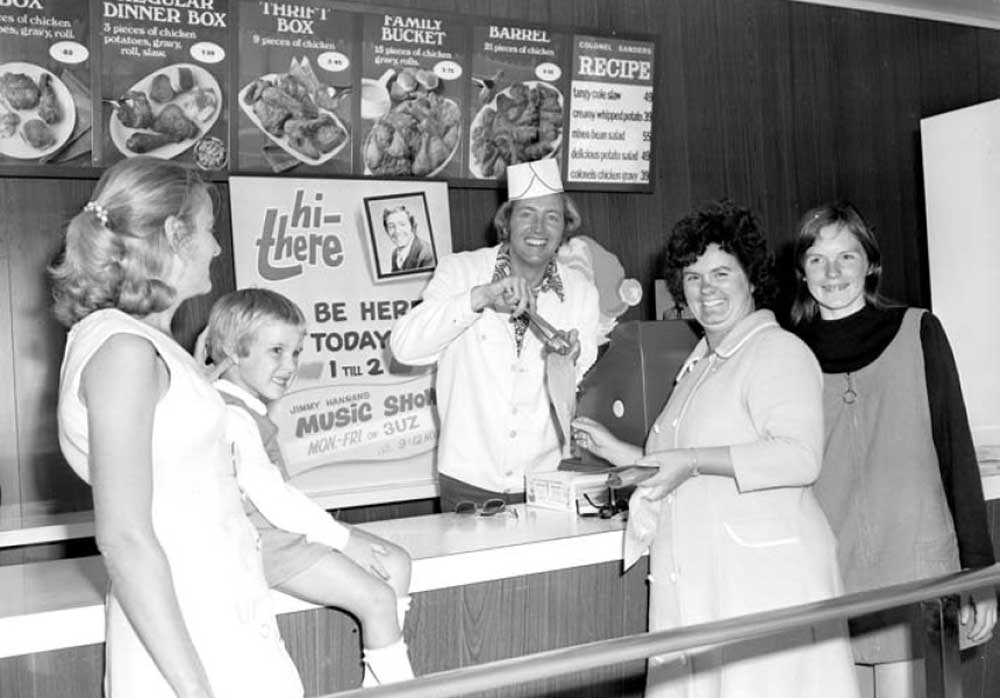 Australia's first Kentucky Fried Chicken opened in Guildford in Sydney's western suburbs on 27 April 1968, with a staff of 25. Owned by Canadian Bob Lapointe, it started the fast-food revolution in Australia.
By January 1970 there were 38 stores nationally opening at the rate of one a week, with a bold plan to have 200 outlets by the end of 1973.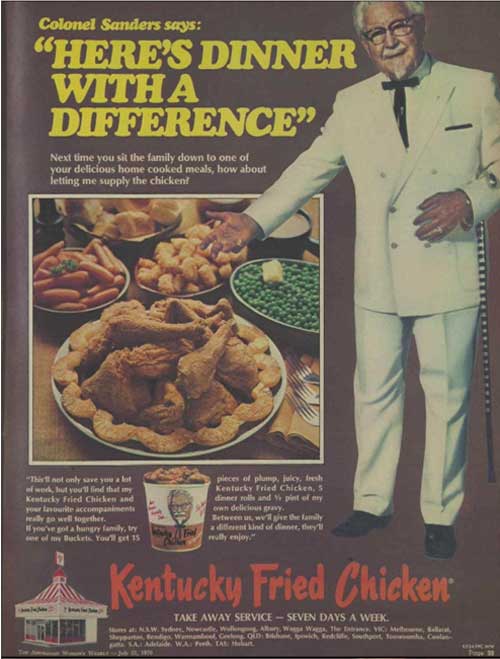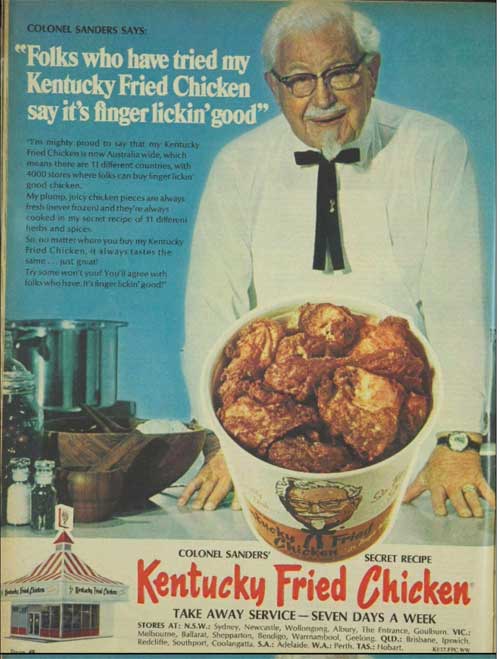 Colonel Harland Sanders began selling fried chicken from his roadside restaurant in Corbin, Kentucky during the Great Depression and, after seeing the potential, launched his first store in Utah in 1952.
Standing six feet tall and weighing close to 100kg, he was an outrageous figure with white hair, a white moustache, and a white goatee, who always wore a white suit, a white shirt, a black string tie, and black shoes—the appropriate outfit for an honorary Kentucky Colonel.
When he came Down Under in February 1976, Australians had never seen anything quite like it.
"When Colonel Sanders came to Sydney, we were all on our toes," former employee Susan Ferguson remembers, "he was a real showman who would unexpectedly turn up somewhere and catch kitchen staff on the hop – which was kind of terrifying."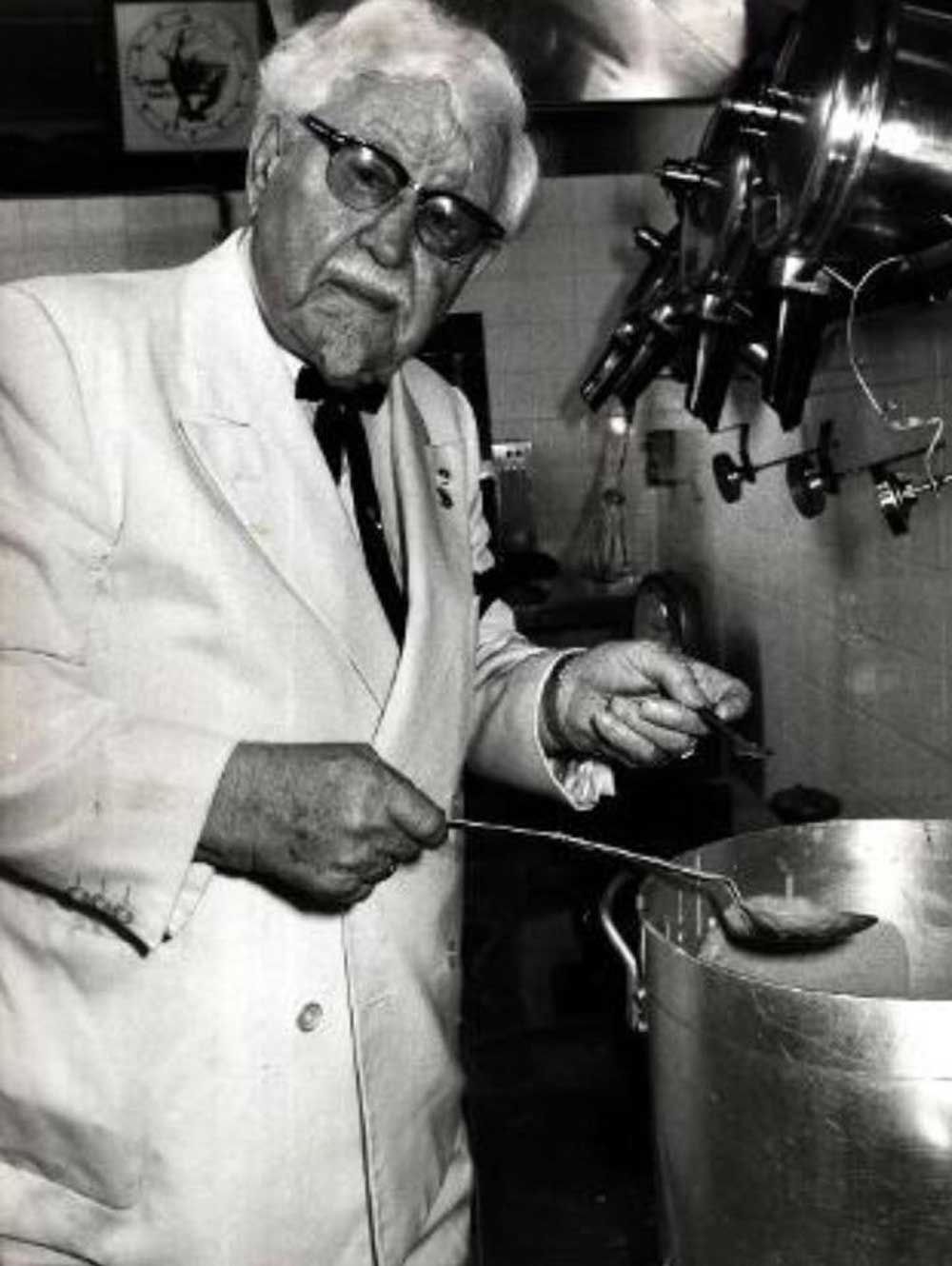 On his last day in the country, Colonel Sanders chose Mosman as the surprise location, before heading to Singapore.
"During his travels on company business, he would sometimes pay a visit to a K.F.C. outlet in order to inspect the kitchen and sample the gravy," a 1970s interview in the New Yorker explained.
"If the gravy meets his low expectations, he delivers one of his withering gravy critiques, sometimes emphasizing his points by banging his cane on whatever furniture is handy. Months or even years after these ordeals, franchisees wince at the memory of such a gravy judgment from the Colonel as "How do you serve this God-damned slop? With a straw?"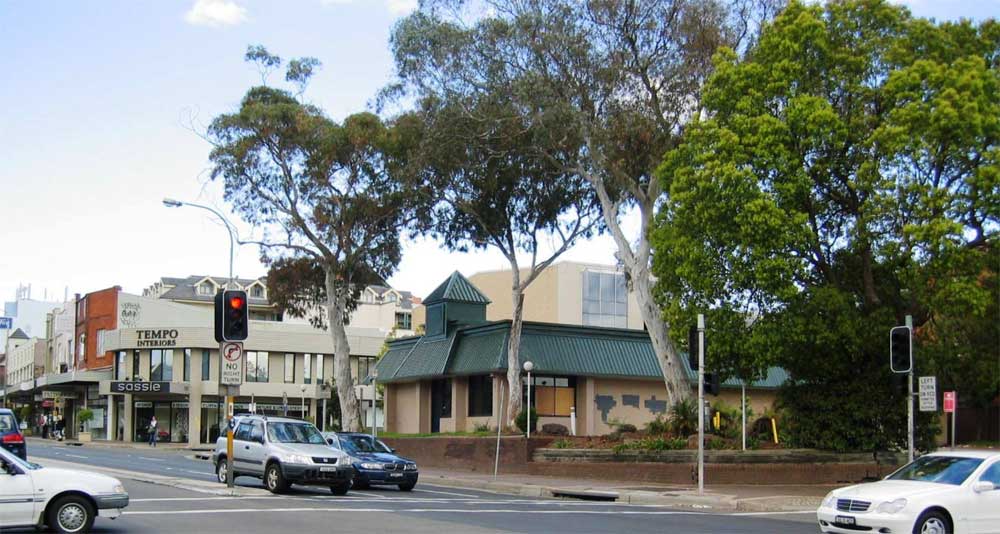 Colonel Sanders never came back to Australia after that solo visit, and died in December 1980 aged 90.
There are now 190 stores in NSW (680 Australia-wide) and the mega-chain services two million chicken-loving customers each week. KFC employs more than 35,000 Australians and, according to the company, one in 45 Aussie youths are employed by it.
The Mosman store closed in March 2004.
Get The Latest News!
Don't miss our top stories delivered FREE each Friday.